Cupcake Automat
July 13, 2012
Recently I ran across a great article featuring a fun concept in fresh bakery, for people on the go. Sprinkles Cupcakes from Beverley Hills California launched their very first 24-hour cupcake automat.

Patrons walk up to the machine and get to select their favorite flavor of cupcake coupled with the perfect icing any time of the day or night. What a great idea!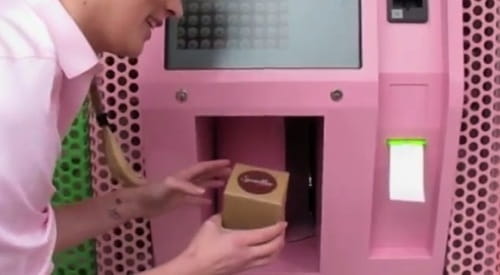 But it was the word "automat" that immediately brought me back to a very special childhood memory. When I was a little girl my Grandmother would occasionally take me to NYC for a day of fun. No trip was complete, however, without stopping at the Automat.

For those of you too young to remember, the Automat was a fast food restaurant where simple foods and drink were served by coin-operated and bill operated vending machines. The entire restaurant was filled with opportunities to insert the required number of coins in a machine and then lift a window, which was hinged at the top, to remove the meal, which was generally wrapped in waxed paper.

For me, it was the journey. It was the event that made it all so wonderful. I would carefully evaluate every selection before making that all important purchase. I can only hope that when people step up to the Sprinkles Cupcake Automat they feel the same sense of excitement that I did so long ago.
Great news New Yorkers! Sprinkles Cupcakes is coming to the Upper West Side.