Gone Nuts!
December 20, 2012
What can't an almond do? Not only are their health benefits quite extensive but they are also used in countless recipes. Almonds are a good source of Vitamin E, help to regulate cholesterol, and are good for the heart. Skin care, help in weight loss, and the boosting of energy are also notable benefits of this incredible nut. Almonds can be both sweet and bitter, and eating them on an empty stomach can help with the absorption of their nutrients. Good for brain development, almonds are known for their positive effect on your intellectual level. Almonds make an excellent study snack, and are the first thing I reach for on my way to the library. I like to mix the almonds with raisins, peanuts and M&M's, to create a sweet and salty trail mix.
Almonds as an ingredient in food and beverage new product introductions increased about 50% from 2009 to 2011, and this increase does not appear to be slowing down so far this year. New products to note include Kellogg's Fiber Plus Antioxidants Nutty Delights Honey Roasted Almonds Chewy Bars and Snickers Almond 2 Go Chocolate Bar.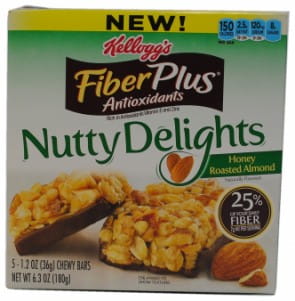 Restaurant dishes with almonds are also popping up, including the Cheesecake Factory's Arugula salad with marcona almonds and the new Mediterranean Mozzarella Salad with toasted almonds from Bruegger's Bagels and Bakery.
I think we can expect a lot more to come from almonds this year. I know almonds will certainly remain one of my staple foods!