A Piece of Paradise
February 13, 2013
When I think of coconuts, images of warm, sunny beaches and clear, blue waters come to mind. Fortunately, this popular nut has recently increased its presence in the market, bringing paradise a little closer to home. Coconuts have several layers, and contain creamy white meat, as well as thin, opaque coconut juice. New food and beverage product introductions with coconut as a flavor increased about 124% from 2009 to 2012. Top subcategories for coconut as a flavor in 2012 include juice, snack/cereal/energy bars, and sweet biscuits/cookies. In December 2012, My Favorite Pancake Mix introduced a Toasted Coconut Pancake and Waffle Mix which looks delicious to me!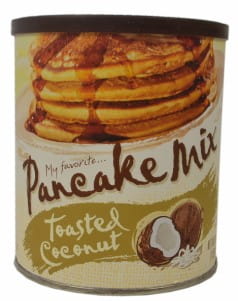 Coconut oil, which is made from the dried and pressed coconut meat, has a multitude of health benefits including strengthening the immune system and improving the digestive system. Recently on Pinterest, I have seen a pin for 160 uses of coconut oil! Uses include:
Chapstick (with an SPF of about 4),
Exfoliator (when mixed with sugar or sea salt)
Eye cream
Hair conditioner
Moisturizer
Sun burn relief
And many more!
High in saturated fats, coconuts are a good source of saturated fats for vegans and vegetarians. Coconut oil has been increasing in popularity over the last few years and globally, the percent of food and beverage launches containing coconut oil has increased from 15% in 2008 to 26% in 2012. Coconut oil can be seen both on its own as well as in a variety of products including trail mix, kettle corn and cookies.
Coconut water, which is extracted from the coconut before the milk and 'meat' develop, has also been more prevalent among new beverage introductions recently. Coconut water product introductions in the juice segment doubled between 2009 and 2010. Coconut water is considered a juice but has also made appearances in sports and energy drinks, and is popular internationally, most notably in Brazil. This water is rich in electrolytes including potassium, calcium and magnesium. In 2011, South Beach Beverage introduced their SoBe Lifewater Coconut Water, which is hydrating and low in calories and sodium. Additionally in 2011, Sundance Beverage Company introduced their La Croix Natural Coconut Sparkling Water. I can only wonder what kind of coconut product will come out next!