Trend Mavens on the Move: Our Experience at the Bon Appétit Magazine Grub Crawl
June 18, 2013
Trend Mavens on the Move!
Pamela Oscarson and I always have an eye on food, beverage, flavor and ingredient trends, so we can keep FONA's wonderful customers up-to-date with what's new and what's next. So, when we saw the Bon Appétit Grub Crawl was coming to Chicago, we had to be there! The crawl took us to five of Chicago's hottest restaurants where we were able to sample food and drinks prepared by top chefs and mixologists. Pamela brought her mom, and I brought my sister Meghan, and the four of us set off on an afternoon culinary adventure. I can't wait to tell you all about it!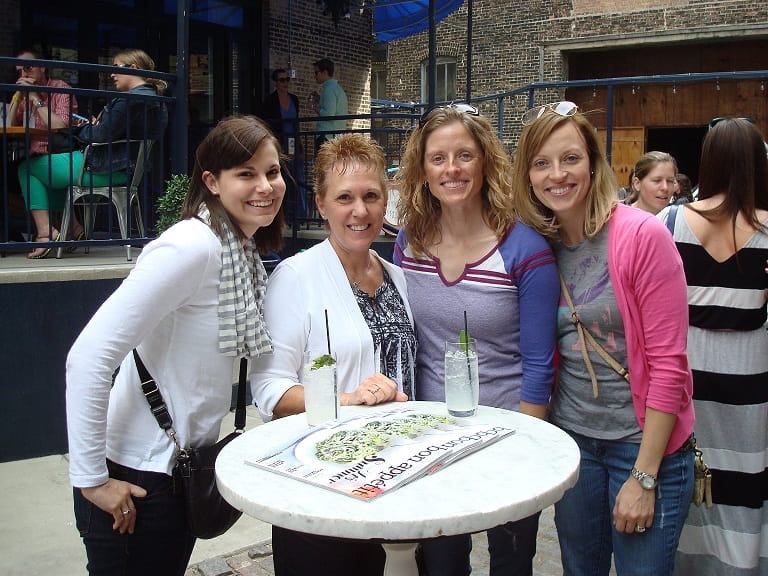 Nellcôte
833 W Randolph St  Chicago, IL 60607
www.nellcoterestaurant.com
With low-slung, wood-trimmed couches and a wall of lavender surrounding us, and crystal chandeliers and a DJ in his perch above us, we began our crawl began in perfect style.
Nellcôte promises to deliver "all the hallmarks of ornate luxury" and "a defiant return to glamour as a sexy, high-energy nightspot" while remaining "devoid of velvet rope exclusivity and the exorbitant price points that traditionally accompany such highbrow pretense." This was precisely the vibe, even at noon. Your surroundings were upscale, but the atmosphere was comfortable and unpretentious. Even as you stood on Parisian herringbone wood floors. From caviar to pizza, cartouche crown molding to the DJ spinning records,  Nellcôte was a blend of styles, making it accessible and enjoyable. Here are a few of the highlights: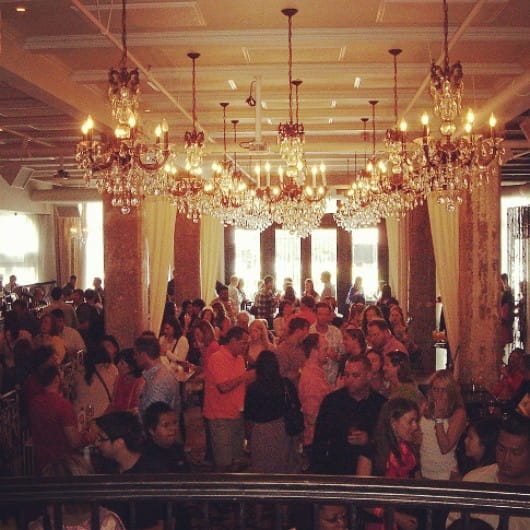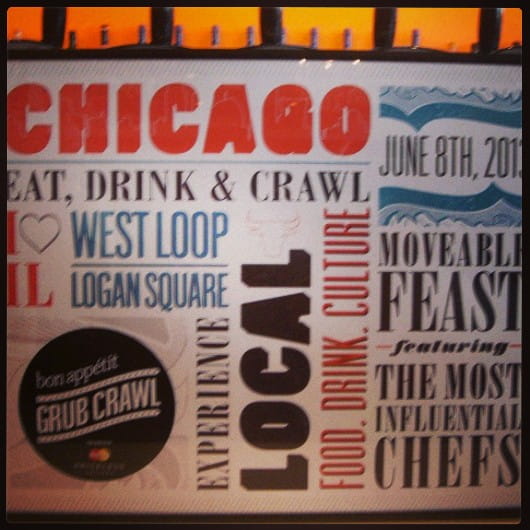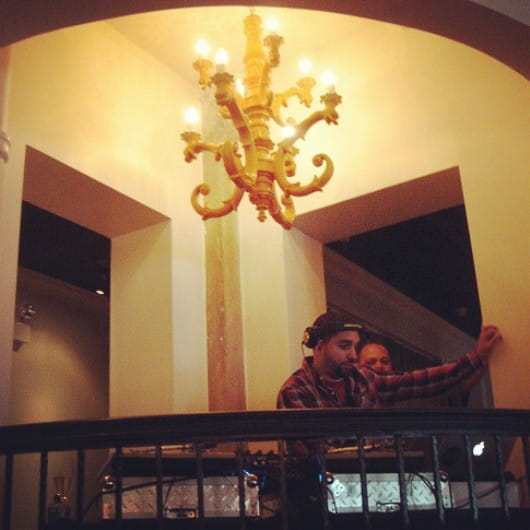 Grey Goose L'Orange Emerald PresseIngredients:
Orange-flavored vodka, fresh lime juice, sugar, club soda, lime slice and cilantro sprig
Flavor:
Light, crisp, refreshing, citrus, sweet (but not too sweet), slightly herbal. They were not shy with their pours, or with the size of the drinks!
Verdict:
I wanted to put a few glasses of it in my purse for later. It was interesting to see throughout the tour the use of herbs like cilantro and rosemary in the cocktails. I would not have thought I would have enjoyed this combination with the citrus flavored drinks, but I certainly did. It made me think about how a hard candy or a gum that combined the citrus and herb (beyond mint) flavors without too much sweetness, could be quite tasty and refreshing.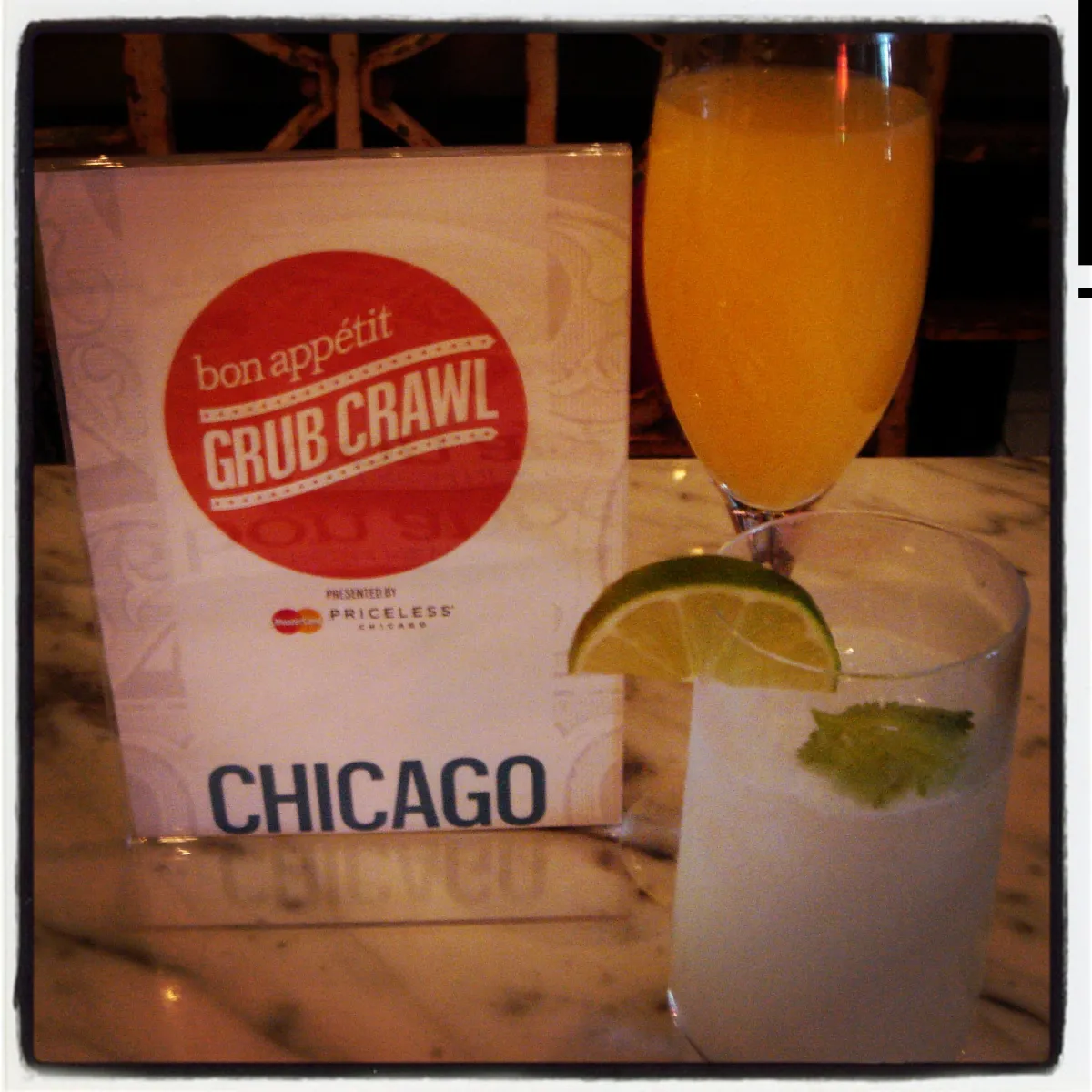 Wood Fired Pizza
Served on a white Italian marble table, margherita and fennel sausage wood fired pizzas were devoured as quickly as they appeared. My apologies once again to the woman in line behind me when I took the last pieces for our group! (I saw her later, looking quite happy with a slice of her own, but still. It was a little awkward. But I got over it quickly once I took a taste!)
Ingredients & Flavor:
No flashy or newfangled ingredients here, just the classic flavors of a sweet sauce and a slightly charred, doughy crust. Our group's favorite flavor descriptor for this dish was "superb!"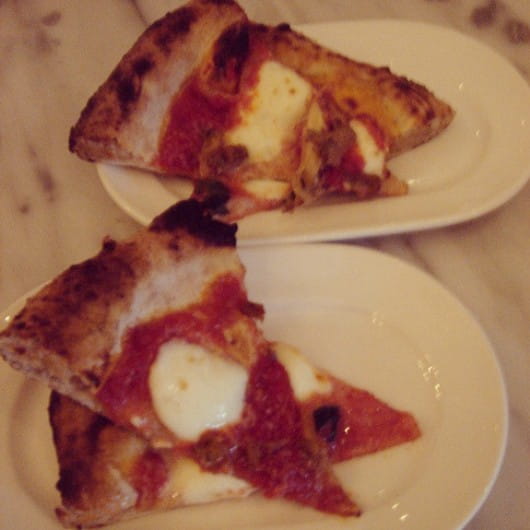 English Pea AgnolottiIngredients:
pasta (that's what agnolotti is - i learned something new!), smoked cheese, pea shoots, half of a red grape
Flavor:
I thought the grape was a tomato until I ate it! To my surprise the sweet grape (even warm!) was a nice pairing with the savory ingredients. I had not had a warm grape in a savory dish before, but was reminded of a recipe I recently put on my "to try" list:
Roasted Grape, Goat Cheese & Honey Stuffed Sweet Potatoes
by How Sweet Eats. I imagine the sweet and savory effect being similar, with the grape lending brightness to the goat cheese and sweet potato.
Verdict:
These didn't last long. We all thought it was delicious!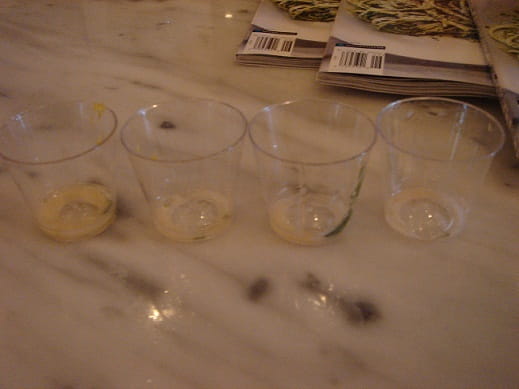 Sturgeon CaviarFlavor:
Meghan gave this a whirl and reported that it was smooth, sweet and tangy. The rest us took her word for it…
Haagen-Dazs Salted Caramel Gelato
A table of these little glories met us at the door as we exited to our next stop on the crawl.
Flavor:
Sea salt caramel blended in caramel gelato
Verdict:
Grey Goose cocktails, pizza AND ice cream at our first stop? How will this day get any better?!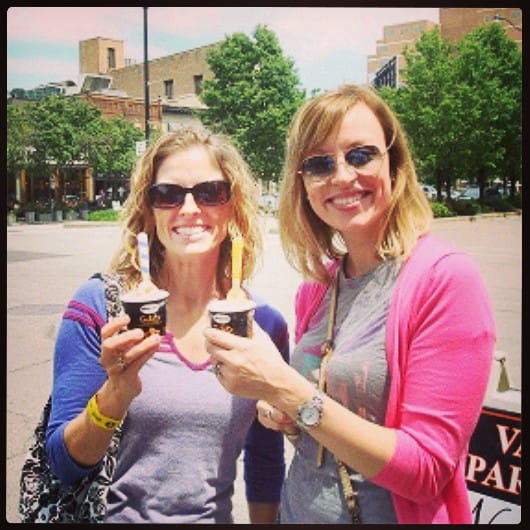 Embeya
564 W Randolph St  Chicago, IL 60661
www.embeya.com
The atmosphere and vibe of this Asian-inspired restaurant was a combination of modern/artsy with warmth/relaxation — just like the food we sampled. This feeling of both comfort and adventure made perfect sense when I read that co-owner Attila Gyulai is an "international hospitality veteran" (Elysian Hotel Chicago, Four Seasons) and his "up-and-coming" executive chef Thai Dang (RIA, L2O, Zentan) aims to create "progressive" Asian dishes by "developing dishes based on a range of Asian ingredients, flavors and textures integrated with French technique." What a combination! Together with mixologist Danielle Pizzutillo, who crafts "well-balanced, layered, and delicate drinks" with flavors that carry over from the kitchen, the folks behind Embeya give guests an incredible dining experience.  Here are a couple of highlights: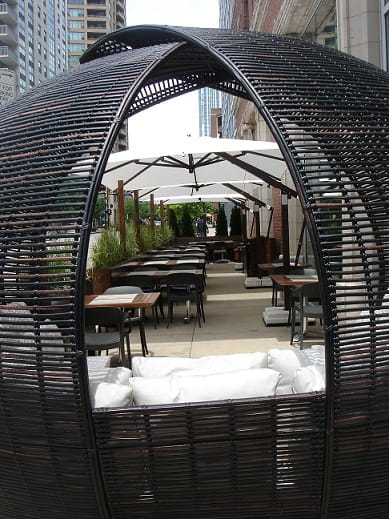 (photo of Attila Gyulai via @rapot/Instagram)
Tendron & LimeIngredients
Grey Goose vodka
Dry vermouth to cut the vodka
Homemade coconut water
Fresh lime juice
Pineapple juice
Vanilla
Lime zest in ice cubes
Fairy dust (They didn't tell us this in the official run-down of ingredients, but this drink is so good, i swear it must be magical.)
Flavor:
I say it's as if a margarita met a mojito, but to get the expert take, I asked the head beverage wizard herself about her creation. Beginning with the name of the drink, Danielle explained that a tendron is a young shoot or sprout, and that she uses young coconuts to make the coconut water used in the drink, hence the name. They garnish the drink with a piece of caramelized coconut (they have a blowtorch!). "This brings out what's inside and outside of the cocktail," she explained.
Verdict:
"If I could only have one drink the rest of my life, it would be this drink." — Meghan / I concur. It is perfection.
Ingredients Sidenote:
A Yelp poster said this of Danielle, "Embeya's mixologist uses fresh and uncommon ingredients such as rye soaked plums, smoked heirloom tomatoes, and shiso leaf foam to create really delicate and delicious cocktails."
Green Papaya
with Cilantro, Crispy Shallots, Beef JerkyFlavor:
The papaya was shredded like how you would prepare a spaghetti squash. Similar to the flavors accompanying the baby octopus (next dish), these provided extremely flavorful, wet, citrus, unripe, sharp onion/garlic notes. I didn't have any beef jerky, but I imagine the saltiness was an interesting counter to the green fruit flavor.
Verdict:
It was a fun dish with interesting texture that combined flavors in a way I hadn't ever thought of.
Baby Octopus
I ate baby octopus. I feel like that's all I really need to say here. I mean, whoa. I will share, though, that I did not speak to it prior to tasting, unlike the woman seated next to me who apologized to the charred tentacle before sampling it: "I'm sorry baby octopus. You didn't even get a life." I am not making this up.
The octopus was on a bed of green mango, green garlic and cilantro. These ingredients were incredibly flavorful, which I think they'd have to be to get someone to eat baby octopus, which is pretty tasteless on its own. The mango, garlic and cilantro flavor wasn't like a mango salsa; it was sharper. Greener. Tarter. It was similar to the Green Papaya flavors I mentioned earlier. This whole experience of this dish was boundary-stretching for my taste buds!
Additional flavor pairings and a big thank you to Embeya co-owner Attila Gyulai:
Attila was extremely welcoming, encouraging me to step up and take more photos as I peeked into the open kitchen to snap a quick shot our food being prepared and plated. (That's executive chef Thai Dang on the right.) Attila took the time to personally explain what the cooks were doing and why certain ingredients were paired. The rhubarb was paired with the soft-shell crab to cut the flavor, and the cashews were paired with the asparagus to provide a nutty balance to the salty bitterness of the asparagus. "It warms it up," he said.
Garlic Chicken with Confit Scallions
Look at this presentation! This dish has been on the menu since Embeya opened and is a customer favorite, but they've STILL sold more Tenron & Limes than Garlic Chickens! I told you the drink was phenomenal!
Verdict:
More, please.
The flavors and atmosphere of Embeya made this my favorite stop of the day. I will definitely be returning!
As we left and headed to our next stop, we chatted up the man next to us who was doing
both
the day and night Grub Crawls! He said that doing high knees while walking from restaurant to restaurant was the secret to making it through.
Next up:
Blackbird