Grand Finale: Trend Mavens' Grub Crawl Part 2
July 10, 2013
What a day!
Blackbird, RM Champagne Salon and Avec round out our Bon Appetit grub crawl through the West Loop of Chicago. To catch up on the first round of restaurants and read about how it is we found ourselves on the Bon Appétit Grub Crawl, click here. Once you are all caught up, here we go; it's the grand finale to food and flavor extravaganza!
Blackbird
619 W Randolph St Chicago, IL 60661
www.blackbirdrestaurant.com
I was surprised by the bare space in our upstairs events room. Decorations and ambience were nowhere to be found. I guess they didn't want anything to distract your senses from the colorful, flavorful food being served!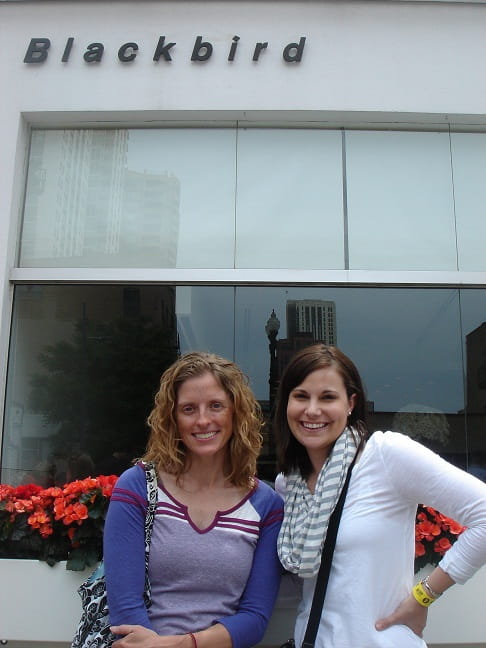 Flavor Highlights
Fruits de la Soleil Punch
Created by chief mixologist Lynn House, this cocktail features Grey Goose Citron, fresh lime and grapefruit juices, apricot/ginger syrup, orange bitters and homemade rosemary water. This drink was Pamela's favorite cocktail of the entre crawl. She described it as "bright and summery with a subtle hint of rosemary." It was quite good, but Meghan and I could not be swayed from our love of Embeya's Tendron and Lime. Here we are with Lynn: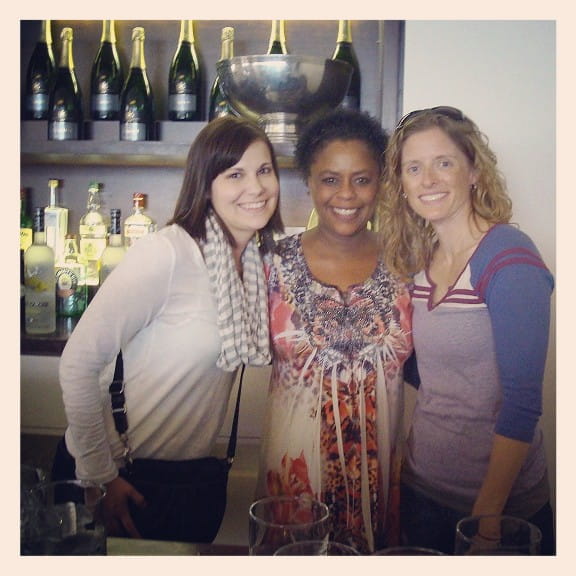 And here is her fabulous cocktail creation:
Hamachi Tartare
My first foray into raw fish. Keep in mind, I won't even eat tuna salad. Or Mrs. Paul's fish sticks. So, when this dish was set down in front of me, I admired how pretty the presentation was in its cute little dish…and took another sip of my soleil punch with no intention of eating the contents of that dish.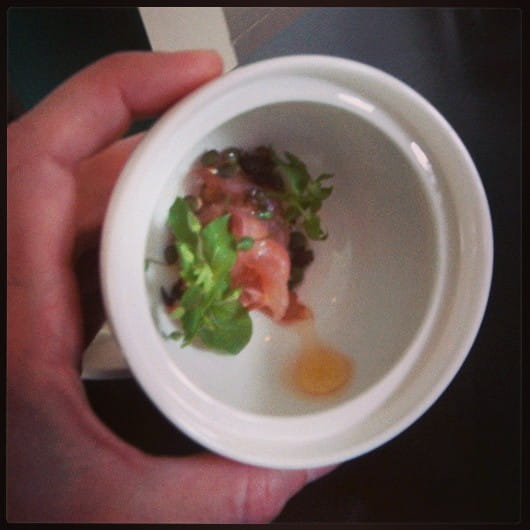 Then, I'm not sure what happened. Meghan piled it onto a spoon and somehow convinced me to try it. I chanted in my head, "I'm eating chicken. I'm eating chicken" as I chewed. The tartare was accompanied by sprouted lentils, cured rhubarb, spicy marrow and chickweed.
Meghan prepped me by saying it tasted very green and salty, and she wasn't kidding. This combination of flavors was like eating the Earth. I don't think the fish actually had much taste, really. It was everything with it that provided the strong flavors. The chickweed caught my eye because I had seen it mentioned in a few cooking magazines recently, and now here it was on my plate! I couldn't distinguish its flavor, but Pamela said it had a corn-like flavor.
Flavor Inspiration
Pamela asked Blackbird Executive Chef Paul Kahan about his inspiration for his cooking. He said he gathers inspiration from sources such as the Santa Monica farmers market (where he had recently discovered some interesting dried fruits), his wife's vegetarian magazines and from talking with other chefs. This was neat to hear because it showed me a very natural, day-to-day method of flavor creation. There isn't some magic formula or secret society — he pairs his knowledge and expertise with observations of the world around him.
RM Champagne Salon
116 N Green St, Chicago, IL 60607
www.rmchampagnesalon.com
To get to this restaurant you walk down an alley off of a side street that has you thinking you clearly took a wrong turn half a block back. But never fear. The alley opens into a lovely courtyard strung with twinkle lights and decorated with tiles, paintings and ferns. Inside, RM Champagne Salon has a self-described Salvador-Dali-inspired décor. It seemed much to charming to me for that comparison, but our host said it had to do in part with his enjoyment of "elaborate, crazy parties" and encouraged us to "eat up and drink up!"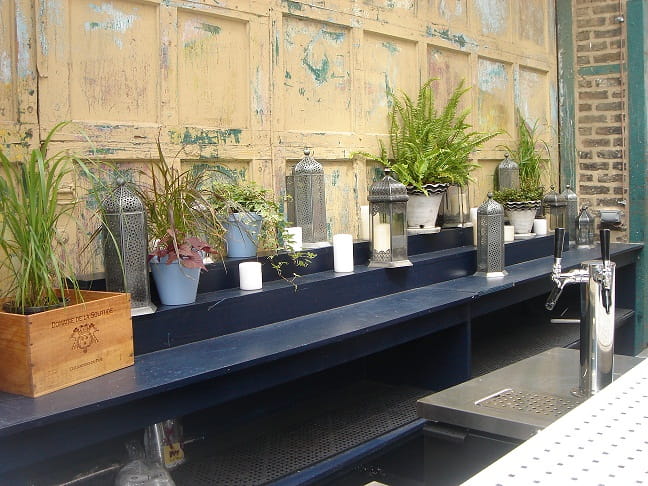 Flavor Highlights
Despite this exhorting from our host, I have to admit, I took a bit of a break at this stop. The dishes were seafood-based, such as the Lobster Deviled Eggs, and I had used up my seafood adventuring with the Embeya baby octopus and Blackbird Hamachi Tartare. I did sip a mocktail, though, and enjoyed the dessert that ended our visit here. An interesting point of note for the RM Champagne Salon: they are the only restaurant in the country to have their own flour mill in the basement. Your flour could not be any fresher!
Cucumber Ginger Ale
"I wouldn't eat a cucumber if my life depended on it, but with ginger ale, it's great!" The grub crawler next to me had high praise for this mocktail, and I enjoyed the cucumber, mint and ginger ale as a welcome respite from the day's caravan of Grey Goose cocktails.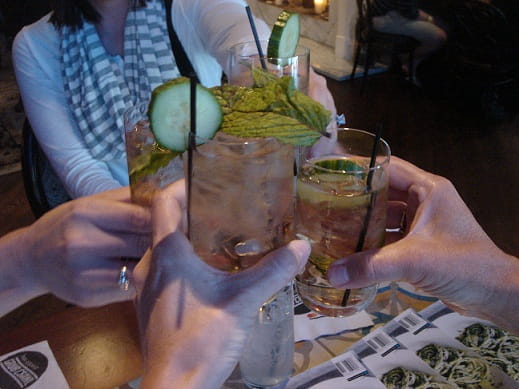 Red Velvet Macaroon
Red Velvet's day in the sun isn't over yet, as we saw at this second to last stop on our tour. During Executive Pastry Chef Nate Meades greeting, he announced we would all be getting red velvet macaroons. He explained that while each group received a different flavor of cookie — ours was the best! The light, airy cookie looked so perfectly made, I think they leapt from the pages of this month's Bon Appetit magazine.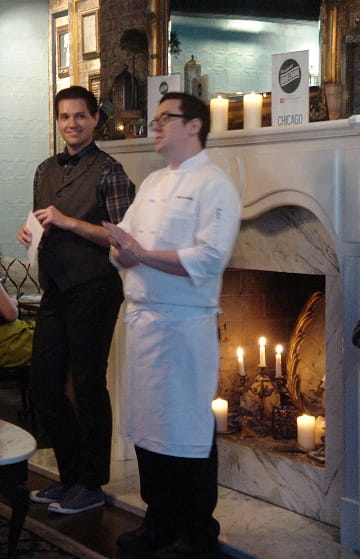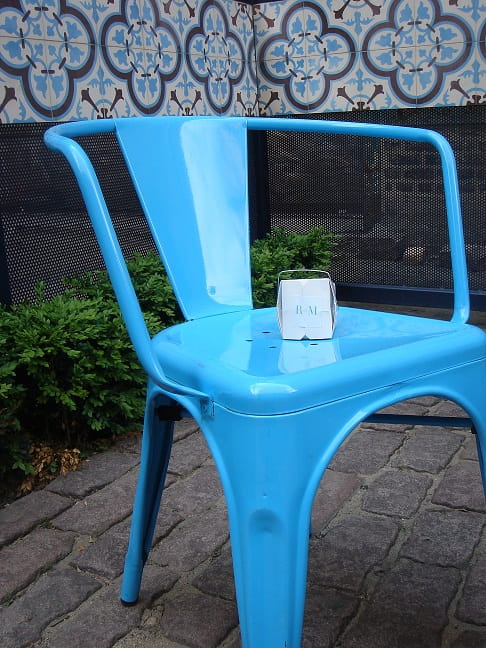 Avec
615 W Randolph St, Chicago, IL 60661
www.avecrestaurant.com
Last stop! This restaurant is long and narrow and it's like you are inside a butcher block with its wood walls and tables and floors, giving it a warm, earthy ambience. It is a neat space and the perfect way to wrap up our afternoon of grubbing and crawling.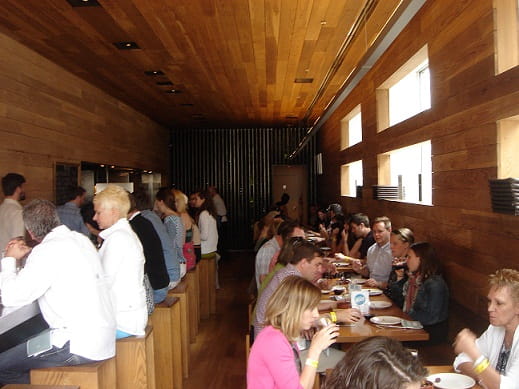 Flavor Highlights
Chorizo-stuffed Medijool Dates
I don't eat pork…but these chorizo-stuffed, bacon-wrapped dates were delicious! The smoky, spicy, warmth of the chorizo flavor was the perfect pairing with the sweet date. And you needed to eat them together for the dish to work.
Deluxe Focaccia
A thin focaccia, wonderfully toasted with a rich and creamy buttery cheese sandwiched in the middle. This was very rich, but was a nice companion to the spice of the dates. Executive Chef Paul Kahan (yup, the same as Blackbird) said it was inspired by a focaccia dish he had in New York City, again speaking to a source of ideas being his experiences and the world around him.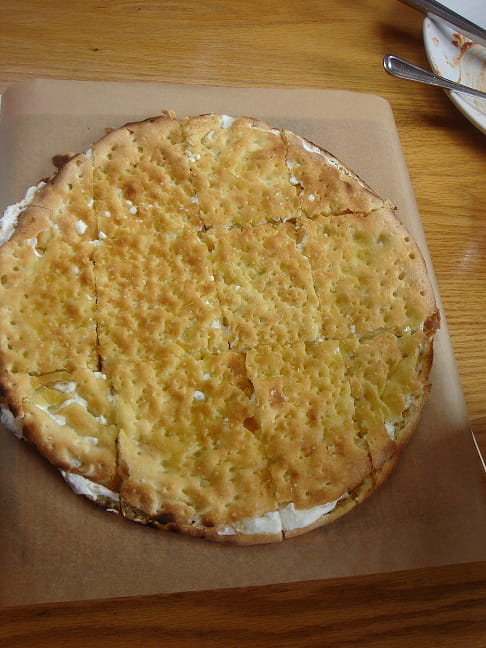 Oh and here is a shot of Avec Executive Chef Paul Kahan telling us about the food we were about to try. Yup, same Paul Kahan as Blackbird. That's a busy guy!)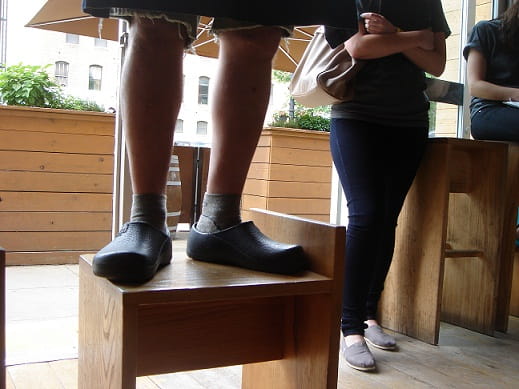 From here, we headed home. For a nap. Ok, not really. For Meghan and I, a movie was on tap, and a Blackhawks win…and then a pizza. (Yes, we were hungry. Hey - don't judge. It's not like we ate A LOT on the crawl, just bites of A LOT of different things! And, the pizza was just cheese. We needed something basic after the culinary adventures of the day!)
The Bon Appetit grub crawl was an awesome experience filled with flavor and food insights. I am thankful to FONA for this wonderful opportunity - and to Pamela, her mom and my sister for making the day so fun!