Ever heard of a protein bar - made with animal protein?
October 10, 2013
In the Applications Group at FONA, we work with a lot of different bars. Granola bars, fiber bars, baked bars, and of course protein bars. Protein bars have been around for a while and have become quite common. The selection on the shelves has grown and expanded to offer many fun flavors with numerous combinations of protein type and level to meet the need of the targeted customer. Even though they are considered mainstream now, I recently came across one bar that really made me stop in my tracks. Epic Bars (www.epicbar.com) is marketing a product that is an animal protein bar. I'm not going to lie, the first time I saw that I kind of cringed. Animal protein? In a bar? But, letting it sink in, it kind of made sense. Beef jerky has been around forever, so why should this seem so strange to me?
The company website says the bars are "unique in the sense that they are more savory, tender, and flavor-forward than jerky without the high carbohydrate and sugar load of other bars." The company uses grass fed beef and bison and each bar contains between 11 and 14 grams of protein and is gluten free. Intrigued, we decided to order the bars and check them out. They currently offer three flavors:
Bison, Bacon & Cranberry
Turkey, Almond & Cranberry
Beef, Habanero & Cherry
These are very interesting – they are similar to traditional beef jerky in flavor but have a softer texture and lighter color that might take a little getting used to. I think it might be fun if they came in bite sized pieces that you could just pop in your mouth. My favorite was the Bison, Bacon & Cranberry bar. The flavors were balanced and the smoky bacon notes provided a nice contrast to the sweet cranberry. Really though, it's hard to go wrong with bacon – they could probably develop a whole line of bacon bars and be successful! The sweet/heat combination continues to be very popular and the Beef, Habanero & Cherry bars deliver well on that trend.
I am definitely interested to watch and see where the Epic Bar Company goes from here!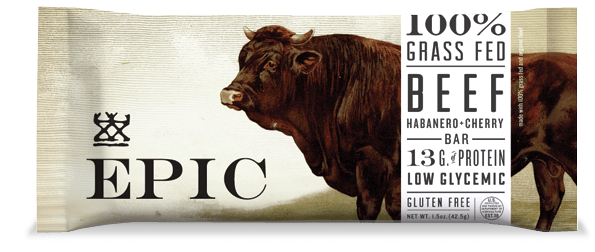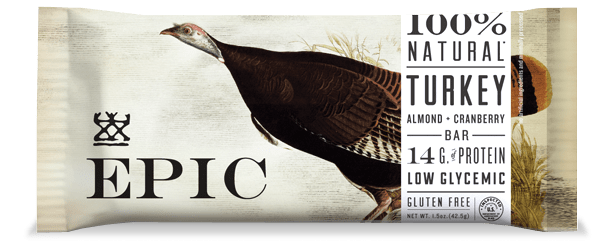 (images from epicbar.com)