A Raw Juice Adventure at Smuzi Juice Bar
November 20, 2013
We're drinking celery. And kale. And apples. And it's delicious!
As FONA's trend seekers, we help FONA's customers stay up-to-date on what's next and always have our eyes on new products, flavors and trends. Yesterday's research was a field trip to a raw juice bar!
We've watched the climb of raw juice and fresh, natural ingredient trends (Read our recent raw juice report here.) and knew we needed to experience a juice bar firsthand. We headed over to Smuzi in downtown Geneva to check things out. Open since January, Smuzi serves an assortment of vegan, gluten-free juices, smoothies and foods from its cute, shoebox-shaped building, which coincidentally (or not) is the same lovely shade of green as one of the drinks we tried.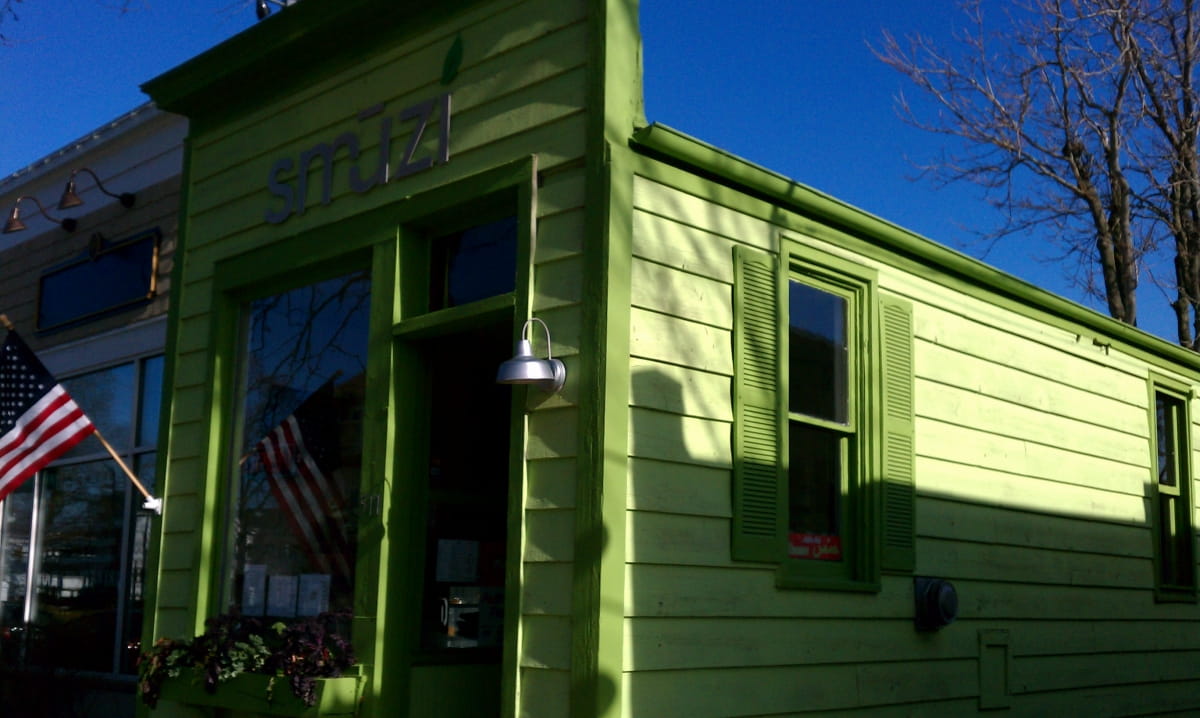 Not sure what to expect, we stepped inside and were greeted by Smuzi's owner, Chad. Juice bar rookies needn't be shy — Chad is a friendly guy, more than happy to answer questions. Trust us, we know. As blog-writing Smuzi first-timers, we had lots of questions! (What's in this? What's this taste like? What's this called? Can I take a picture of that? Which juice should I get? Is it savory? What type of protein do you use? …and so on.) Here's Chad making our drinks:
Much to our joy, we discovered that Smuzi also sells vegan treats like protein balls, homemade granola and chocolate peanut butter cups. We came on a juice mission, but what's a couple of girls to do? Try one of each, of course! We'll talk drinks in this post and treats in the next. But here's a quick tease: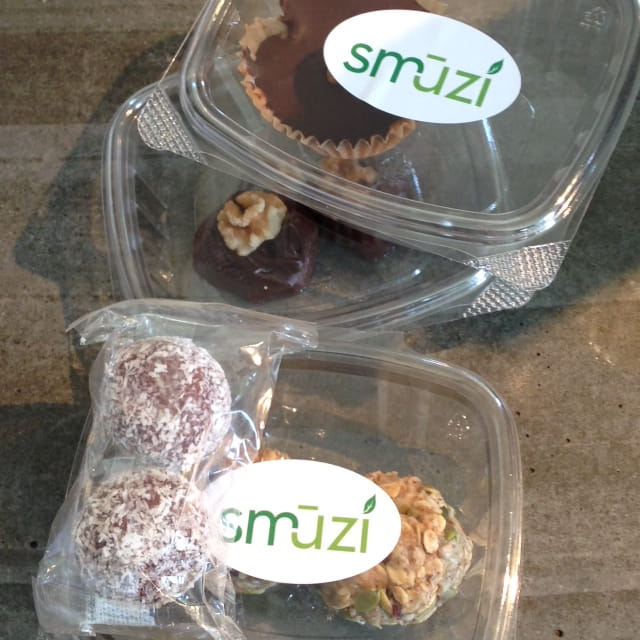 So here's the first scoop on our Smuzi taste adventure!
Part I: Juices & Smoothies
Ingredients such as dandelion greens, carrots, coconut, raw cacao, tahini, beets, bananas, dates, ginger and cilantro are mixed and matched to create a bright assortment of beverages for consumers interested in health & wellness.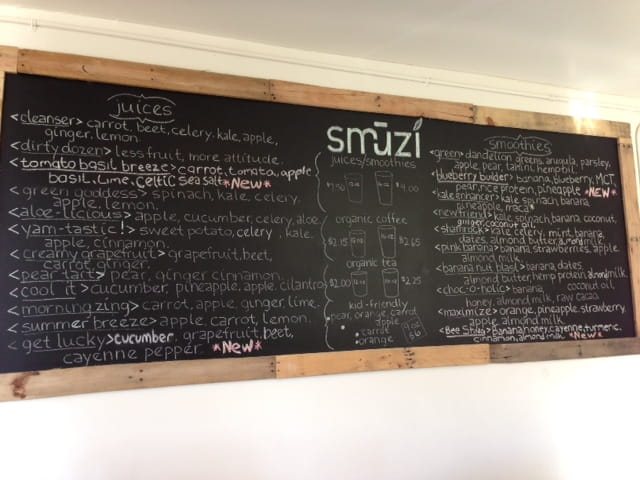 Shamrock Smoothie: kale, celery, mint, banana, dates, almond butter, almond milk
Chad suggested this one as a good first-timer drink. "It's a crowd-pleaser," he said, explaining that it's a favorite of his health conscious customers who don't want to sacrifice taste.
K: When my sister took up juicing and would Instagram photos of green drinks with hashtags like #aaahhmaazing, I didn't believe her. But after trying the Shamrock, perhaps she had a point. It's green, but pleasantly sweet. I taste the apple, banana and soft green notes up front with minty back notes and aftertaste. While I don't specifically taste date and almond, I'm sure their sweetness is what tames the green veggie flavors.
P: I could not drink this one fast enough! It was that good! I can see why Chad said this one was a top-seller. By the name you might expect the Shamrock Shake (the sweet tooth in me had her fingers crossed) but I could definitely settle for a healthier version that tasted like a wonderful combination of almonds and bananas with a hint of green goodness. The consistency and mouthfeel was a bit crunchy, but left you curious as to what you were munching on. I will definitely be going back for this one!
We forgot to get a pic of our Shamrocks, so instead, please enjoy a photo of Smuzi's wheatgrass soaking up the afternoon sun: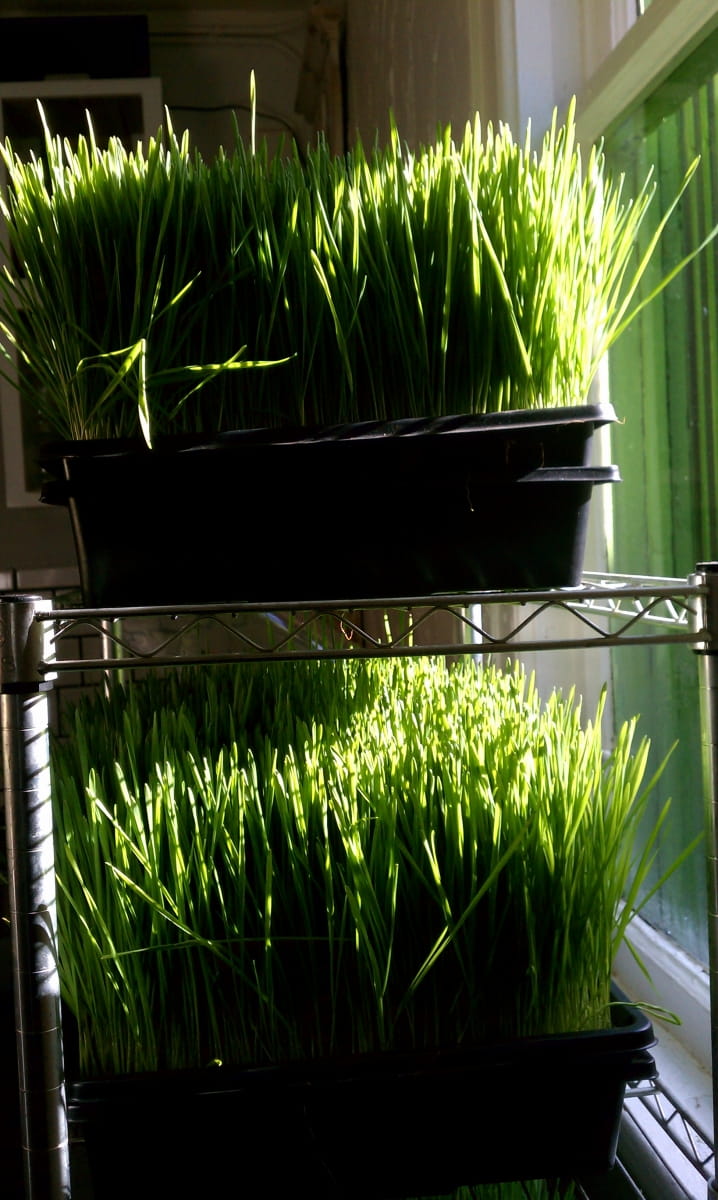 Yam-tastic! juice: sweet potato, celery, kale, apple, cinnamon
Not quite brave enough for a savory vegetable drink, we decided to go the sweet potato route. Plus, it fits with the season!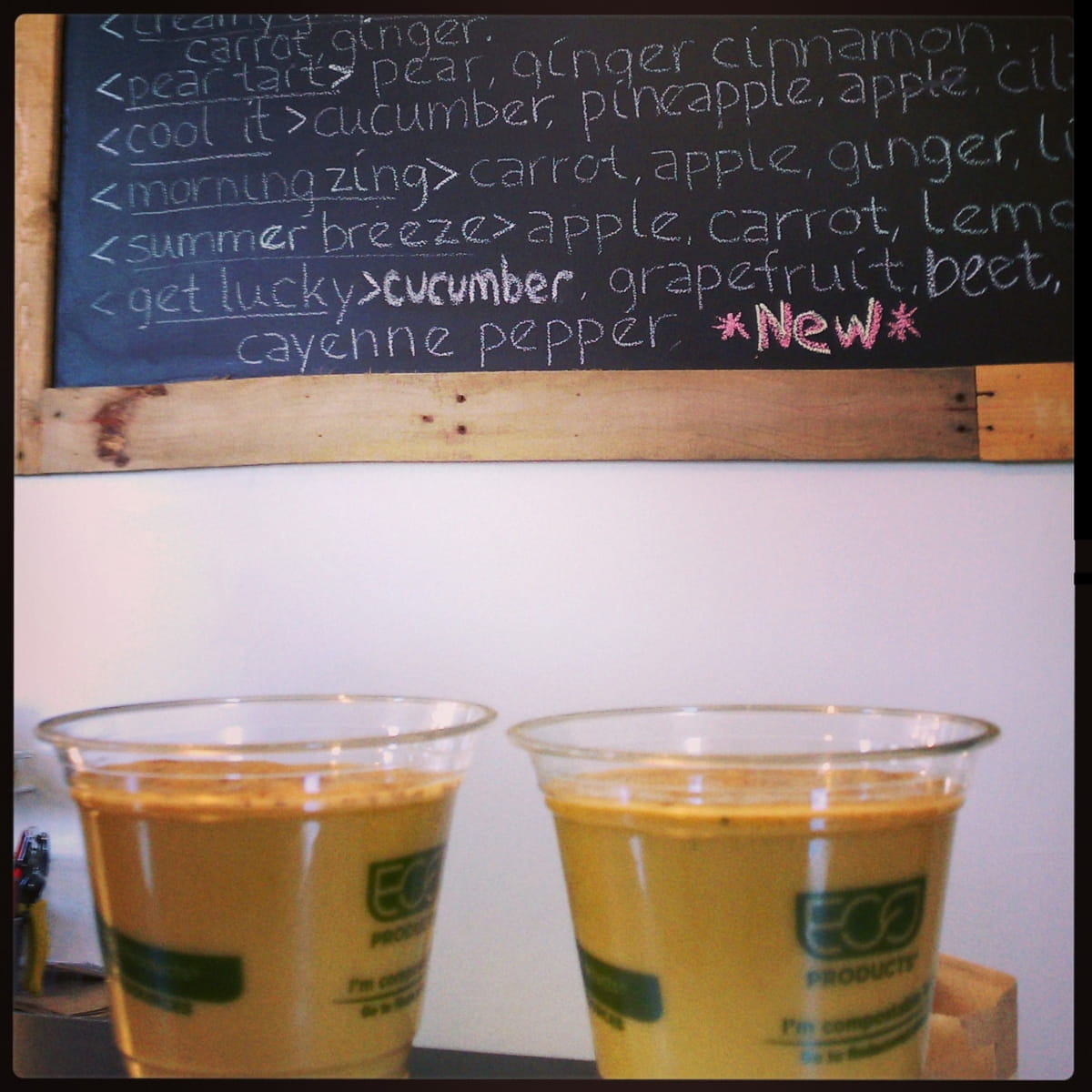 K: I love trying to distinguish the different ingredients in these drinks! The sweetness of the potatoes and apples are apparent, but this drink has a sharper profile than the Shamrock. There's an astringency at the end, and I'm not sure what to attribute it to. Not a bitter or earthy flavor, but there's a bite when I swallow that makes this flavor combination reminiscent of the sweet-heat combinations we've seen in confections and baked snacks.
P: As one who loves canned yams topped with brown sugar, cinnamon and butter, then baked until golden brown, I was not sure what to expect when we first saw the Yam-tastic juice on the menu. Right off the bat I knew that it would not taste anything like my favorite side dish, but was curious nonetheless. This drink had unique savory notes with a hint of sweetness. This drink was definitely a little earthier than the Shamrock, but definitely had a unique blend of flavors that kept you wanting more!
Thanks to Chad for introducing us to the interesting flavor and ingredient combinations in the raw juice world!
Next up, Smuzi Taste Adventure Part II: Chocolate, Peanut Butter & Protein Treats