Fresh & Natural: Consumers Are Keeping it Real
July 22, 2014
Fresh & Natural: Consumers Are Keeping it Real
Whether a farm to fork meal, plant-based cleaning products or single-ingredient baby foods sold in small, wooden fruit crates, consumers have a strong interest in products viewed as natural. They want simplicity, ingredients they can pronounce and a close connection between products they purchase and the Earth. According to a survey by the Hartman Group, when consumers think natural, 56% think no artificial flavors, colors or preservatives and almost half think fresh, pure and real. Claims such as handcrafted, artisan and locally made resonate with these consumers looking for a familiar, safe, homemade feeling from food and beverage products.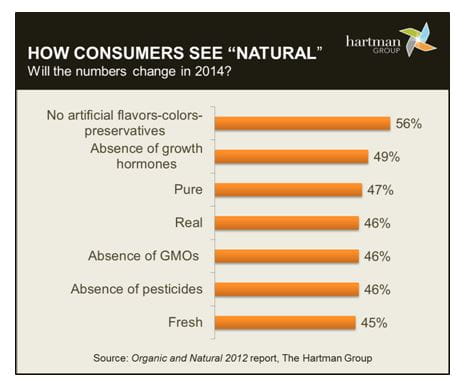 FONA Consumer Survey on Natural
We recently asked more than 300 consumers for their thoughts natural products, flavors and ingredients.
76% Believe it is Extremely/Very/Moderately Important to purchase natural products for themselves.
59% Believe it is Extremely/Very/Moderately Important to purchase natural products for their children.
51% Purchase natural products Always/Very Frequently.
23% Purchase natural foods.
17% Purchase natural beverages.
7% Purchase natural gum & candy.
94% Extremely/Very Likely to purchase edible products reformulated to natural.
72% Would expect it to taste the same or better than the original product.
Trends in Action: Mariano's Grocery Store
During a recent trend excursion to Mariano's, we spotted a variety of RTD and fresh squeezed drinks positioned as natural and fresh that featured an interesting assortment of ingredients and flavors such as turmeric, baobab and cassia.
Ready-to-drink beverages
These two brands of drinks were in clear bottles, displaying the ingredients and benefits clearly on the front:
1. SujaSpark flavor contains: 
1 lemon, 9 strawberries, 9 raspberries, 7 tart cherries, a spoonful of honey, a pinch of stevia and a pinch cayenne
Bliss flavor contains:
12 carrots, 3 oranges, 1/2 a coconut's meat, 1/2 a banana, 1/2 a mango, a slice of pineapple, a squeeze of lime and a spoonful of baobab.
2. Tumeric – Elixer of Life
Tumeric drinks are marketed as "Yoga in a Bottle" with website copy stating, "Just like a good asana practice, our elixirs will leave your body feeling light with radiant health and your spirit soaring high." These organic, cold pressed drinks feature the spice turmeric and come in nine flavors including:
Pineapple: pineapple, turmeric, cardamom, spearmint, agave, lemon, sea salt
Mineral Green: tumeric, ginger, spirulina, barley, chlorella, sea salt, cassia, lemon
Brooklyn Beet: beet, turmeric, ginger, cardamom, lemon, coconut nectar, spearmint, sea salt, cassia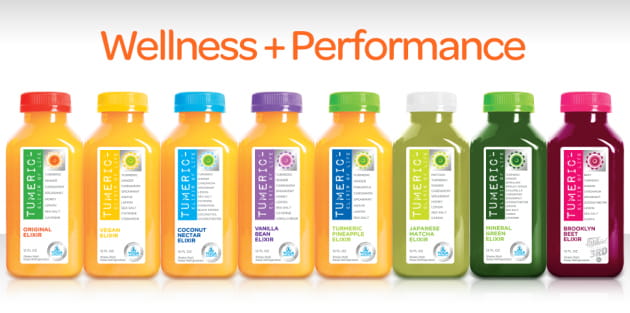 What is cassia?
Cassia is an aromatic bark similar to cinnamon, with strong, warm, dark notes, used in spicy, savory dishes, rather than sweet ones like cinnamon.
Algae in your juice? Meet spirulina & chlorella
These interesting ingredients are algae, which can be found sold as supplements. Spirulina is described as rich in protein, vitamins, minerals and carotenoids, which are antioxidants that can help protect cells from damage. Chlorella is said to be a good source of protein, fats, carbohydrates, fiber, chlorophyll, vitamins and minerals.
Squeez'd: Mariano's Juice Bar
"From crate to cup!" proclaims the sign behind the juice bar, which was stationed at the front of the store near the produce section. Customers lined up for freshly squeezed juices featuring a variety of fruits and vegetables as friendly employees shared tidbits about the different flavors. Interestingly, all but one of their seven menu offerings include cayenne pepper.
Beet Berry: beets, blueberries, carrots, apple, bananas, pineapple, strawberries, young coconut water, dash of cayenne pepper
Super Kale: kale, grapes, apple, banana, pineapple, pear, orange, young coconut water, cayenne pepper
Apple-Ginger: apple, green grapes, cucumber, ginger, pineapple, strawberries, lemon, young coconut water, cinnamon
St. Charles Farmers' Market: Juice Plus
At the St. Charles farmers' market I was introduced to the company Juice Plus, which is positioned as "Whole Food Nutrition." The representative explained that the Juice Plus capsules provided all the benefits of juicing without the mess and waste. It's marketed as juicing for consumers who want the benefits, but not the hassle. Their marketing was focused on scientific research, with the representative sharing study results she said validated the effectiveness of the capsules. Their website says, "Juice Plus+ Orchard, Garden and Vineyard Blend capsules contain juice powders from 25 fruits, vegetables and grains."