Flavor Insight: Caramel
August 10, 2015
Download the full report here!
C is for Caramel
Caramel is a mixture produced when sugar has been cooked (caramelized) until it melts and becomes a thick, clear liquid that can range in color from golden to deep brown. Caramel is used to flavor and color soups, stocks and sauces—sweet and savory. Itis most popularly used in desserts.
When it cools and hardens, caramel cracks easily and is the base for nut brittles. Crushed caramel is used as a topping for ice cream and other desserts. Soft caramel is a confection made with caramelized sugar, butter, and milk or cream, and sometimes corn syrup.
Caramel in the Media
Food.com


Food.com has over 5,000 caramel recipes. These recipes range from homemade caramel to caramel apple salad to Mexican flan. Other recipes include Caramel Brownie Cheesecake Trifle, Banana Cake with Caramel Frosting, Caramel Syrup, Peruvian Caramel Cookies, Caramel Apple Cupcakes, and a couple Caramel Macchiato recipes. If you are looking for more than dessert, you can try Vietnamese Chicken in Caramel Sauce.


Pinterest


On Pinterest it does not take long to find a recipe for homemade caramel, but there are also recipes for Salted Caramel Chocolate Chip Cookies, and Carmelitas. One pin spotted was a recipe for inside-out Caramel Apple Slices which have caramel inside the apple rather than out!


Twitter
Twitter is filled with pictures of caramel flavored desserts. Salted caramel Chocolate Tart, Hazelnut, Raisin & Caramel Bars, Chunky Caramel Dessert Drink and Caramel Apple Dessert Egg Roll were just some of the desserts that jumped out.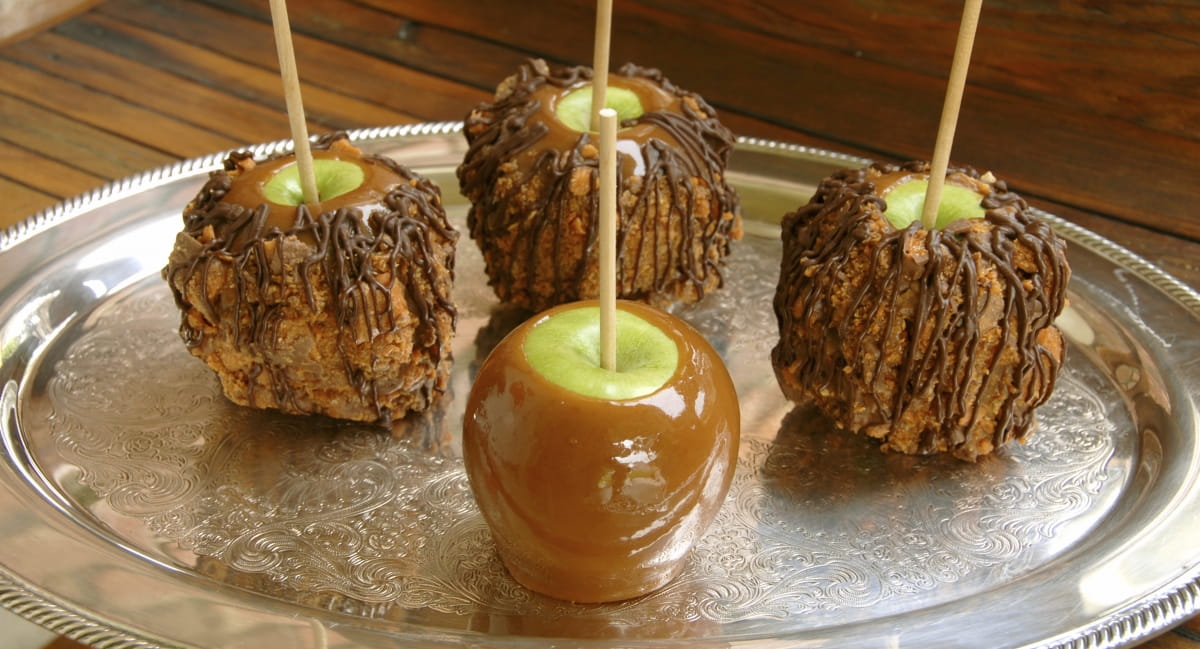 Things Are Getting Sticky
There are several mentions of caramel in print media. Here are some of the highlights:
Cooking Light Magazine had an article dedicated to caramel apples in the October 2014 issue. These recipes put a spin on a fall time classic. Some of the varieties were Bacon-Pretzel Peanut Butter Caramel Apples, Pistachio-Orange Caramel Apple and White Chocolate Pumpkin Pie Caramel Apples. There is also a Hummingbird Caramel Apple with Pineapple, Pecans and Coconut.
The April 2015 issue of Bon Appétit features a recipe for Croquembouche. This caramel cream-puff mountain is no small feature. It takes preparation at least a day or so in advance, but it is no surprise when you see the finished product. The caramel is not only the topping to these puffs, but is the "glue" that holds the tower together.
In Good Food Magazine's April 2015 issue, there is a recipe for Double Chocolate & Caramel Tart with Frosted Pistachios & Rum Cream. This dessert is freezable so you can make it ahead of time and have stress-free entertaining. If you are looking for a recipe that's more advanced, the issue includes a recipe for a Lemon Meringue Cake. This cake is different in that it has a caramel-infused cake filled with lemon curd.
Bloggers Love Caramel Too!
Homemade Salted Caramel Recipe, SallysBakingAddiction.com
Apple Bread with Caramel Apple Glaze, Inspiredbycharm.com
Foolproof Homemade Caramels, Mel's Kitchen Cafe
Gluten-free Turtle Brownie Sundaes with Salted Caramel Whipped Cream, IowaGirlEats
Caramel On The Menu
Q4 2009-Q4 2014
1,607 Menu Mentions
91% Increase in Caramel Flavored Menu Items
Menu Spottings:
Deep Fried Caramel Banana Cheesecake,
Pizza Gallery & Grill
Caramel Espresso con Panna,
The Coffee Bean and Tea Leaf
Bacon-Caramel Popcorn,
Holeman and Finch
Caramel Pecan Roll,
Baker's Square
Diners crave its sweetness and chefs love its versatility. It is the number three dessert flavor on restaurant menus, second only to the ever-popular chocolate and vanilla, according to the most recent data from Datassential MenuTrends. Not only is caramel a top flavor, but the cooked sugar with a sweet taste and appealing tan color has also been growing on menus, appearing on 10% more menus than it did just four years ago, Datassential reported.
Among the many fine-dining chefs enjoying caramel's versatility, chef John Delpha uses the popular ingredient in several desserts at the recently opened Rosebud American Kitchen & Bar in Somerville, Mass. Currently on the menu is a Jack Daniels Caramel Banana Parfait and a bananas foster-meets-cheesecake creation with layers of no-cook cheesecake made of a cream cheese and pastry cream mixture, sliced bananas, graham cracker crumbs and a bourbon-infused caramel. (
Source: National Restaurant News)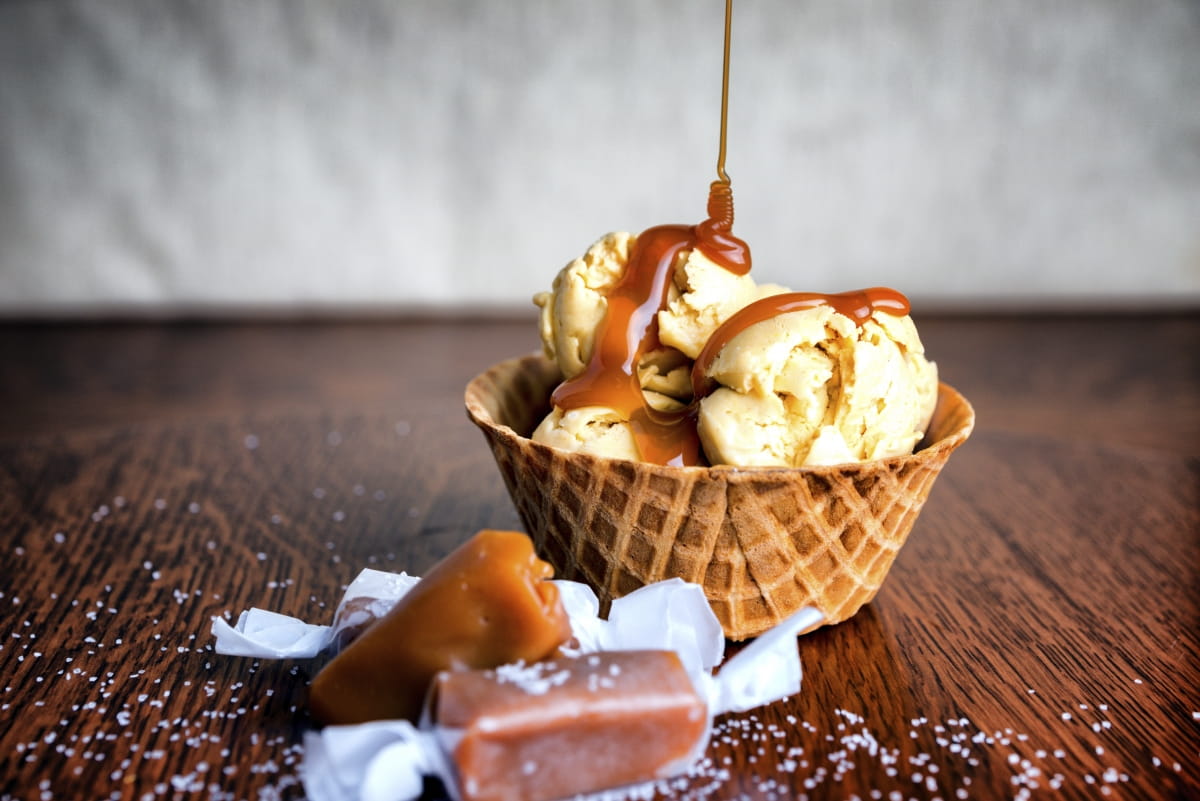 New Product Introductions
Global
Q4 2009-Q4 2014
10,547 New Products Launched
Chocolate Brownie Burnt Caramel Cream Flavoured Candy: Taiwan
Organic Choco Caramel & Orange Spread: France
North America
Q4 2009-Q4 2014 
2,136 New Products Launched
Old Orchard's Limited Edition Caramel Apple Flavored Juice Drink

Target's Caramel with Sea Salt Dark Chocolate Gourmet Mini Bark


________________________________________________________________________________________
FONA CAN HELP!
Let FONA's market insight and research experts translate these trends into product category ideas for your brand. They can help you with concept and flavor pipeline development, ideation, consumer studies and white space analysis to pinpoint opportunities in the market. Our flavor and product development experts are also at your service to help meet the labeling and flavor profile needs for your products to capitalize on this consumer trend. We understand how to mesh the complexities of flavor with your brand development, technical requirements and regulatory needs to deliver a complete taste solution. From concept to manufacturing, we're here every step of the way. Contact our Sales Service Department at 630.578.8600 to request a flavor sample or visit 
www.fona.com
.