Flavor Insight: Hibiscus
September 21, 2015

Hibiscus is a group of flowering plants that are native to the tropical and subtropical regions of the world. The flower is edible and known for its bright red color, distinct, tangy flavor and for being a great source of vitamin C. Jamaica flower is not officially a flower, but the calyx (the portion that covers and protects the bloom before it opens) of the hibiscus. Drinks that feature hibiscus have been around for quite a while. Dried Jamaica flowers are used to make beverages and produce a soursweet flavor and shimmering crimson color. When selecting flowers, look for those that are brightly colored—dull or dark flowers indicate age and less flavor. It's brewed into tea form all around the world, and agua de Jamaica (as it's known in Spanish) is popular in the Latin world. The flower itself can be dried, candied, baked into cakes, and used in a variety of different ways.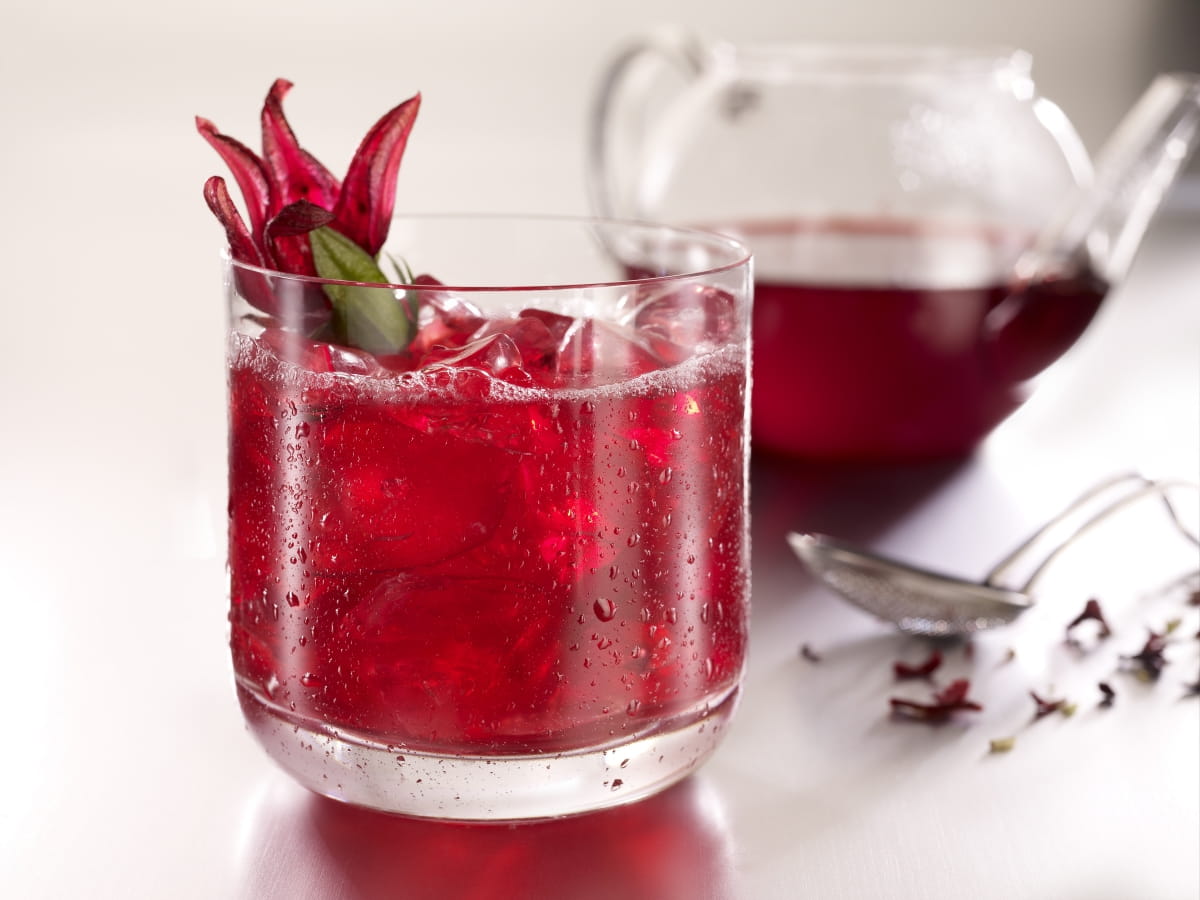 Hibiscus is the Media
There are several mentions of hibiscus in print media:
• The New York Time's discussed PepsiCo's plans to launch a line of "craft" fountain sodas. The flavors will include orange hibiscus, black cherry, pineapple cream, and agave vanilla cream. The goal of the new line is to reach consumers who avoid the typical soda company's product. This new line will be aimed at the tea and water drinkers who are pulled toward more natural products.
• Hibiscus was featured in Saveur's "6 Floral Cocktails" article in the February 2015 issue. The Blooming Champagne Cocktail has a hibiscus flower in the center of the glass. Added rose water helps bring the sparkling wine to full bloom.
• In September 2014, Cooking Light published an article on the heart-health benefits of hibiscus. Hibiscus sabdariffa (commonly known as Roselle) is known to not only make a great tea, but also lower blood pressure. The article mentions some other uses of hibiscus such as it being a good base for curry, and adding a "zing" to a fresh salad.
Blogs are even spotlighting hibiscus from health benefits to gardening tips.
• "The Surprising Health Benefits of Hibiscus," Gaia Herbs
• "Tips on Caring For Hibiscus Plants," Gardening Know How
• "How to Make Your Own Hibiscus Syrup for the Best Rum Punch," Food Republic
• "Organic Uncut Hibiscus Flower Tea," Nature's Tea Leaf
A search for hibiscus on food.com yields 65 results. Although most of these results are for teas and cocktails, there are a few recipes that break out of the pack. Some of these recipes are: steak tacos with hibiscus and jalapeño syrup, hibiscus nectar cake, and hibiscus enchiladas.
Pinterest is a "gardener's guide to hibiscus". Simply searching "hibiscus" provides pins and boards dedicated to the care of this plant.
The search for "hibiscus" on Twitter shows recipes for hibiscus flavored drinks from Bon Appétit and Huffington Post Lifestyle. There are also links to two restaurants in London with the flower as the chosen name. One chef tweeted a picture of his "Lemon Tart, Hibiscus Meringue, and Wild Strawberry Sorbet."
HIBISCUS ON THE MENU
Q4 2008 - Q4 2014
We calculate a 50% growth in menu mentions over this time period. Some dishes include:



Hibiscus Mint Margarita, McCormick & Schmick's




Hibiscus Hot and Sour Coral Cod, Abacus Restaurant




Pistachio Linzer Tart with Raspberry-Hibiscus Tea Jam, Blue Ginger Restaurant




Grapefruit Sorbet with Hibiscus, Farllon



For more information on hibiscus, including a look at market product launch statistics and product examples, download the full report! 
Image credits: culturegravity.com, www.inhabitots.com, latimes.com