The Fun & Fabulous World of Gummies
November 9, 2015
THIS REPORT IS SO IN-DEPTH WE COULDN'T FIT IT ALL ON OUR BLOG! DOWNLOAD IT HERE FOR THE FULL LOOK AT SALES, FLAVORS, TRENDS, PRODUCT EXAMPLES AND MORE!
They're colorful and fun. They're sticky and chewy. Welcome to the fun, flavorful and fabulous world of gummies, which are loved by consumers young and old for a sweet indulgence or healthy dose of vitamins. Join us as we offer a snapshot of the gummy category today and what is expected.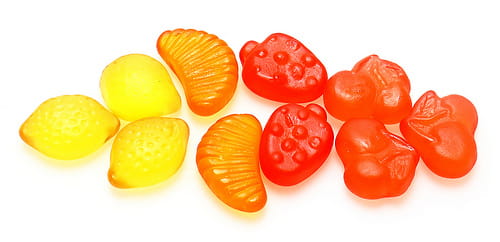 A Sweet Spot
If anything is certain in life, one thing is: the American consumer has a pretty hefty sweet tooth. And it is a consistent one. The U.S. sugar and confectionery market is unique from most of the global market in that it is actually increasing. The category achieved sales estimates of $11.5 billion in 2014, an increase of 2.9% from the previous year. And, with a predicted average value growth of 1.4% over the next five years, the U.S. market is ripe for innovation. This growth is the second largest in the world next to China, which saw 12% growth during the same period.
In the sugar and confectionery category, gummies stick to the top of the heap when it comes to new product launches. New product launches for the gummy market (defined as pastilles, gums, jellies & chews) in North America have been consistently the largest for the past five years with a modest growth from 31% in 2010 to an expected 37% in 2016. Some of this growth can be attributed to the crossover of traditionally confectionery gummies to health and wellness for the use in adult and children's vitamins. Vitamin, mineral and supplement gummies grew 48.5% from 2012-2014 with vitamins having the largest share but supplements experiencing the largest increase as more users become interested in gummy formats.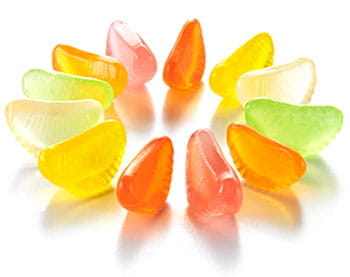 A Gummy for Everyone: The Trends
Sophisticated, healthy, sweet, sour and appeals to virtually everyone, gummies appear to be the perfect vehicle not only for flavor and fun but for functional ingredients too. The trends we are seeing in the gummy category certainly are diverse and transcendent across American consumer groups.
Adult-up the Confectionery Category
Traditionally, 85% of candy eating young adults aged 18-24 eat gummy candy contrasted with only 33% of the gummy-loving candy eaters aged 65 and older. But gummies are finding their way into the palms of sweets-loving adults wanting to have a bite of youthful fun. Recognizing this, some forward thinking gummy manufacturers are positioning gummies as more premium. Even in the Pastilles, Gums, Jellies & Chews subcategory, which makes up about a third of the market, premium positioning comprises only 2% of launches. Usually it is the toffee, caramels and nougats with this label but the recent explosive success of brands like Maria Sharipova's, Sugarpova, are proving that adults crave gummies too.
Launched in 2012, Sugarpova is climbing to the top of the sugar bowl with sales of 1.3 million bags of candy in 2013 and was expected to double in 2014 and beyond. With a hefty price point of $5.99 a bag and unique names like Flirty with bright lip shaped gummies or Cheeky for the classic bear shape, Sugarpova has answered skeptics who thought gummies were just for kids and opens the door for more adult targeted premium gummies.
Functionally Sweet
Whether in a vitamin or supplement, loaded with protein or as a vehicle for collagen or oral health, gummies can be more than just cute and sweet. Here is where they are functionally making a sweet statement:
Vitamins, Minerals, Supplements 
Gummies have seen massive growth in an unlikely market: vitamins, minerals and supplements. While the vitamin market in general has seen a flattening in sales, the addition of gummy forms for these OTC health aids has brought a sense of fun, better flavor and an easy to take form resulting in better compliance and increased growth especially in the adult market. While tablets still make up the lion share of the vitamins segment, gummy vitamin sales increased 45% from 2012-14 and along with chews, comprise 18% of new product launches.7 Look for new adult and children gummy vitamin lines starring another health and wellness darling, honey. Honbibe honey gummies were launched in March 2015, with an all-natural claim. Available in Canada, Honibebie puts honey front and center as both a natural sweetener and a pure source of energy with anti-inflammatory properties.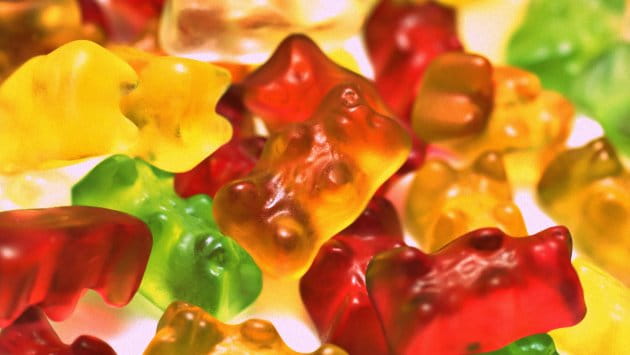 Protein 
The American consumer's health and wellness goals are creating a willingness to consume protein in sources other than meat. This has created opportunities for alternative vehicles for protein and yep, you guessed it—the gummy format is one of them. With 86% of UK adults viewing protein as a means to staying healthy and 57% of American consumers actively trying to consume protein, the demand for broader ranges of proteins creates opportunities outside of traditional formats.8 While less than 1% of new sugar confectionery launches contain an "added protein" claim, U.S. based RAP Protein is hoping that their sweet stuff gets the right stuff in terms of sales and market share.9 RAP's Mixed Berry Flavored Gummies have a whopping 20g of protein per serving with whey protein isolate as the top ingredient. For many time-crunched consumers, that beats a protein shake any day.
A Mouthful 
Thinking outside the traditional formats for oral health, a savvy breath mint and gum manufacturer is utilizing gummy formats to create a gummy gel cap that is swallowed and a breath mint that is sucked on for an "all in one" duo for the times a consumer can't brush their teeth. While not consumed as a traditional gummy, EatWhatever's vegan gel cap is swallowed and the organic peppermint oil and parsley seed oil dissolves in the stomach. It's paired with a ginger mint for a double knockout to bad breath.
Healthy Sugar 
With rising obesity rates, there is a worldwide obsession with health and wellness, creating a quandary for sugar confectionery manufacturers. It seems we still have a way to go. In 2013, 52% of food and drink launches contained white sugar, 30% used a form of glucose or lactose, 5% lactose and 4% with artificial and/or natural non-nutritive sweeteners.10 The increase in the use of stevia extract, honey, agave and more points to increasing consumer acceptance and interest in natural alternatives for sugar. Honey's association with health and as a natural sweetening source has resulted in a market share increase of 24.2% between 2012- 2014 across the sugar and sweeteners category while sugar and sugar substitutes declined for that same period.11 And more options are on the way. Allulose syrup, derived from corn and found in small amounts in jackfruit, figs, raisins and wheat, touts the same browning and bulking properties as sugar with little to no effect on blood sugars. Introduced in April 2015, allulose also has 70% of the sweetness of sugar but 90% less calories which bodes well for diabetics worldwide . Who would have thought that there could be a "healthy sugars" category?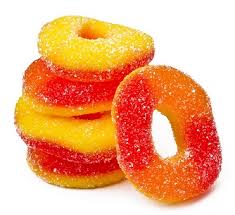 Free-from 
Twenty five percent of the world's confectionery consumers look for natural ingredients when indulging.12 Confectionery powerhouses, such as Nestle, are unveiling major commitments to creating clean labels for their products. Becoming the first U.S. manufacturer to remove artificial colors and flavors from more than 250 confections, Nestle USA rolled out plans for meeting this objective by the end of 2015 while promising not to sacrifice the taste that American consumers cherish. Using annatto as a substitute for Red 40 and Yellow 5, the manufacturer is also exploring alternatives to artificial vanillin and caramel coloring. Other large manufacturers are expected to follow suit as Hershey recently announced plans to simplify ingredients in its iconic Kisses and revered Milk Chocolate.
Bright, Happy, Unlimited: Gummy Flavors
Gummy flavors are traditionally fruity, sometimes sour or multi-layered and usually targeting kids and teens. However, we are seeing gummies take a turn to the exotic and bold, inspired by food and beverage categories other than confection. Meet the classic and cutting edge flavors of gummies as we see them now and how other categories will influence gummy flavors in the future.
Classic Flavors
From 2010-2014, cherry, strawberry, and orange were top flavors with U.S introductions in the category, but sour looks to be edging out orange. Another favorite, blue raspberry is maintaining its hot streak. Cinnamon and spicy flavors also appear to be increasing which is no surprise given consumers' obsession with heat flavors. The antioxidant-containing blueberry is gaining speed to satisfy health and wellness objectives. And lemon, watermelon, and grape seem to be waning in consumer favor as the benefits of other flavors garner more attention.
FONA CAN HELP!
Let FONA's market insight and research experts translate these trends into product category ideas for your brand. They can help you with concept and flavor pipeline development, ideation, consumer studies and white space analysis to pinpoint opportunities in the market. Our flavor and product development experts are also at your service to help meet the labeling and flavor profile needs for your products to capitalize on this consumer trend. We understand how to mesh the complexities of flavor with your brand development, technical requirements and regulatory needs to deliver a complete taste solution.
CONTACT OUR SALES SERVICE DEPARTMENT
at 630.578.8600 to request a flavor sample or visit www.fona.com.
image credits:
candyblog.net
nuts.com
abcnewsradioonline.com
confectionerynews.com
albanescecandy.com