Category Insight: Chocolate Confectionery
March 14, 2016
With 75% of women and 68% of men reporting that they indulge in chocolate, it's an incredibly popular experience with consumers. While globally, chocolate confectionery has grown 30% 2012-2015, the North American market is down 30%. At the same time, claims like "environmentally friendly" are up more than 800%. Let's dive into the sweet world of chocolate confectionery. We'll look at flavors, product claims, new introductions and examine how companies are trying to woo adults to take that chocolatey bite.
Growing Flavors
Hazelnut is where we see the most growth since 2012 with a nearly 50% increase in launches (411 to 606). Looking at the start to 2016, the growth appears to be continuing with 110 launches already tallied by the second week of February. Coffee flavor is the second highest percent of increase at 40% growth and Coconut and Caramel both pushing 30% growth in product launches over this time period.
Top 5 Global Flavors
Jan. 2012-Dec. 2015


Unflavored/Plain


Hazelnut


Caramel


Almond


Orange


Global Products of Note


Kaiser White Cocoa Balls with Hazelnut come in a four-pack and are also available in Cocoa flavor. Taiwan


Barú Milk Chocolate with Coffee & Cream Wrapped Marshmallow is an all-natural product that has been handmade in Belgium. Germany


Top 5 North American Flavors
Jan. 2012-Dec. 2015
1.Unflavored/Plain
2.Caramel
3.Almond
4.Peanut Butter
5.Hazelnut
North American Product of Note


Blanxart chocolate bars from Spain are now available in the U.S. and offer an array of interesting flavors. (images included for all 5 flavors)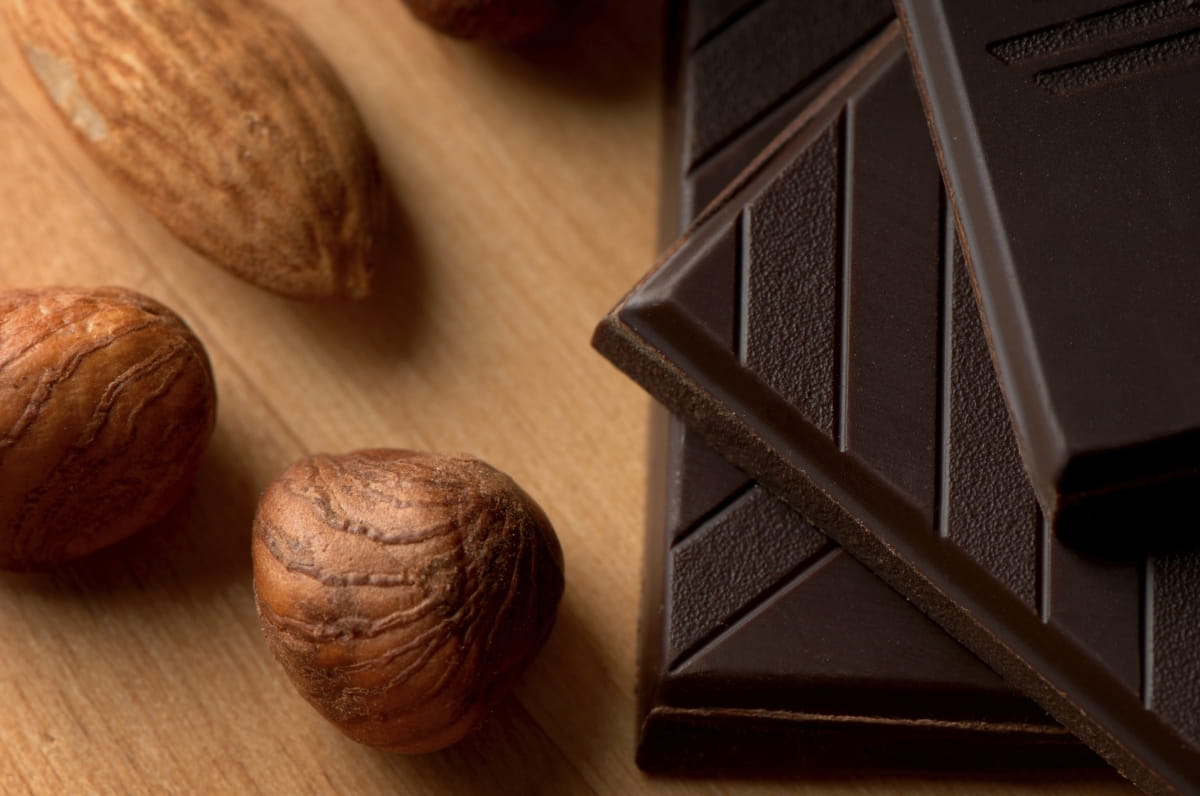 Claims
Globally, ethical claims are seeing tremendous growth in the chocolate confection category. Low/No/Reduced Allergen, Gluten Free and Organic have also posted large gains since 2012.
Top 5 Global Claims
Jan. 2012-Dec. 2015


Seasonal +21%


Ethical-human +300%


Ethical – Environmentally Friendly Product +846%


Low/No/Reduced Allergen +195%


Kosher +36%


Products of Note


Hands Off My Chocolate Seriously Dark Chocolate is 85% cacao chocolate with no artificial colors or flavors. The manufacturer is claimed to support the Quality Cacao for a Better Life Program that helps farmers to grow cocoa in a more sustainable way and improves family livelihoods.  Netherlands


Lotte Ghana Fresh Truffle Chocolate is claimed to be a high quality chocolate made of cacao beans produced in shaded cacao plantations, which implement standards for the conservation of natural resources. South Korea


Reconnecting Adults with Chocolate
Mintel data shows older consumers have the lowest engagement with chocolate confectionery, reflecting their greater interest in healthy eating. Here's a look at three ways companies are trying to regain adult customers: alcohol flavors, organic ingredients and premium positioning.
1. Alcohol Flavors
An obvious place to turn for adult flavors is the liquor cabinet. We see recent launches featuring Limoncello and dark chocolate in Italy, chocolates filled with the sweet herbal Liqueur Beirao in Portugal, and dark chocolate and truffles flavored with Merlot, Pink Champagne and Pinot Noir in the U.S. We also see beer giant Guinness featured in two new products launched in the UK and Spain: caramel-filled chocolates and dark chocolate truffles.
Product of Note – Japan (image included)


Nestle Japan recently launched a Sake-flavored white chocolate KitKat containing 0.8% alcohol. The product targets adults and tourists, as part of a regional flavor campaign that has sold KitKats flavored with Japanese ingredients only in the region where the flavor is based.


2. Organic
Consumers perceive organic foods to be healthier and are turning to organic confections for a more permissible indulgence. Although in the U.S. this claim has dropped between 2012 and 2015, we see a steady rise globally from 351 launches to 705 (+101%). Seven percent of chocolate confection launches currently carry the organic claim. Sea Salt, Peanut Butter and Cinnamon are the top three growing flavors over the past year in the organic chocolate confection market. (Q4 2014-Q4 2015)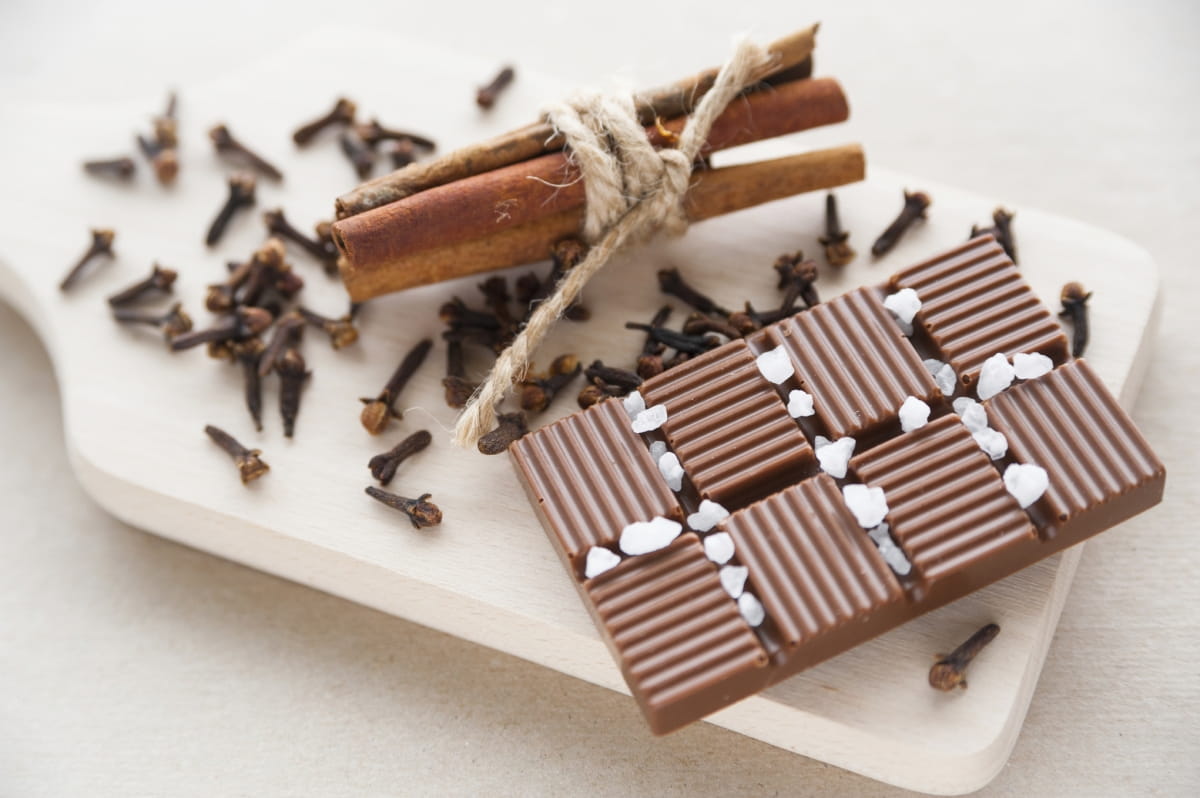 Products


Arctic Choc Hunajamurska Maitosuklaa (Organic Honey Crunch Milk Chocolate) is handmade in Finland and has a 35% cocoa content. It's said to be made without any harmful additives or preservatives, by using only the best organic ingredients.


Theo Red Hot Cinnamon Crunch Dark Chocolate is a product of the United States released for Valentine's Day 2016. Described as spicy and sweet, it comprises red hot crunch of cinnamon brittle in smooth rich 70% dark chocolate. This chocolate bar is made with only the finest organic and Fair Trade ingredients and suitable for vegans.


3. Premium
Global chocolate confection premium claims have risen 50% since 2013. From Q1 2014 to Q1 2016, coconut is the fastest growing flavor in this space, with a 500% increase. Here's the top-six list:


Coconut +500.00%


Sea Salt  +350.00%


Lemon +200.00%


Yogurt +200.00%


Salt/Salted +150.00%


Roasted/Toasted +150.00%


Interesting Sidenote:
There are three ingredients making an appearance for the first time in the past 12 months: Butter Flavor, Pineapple Powder, Rose Extract, Spinach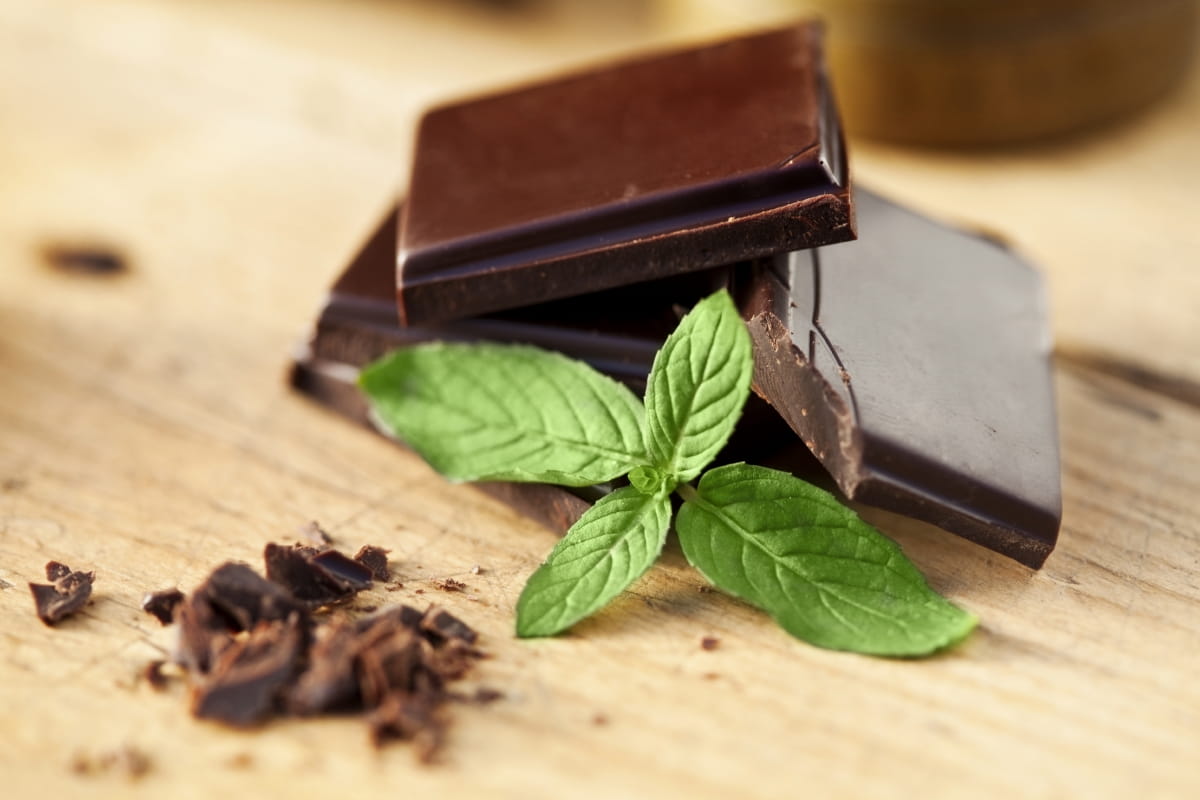 Products


Lula's Chocolates Dark Aloha Rocky Road is handmade in California with artisan marshmallows, house-roasted macadamia nuts from Hawaii and premium dark chocolate.


Choceur Swiss Mountain Bar Orange Infused Milk Chocolate is a premium Swiss milk chocolate infused with orange flavor and honey almond nougat inclusions in easy breakaway bite size pieces. Australia


Sources: GNPD, Mintel Food & Drink, Mintel Category Insight: Chocolate Confectionery May 2015, ConfectioneryNews.com
FONA CAN HELP!

Let FONA's market insight and research experts translate these trends into product category ideas for your brand. They can help you with concept and flavor pipeline development, ideation, consumer studies and white space analysis to pinpoint opportunities in the market. Our flavor and product development experts are also at your service to help meet the labeling and flavor profile needs for your products to capitalize on this consumer trend. We understand how to mesh the complexities of flavor with your brand development, technical requirements and regulatory needs to deliver a complete taste solution. From concept to manufacturing, we're here every step of the way.

Contact our Sales Service Department at 630.578.8600 to request a flavor sample or visit www.fona.com.