The Beet is On: Beet Trends by the Numbers
March 7, 2016
With appearances in magazines like 
Bon Appetit
 and a quadrupling of product launches since 2009, the humble beet is stepping up in the world. Join us as we take a look at restaurant menus, store shelves and both social and traditional media, to see where the beet — and its flavor — are appearing.
Social and Traditional Media
• While perusing Pinterest, beet pins were spotted with a good variety of food and beverage recipes, especially those for roasting, pickling and salads. Some of the recipes include: beetroot and feta salad, oven-baked beet chips, beet bread with cream cheese and dill swirl and beet and avocado deviled eggs.
• A quick Twitter search provides tweets mentioning beets "Pickle some beets today, enjoy them in salads or on their own all week." by RachaelRay Every Day and "Beets, it's what's for dinner" by Food 52 with a recipe for French Peasant Beets.
• In the January 2016 issue of
Good Housekeeping
, they highlight the sous vide trend and provide a recipe for Steak Salad with Charred Green Onions and Beets. Tossed with vinegar, olive oil, salt and pepper are beets, greens, and radicchio.
• In the January 2016 issue of
Bon Appetit
is a recipe for a Beet and Carrot Salad With Curry Dressing and Pistachios. They note that smaller beets are ideal for this, since the rounds will fit neatly at the end of the fork.
Beet on the Menu
We found 114 mentions of beet or beet flavor on restaurant menus. The root and its flavor was found most often on fine dining menus.
• Beet Orange Basil Juice, Mansion on Turtle Creek
• Gnudi: Red beet & ricotta dumplings with pancetta & green pea puree, Zio
• Beet Brownie with spiced pistachios and pomegranate maple reduction, T'afia<
• Zucchini Fritters with a beet aioli, The Blue Star
Beet On the Shelf
We found 903 new products with beet globally, and 120 new beet products in North America. In all regions, new product launches occurred most in the juice drink category.
Global Product Introductions of Note
• Olive Let's Dip Patzarolsalata Beet Root & Yogurt Dip, Thailand
• Cold Pressed Passion Fruit, Strawberry and Beet Juice, Brazil
North American Product Introductions of Note
• Ella's Kitchen Might Strawberry and Red Beet Smoothie Drink
• Bitsy's Brainfood Smart Cookies Orange Chocolate Beet Cookies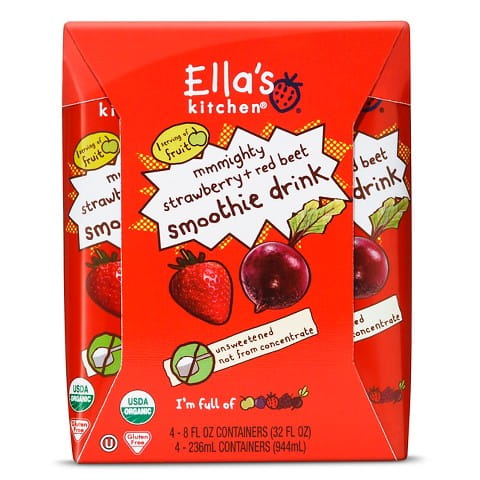 Image Source: Mintel GNPD
Sources: Mintel GNPD, Mintel Menu Insights, Bon Appetit, Good Housekeeping, Pinterest, Twitter
FONA CAN HELP!
Let FONA's market insight and research experts translate these trends into product category ideas for your brand. They can help you with concept and flavor pipeline development, ideation, consumer studies and white space analysis to pinpoint opportunities in the market.
Our flavor and product development experts are also at your service to help meet the labeling and flavor profile needs for your products to capitalize on this consumer trend. We understand how to mesh the complexities of flavor with your brand development, technical requirements and regulatory needs to deliver a complete taste solution. From concept to manufacturing, we're here every step of the way.
Contact our Sales Service Department at 630.578.8600 to request a flavor sample or visit www.fona.com.