Flavor Insight: Blood Orange
May 2, 2016
Click here for report!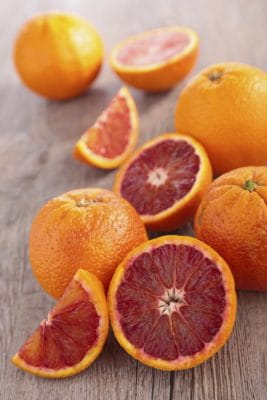 Grown primarily around the Mediterranean and now California, this sweet-tart orange has a bright red or redstreaked white flesh. Most blood oranges are best eaten fresh, but the more acidic varieties work well in cooked sauces, salads, salsas or marmalades.
Let's take a look at the various forms of blood orange on the menu, in social media, and in new products.
Blood Orange Highlights
There are several mentions blood orange in social media. Here are some of the highlights.
• While perusing Pinterest, blood orange pins were spotted with a good variety of food and beverage recipes especially cocktails such as blood orange gin & tonic, blood orange margarita and a blood orange mint mojito. Additional recipes include blood orange scones, blood orange chia seed pudding and candied blood orange slices dipped in dark chocolate.
• A Twitter search shows tweets mentioning blood orange, such as @popsugarfitness "you need to lunch on this blood orange avocado beet salad. Another: chef Marcus Samuelsson @marcuscooks says "what better way to celebrate #NationalMargaritaDay than with a blood orange margarita."
• On Food.com, 209 recipes appear if you search for blood orange. Recipes include blood orange lemonade, pancakes with a blood orange honey sauce and a blood orange and fennel salad.
• On Instagram, Williams Sonoma shared a picture of a Blood Orange Mai Tai that looks extremely refreshing with the line "why wait till Friday?" We are also spotting blood orange in print publications. Here are some of the highlights.
• The Cook This Now section of the February 2016 Bon Appetit features an article called "There Will Be Blood Oranges." Showcased are three ways you never thought to use winter citrus including, blood orange jell-o shots, blood orange chia pudding and seared duck breasts with blood orange.
• In the March 2016 issue of Rachael Ray they provide a recipe for a Blood Orange Tequila Sunrise and note that vodka, gin or whiskey would be equally delicious for this fruity drink.
Blood Orange on the Menu
Q3 2009-Q3 2015
• Blood Orange Lemonade, Romano's Macaroni Grill
• Pistachio Crusted Salmon with Blood Orange Dressing, Elephant Bar Restaurant
• Blood Orange Sangria, Fleming's Steakhouse & Wine Bar
• Blood Orange Sorbet, Al Biernat's
Citrus on Fire
"Citrus" is one of those beautiful food words that evokes menu positives for the diner: fresh, zingy, refreshing, tart, bright, healthy, light. Apart from delivering premium menu cues, it's also a fantastic flavor component, truly bringing all of those words to life. Chefs are now taking citrus to the next level, transforming it with the flavor of fire, giving it depth, nuance and flair while lending it even more menu language power.
Blood Orange Global New Product Introductions
We are spotting 834 new products globally with latin america as the top region. Juices is the top category.
Products of Note


Torie & Howard Chewie Fruities
Blood Orange & Honey Organic  Candy Chews: Singapore


Blood Orange Sicilian
Marmalade: Germany


Firm Yogurt with Red
Orange & Lemon:Netherlands


Suntory Radler Beer Style
Party Label Blood Orange &
Lemon Beer: Japan


Weis' Sorbet Exotics Blood
Orange and Tahitian Lime
Sorbet: Australia


Blood Orange North America New Product Introductions
In North America, we are spotting 127 new products with large growth in 2015. Carbonated soft drinks was the top sub category.
Products of Note


Ginger Delights Blood Orange
Candy Pastilles


Holy Kombucha Raw Frizzy
Blood Orange Probiotic Tea


World Market The Exotic
Collection of Sea Salted
Chocolate Blood Orange


Milk Chocolate Bar
Amsterdam Brewery Sweetwater
Squeeze Radler Blood
Orange Light Beer


Wolfgang Greek Style Yogurt
Treats Blood Orange &
Mango Yogurt Treats


FONA CAN HELP!
Let FONA's market insight and research experts translate these trends into product category ideas for your brand. They can help you with concept and flavor pipeline development, ideation, consumer studies and white space analysis to pinpoint opportunities in the market. Our flavor and product development experts are also at your service to help meet the labeling and flavor profile needs for your products to capitalize on this consumer trend. We understand how to mesh the complexities of flavor with your brand development, technical requirements and regulatory needs to deliver a complete taste solution. From concept to manufacturing, we're here every step of the way. Contact our Sales Service Department at 630.578.8600 to request a flavor sample or visit www.fona.com.
SOURCES:
Mintel GNPD
Mintel Menu Insights
Bon Appetit
Rachael Ray
Pinterest
Twitter
Food.com