Flavor Insight: Pistachio Flavor Gets Crackin'
May 8, 2017
Known for a delicate and subtle flavor, the pistachio nut can be a perfect partner to many dishes and products. And it's showing clear growth. In North America alone, pistachio-flavored product launches doubled between 2015 and 2016. We're seeing the unique taste paired with stronger flavors in everything from halibut to chocolate bark. High in vitamin A, calcium and many other important minerals, pistachios add a light, healthy touch as either a snack or as a product addition.
Let's take a look at the various forms of pistachio on the menu, in social media, and in new products.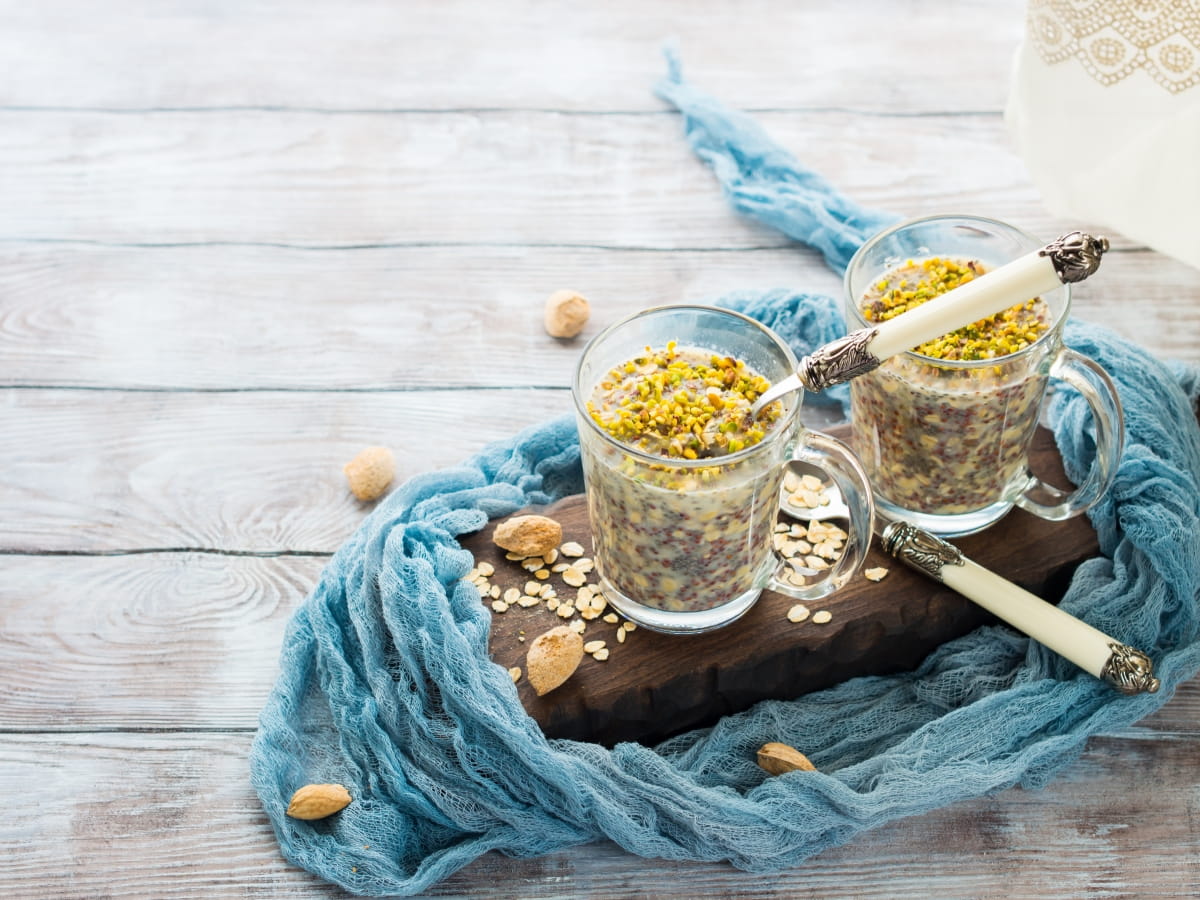 Print & Social Media Highlights
There are several mentions of pistachios in social media. Here are some of the highlights.
• While perusing Pinterest, pistachio pins can be spotted in a wide variety of food and beverage recipes especially baked goods, including matcha pistachio yogurt bark, cranberry pistachio holiday cookies, pistachio macarons, pistachio ricotta cookies and Italian pistachio gelato. Other recipes include za'atar pistachio mint olive labneh dip, pistachio cardamom energy bars, pistachio-crusted halibut and homemade pistachio butter.
• A Twitter search shows tweets mentioning pistachio, including one from @freefromfairy: "Fab recipe from @Choclette8 for chocolate pistachio biscotti with orange cardamom using my plain gluten free flour," and this tweet by @SundayBrunchC4: "For all you asking for @yasmin_kahn's pistachio soup recipe, it's online now!"
• On Food.com, 1,773 recipes appear if you search for pistachios. Recipes include pistachio goat cheese bites, salmon with pistachio basil butter, orzo, grape and pistachio salad, and an Oreo-pistachio dessert.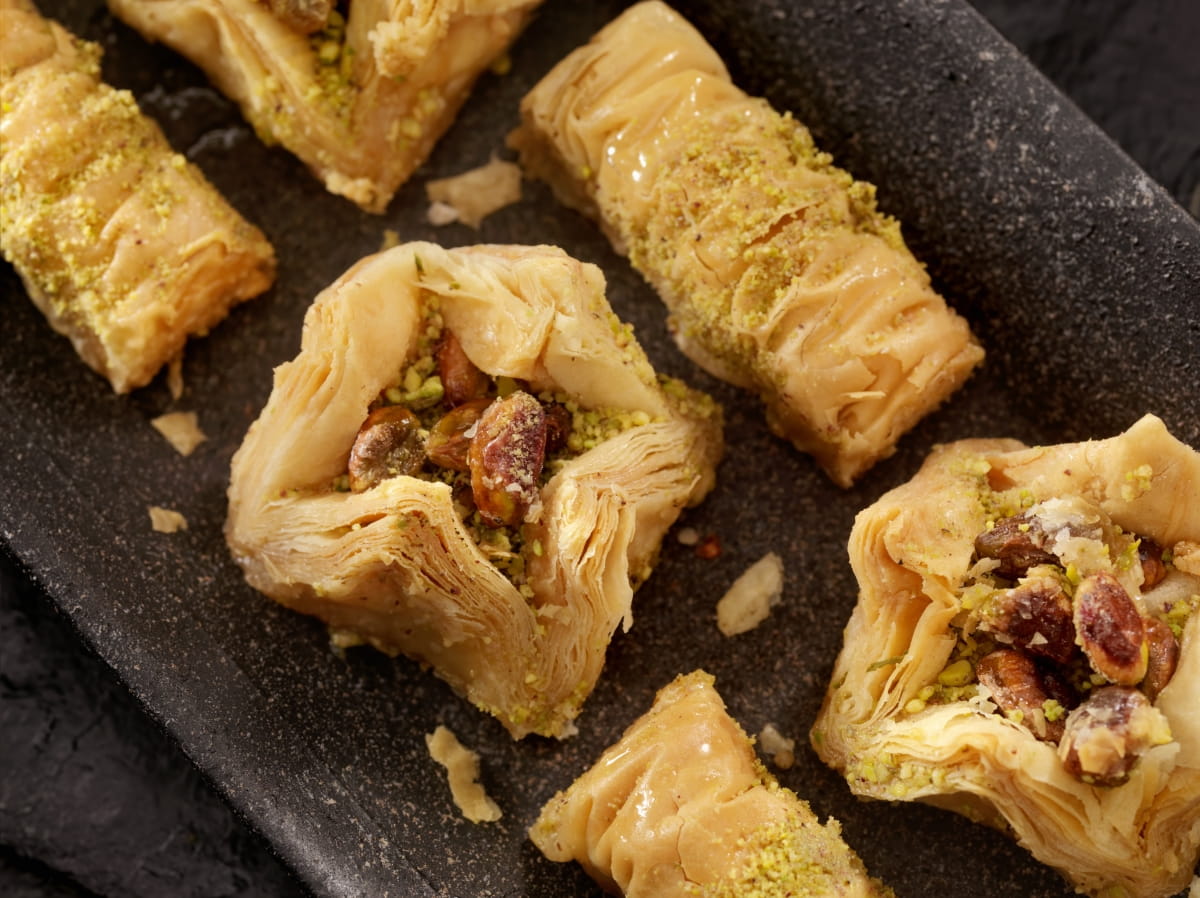 We are also spotting pistachio in print publications. Here are some of the highlights.
• In the December 2016 issue of Health magazine is a recipe for Parsley-Pistachio Gremolata glaze with Cornish hens and wild rice stuffing.
• In the January 2017 issue of
Saveur
magazine is an Almond Frangipane Tart with Cranberries and Honeyed Pistachios. This tart features an almond-based pastry filling with a nutty fragrance and airy sponge cake mouthfeel. Perfect for a wintertime treat or substitute the cranberries for fresh apricots, cherries or plums to make a sweet summer treat.
Pistachio on the Menu
We're spotting 358 mentions of pistachio on restaurant menus nationwide, with fine/upscale dining as the top segment.
• Pistachio Chocolate Chip Bread Pudding- Limestone Restaurant
• Alaskan Halibut with Lemon Pistachio Pesto Sauce- Catch 35
• Spring Peas and Pistachio Cake- Felidia
• Fried Green Tomatoes with Pistachio Relish- Magnolias at the Mill
Pistachio Global New Product Introductions
Globally, we're seeing 1,652 new product introductions with dair-based frozen products just beating out sweet biscuits/cookies as the top sub-category.
• Italy: Pistachio Flavored Cream Liqueur
• Ireland: Cranberry & Pistachio Nutritional Chocolate Bar
• Slovakia: Strawberry, Pistachio & Chocolate Macarons
• Australia: Pistachio & Prosciutto Salami
Pistachio North American New Product Introductions
In North America alone, we're spotting 198 new products, with double the products in 2016 that were in 2015.
• Trader Joe's Pistachio Pomegranate Crisps
• Terra Breads Signature Spice Pistachio Granola
• Gelato Fiasco Mascarpone Pistachio Caramel Gelato
• Terlato Kitchen Tart Cherry and Pistachio Soft Biscotti
FONA CAN HELP!
Let FONA's market insight and research experts translate these trends into product category ideas for your brand. They can help you with concept and flavor pipeline development, ideation, consumer studies and white space analysis to pinpoint opportunities in the market.
Our flavor and product development experts are also at your service to help meet the labeling and flavor profile needs for your products to capitalize on this consumer trend. We understand how to mesh the complexities of flavor with your brand development, technical requirements and regulatory needs to deliver a complete taste solution. From concept to manufacturing, we're here every step of the way.
Contact our Sales Service Department at 630.578.8600 to request a flavor sample or visit www.fona.com.
Sources: Mintel GNPD, Mintel Menu Insights, Daily Herald, Pinterest, Twitter, Food.com