FONA Named #1 Small/Medium Company in Chicago by Fortune magazine and Great Place to Work
May 25, 2017
Geneva, IL, May 25, 2017 – FONA International, family-owned creator and manufacturer of complete flavor solutions, was named the #1 Small/Medium Workplace in Chicago by Fortune magazine and consulting firm Great Place to Work. See rankings here.

FONA won #1 Great Place to Work in Chicago based on employees' anonymous responses to an extensive survey about their levels of trust, pride and camaraderie at work. The independent review shows that 99% of FONA employees say the company's communication is excellent and 98% rate the atmosphere, challenges, and pride at FONA as "great." The full review is available here.

"Employees say these organizations embody some of the Chicago area's best traits. They're brimming with ambition and pride, and committed to creating a welcoming and fair community for all colleagues," said Michael Bush, CEO of Great Place to Work.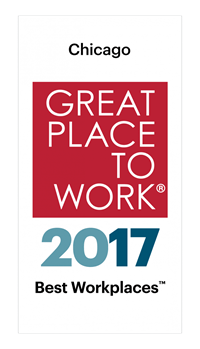 "It's an honor to be named top workplace in Chicago. It's truly a reflection of the camaraderie and growth environment at FONA," said Lindsey Clark, Benefits Manager. "Personally, I'm so proud to work for a company that values its employees. We all grow together."

The rankings are based on feedback from over 81,000 employees at Great Place to Work–Certified organizations in the Chicago area. An anonymous Trust Index survey assessed their management, professional development, sense of purpose and other elements essential for an outstanding workplace. Scores also consider the complexity of organizations' employee populations and how much of their business is in the Chicago area.

FONA's excellence has been recognized by other organizations this year. This follows FONA's national ranking of #36 medium-sized business in the country by Fortune, and an announcement earlier this very week that FONA had been named one of Chicago's Best & Brightest Companies to Work For, for the 12th consecutive year. The company was awarded the 2016 Food Quality and Safety Award by Food Quality and Safety magazine. Additionally, the National Association for Business Resources recently named FONA one of the national Best & Brightest Companies to Work For in the country. NABR also awarded the company an Elite Award for Compensation, Benefits and Employee Solutions.

About FONA International, Inc.
Now celebrating 30 years, FONA International creates and produces flavors for many of the largest food, beverage, nutritional companies in the world. It offers flavor solutions for the confection, grain, beverage, performance nutrition, and emerging markets from its state-of-the-art, 33-acre campus in Geneva, IL. FONA's seven core values drive it to pursue excellence and foster incredible partnerships. More than just great flavors – FONA provides complete market solutions.
About Great Place To Work

Great Place to Work is the global authority on high-trust, high-performance workplace cultures. Through its certification programs, Great Place to Work recognizes outstanding workplace cultures and produces the annual Fortune "100 Best Companies to Work For®" and Great Place to Work Best Workplaces lists for Millennials, Women, Diversity, Small and Medium Companies, industries, and internationally, countries and regions.
Download the press release here.