A Global Look at Ice Cream
October 23, 2017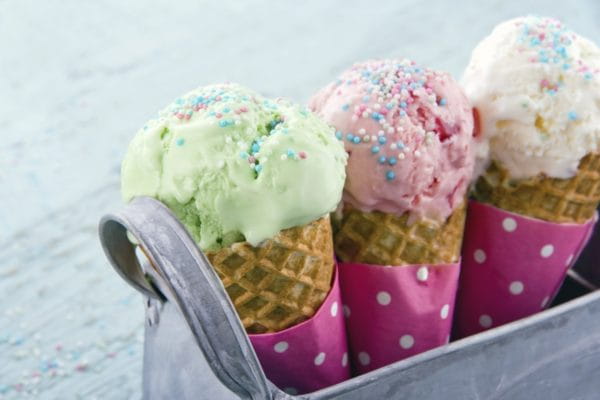 Ice cream is going through an innovation revolution. From adding carbonation to removing dairy to taste experimentation, ice cream can be everything to everyone. What else are we spotting? Changing dayparts, ethical claims, alcohol flavors and fun ingredient additions.
With 65% of Americans saying that ice cream is their favorite food to eat in the summer, the ice cream category is showcasing change and inspiration every day. Let's take a look at the product introductions, top flavors and other attention-grabbers as we examine the world of ice cream.
 Beyond Dessert
According to research from Mars Ice Cream (through an online survey via Harris Poll), consumers view ice cream as much more than just a dessert. It appeared across day parts and was thought of as a snack, not just an after-meal treat.
A Packaged Facts survey shows similar results. "Far more respondents eat ice cream as a snack rather than as a dessert, and they enjoy it throughout the day," says David Sprinkle, research director.  "More than half consider ice cream an evening snack, about one-quarter consume it as a late-night snack, and another one-quarter as an afternoon snack. Some even snack on ice cream in the morning. Of course, ice cream also serves as dessert, with nearly half eating it after dinner and 13% after lunch."


18% of Americans eat ice cream on-the-go in their cars.


48% of Millennials say "in bed watching TV" is where they choose to enjoy ice cream.


Flavors
When looking at top flavors including blends, Chocolate, Vanilla and Strawberry rule the world of ice cream launches. In fact, chocolate-flavored ice cream launches increased 19% between 2013 and 2016, further solidifying its place at the top of the charts.
Other flavors in the global top 20 with increased appearances of note include Almond (+155%), Caramel & Sea Salt (+140%), Raspberry (+63%), and Pistachio (+45%). We also see that Almond & Chocolate launches tripled as non-dairy ice creams featuring almond milk gained popularity.
Chocolate is the top flavor in each of the top 10 countries for ice cream launches (except Canada where Vanilla took the lead) with Vanilla, Strawberry and Chocolate & Vanilla sorting into the second and third slots across the board with a few notable exceptions. In Italy, Coffee flavor is second and Vanilla third. Coffee is paired with Caramel, Chocolate, Cocoa, and Stracciatella flavors. In Brazil, Coconut takes second place with Strawberry third and Vanilla a far-off fourth place.
New Flavors in 2017


Frosted Cinnamon Bun


Vanilla Mochi


Bavarian Cream and Strawberry


Honeycomb, Cocoa & Vanilla


Orange Blossom


Top Global Ice Cream Flavors
1. Chocolate
2. Vanilla
3. Strawberry
4. Chocolate & Vanilla
5. Caramel
6. Coconut
7. Mango
8. Coffee
9. Tiramisu
10. Cookies & Cream


Asda Chunky Choc Lollies are chocolate flavored ice cream with a chocolate flavor center and coating with biscuit pieces. The lollies are said to have a seriously satisfying center and a crunchable chocolate coating. This product has no artificial colors, flavors or hydrogenated fat, and is suitable for vegetarians. UK September 2017




Little Moons Vanilla Mochi Ice Cream is vanilla ice cream wrapped in a soft mochi (pounded sticky rice) and dusted with rice flour. These steamed, sweetened rice flour spheres feature a delightfully chewy outer and an indulgent vanilla ice cream center. Vegetarian, free from gluten, artificial flavorings, colors and preservatives. Made with whole Madagascan vanilla beans. UK March 2017


Magnum Double Hazelnut Ice Cream is made with Rainforest Alliance certified cocoa and is described as hazelnut flavored ice cream with thick hazelnut sauce hidden between two Magnum classic chocolatey layers. The product retails in a recyclable pack. Australia September 2017


4 new ingredients seen in last 12 months include:


Goji Berry Juice


Hemp Protein


Yellow Wine


Carbonating Agent


Flavor Spotlight: Mascarpone
Mascarpone cheese is tied with Custard as the fastest growing flavor since Q4 2014, with 400% more incidents. It appears in products from Austria to Malaysia, paired with flavors such as Strawberries, Raspberries, Cherries, Espresso, Hazelnut, Stracciatella, Balsamic Fig, Pistachio and Chocolate. In the United States, we're most familiar with Mascarpone as a key ingredient in tiramisu.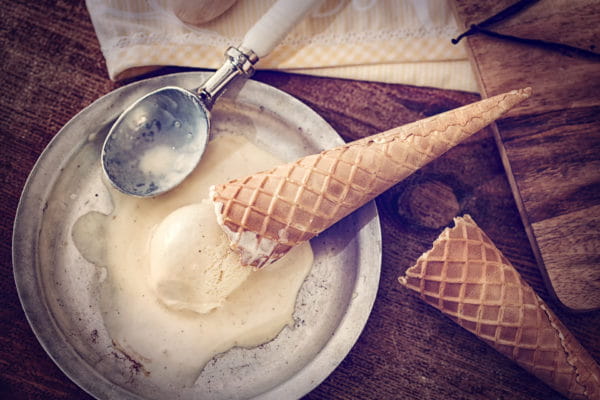 Launches
The ice cream industry squeaked out a 1.4% increase between 2013 and 2016, with 42 more products landing on shelves around the world. There were 2,381 new products tracked as of the end of September 2017.


US


Japan


Germany


Spain


France


Italy


Brazil


UK


Canada


India




 Morinaga Cookie Ice Cream Sandwiches are a new limited edition variety comprised of one salted butter cookie sandwich and one Belgian chocolate ice cream sandwich.  Japan September 2017


London Dairy Premium Ice Cream with Caramel Biscuit comprises caramel ice cream blended with cinnamon spiked biscuits with swirl of rich caramel sauce. Also available in Fig Walnut flavor. India July 2017, imported from United Arab Emirates


Claims


Animal Well-Being


Ethical – Animal claim is top growing claim over the past year (+475% Q3 2016 – Q3 2017).


Happy herds and well cared-for animals may already be associated with better tasting milk and cream in the eyes of the consumer, so Mintel reports that the extra effort involved in ensuring dairy traceability and responsible husbandry could give brands a significant perceived taste advantage over rivals in the premium space.


As consumers increase focus on the treatment of the cows providing their milk, a new product that would assuage all worries of animal welfare while enjoying dairy products such as ice cream is emerging: Perfect Day no-cow dairy. Perfect Day removes cows from the dairy equation all together, creating milk using "proteins derived from fermented yeast" in a process not unlike brewing craft beer, reports Whitney Filloon of Eater. Perfect Day's website promotes the product as "more nutritious, safe, and sustainable than factory-farmed dairy. And it tastes just like cow's milk!" The company also claims their process to create cow-free dairy uses 98% less water, 91% less land, 65% less energy, and produces 84% less greenhouse gas emissions  than factory farms.
Top 10 Claims


Low/No/Reduced Allergen


Kosher


Ethical – Environmentally Friendly Package


Gluten Free


No additives/Preservatives


Social Media


Premium


Vegetarian


Ethical – Environmentally Friendly Product


Ethical – Human


Health and Wellness
Mintel's Ice Cream and Frozen Novelties report revealed that 19% of category users are now buying less frozen treats because they are unhealthy. Their research also shows this consumer behavior is evident among younger shoppers. This means ice cream brands need to find a balance between health and indulgence to remain attractive to these consumers.
One such way is by adding protein into the mix. High/Added Protein is the third fastest growing claim in the past year (+275% Q3 2016 – Q3 2017) with brands such as Halo Top and Arctic Zero gaining fans and Breyers joining the fray with their Delights line of low fat ice creams (260-330 calories and 20 grams of protein per pint).
Protein adds a level of permissibility and opens ice cream eating to more occasions, such as post workout, which without the protein angle would be about the last time you'd think to reach for ice cream.
[caption id="attachment_2067" align="alignnone" width="600"]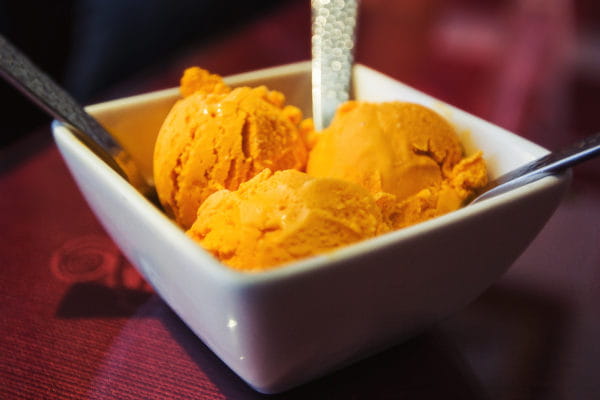 [/caption]
Indulgence: Boozy Ice Cream
"When you think of something that can instantly improve any meal it accompanies, it's a tie between ice cream and booze," says Suzannah Weiss of Refinery29. And now consumers can enjoy them both as ice cream products that register a real ABV% find their way into stores and restaurants, giving treat-focused folks a double dose of indulgence.
First up, we see Häagen-Dazs launched a line of alcohol-infused ice cream in Canada this past summer in five flavors: Rum Vanilla Caramel Blondie, Whiskey Chocolate Truffle, Irish Cream Coffee & Biscotti, Vodka Key Lime Pie, and Rum Ginger Cookie.
Jude's in Hampshire, England, teamed up with award-winning London gin distillery Sipsmith to create Gin & Tonic ice cream and also has Hot Toddy flavor in their line featuring Laphroaig Islay single malt scotch.


In Dallas, TX, two new boozy ice cream shops opened over the summer. Visit The Pharmacy and indulge in creations like a Banana Cream Pie milkshake, a blend of vanilla ice cream, rum and actual banana-cream pie. If you want to up the alcohol, you can order a shot on the side. This ice cream spot also makes alcoholic floats using Not Your Father's Root Beer.




Ice Cream Wasted is an all-vegan, all-organic, by-reservation-only spot offering tastings of a rotating array of seasonal flavors, such as pineapple upside-down colada and key lime-a-rita. The owner, Bri Calloway, is an ice cream loving chemist who developed a proprietary method for infusing alcohol into ice cream. And for Halloween, she's preparing a glow-in-the-dark ice cream.




In New York City, Melissa Tavss opened an "ice cream barlour" called Tipsy Scoop where she churns artisanal, handmade ice cream with premium mixed cocktails, stouts & wines. Once called a "scoop sommelier" who practices "sweet spirits sorcery," she uses local and seasonal ingredients like Brooklyn cold brew in her ice cream, which is 5% ABV, and comes in flavors like Cake Batter Vodka Martini, Salted Caramel Apple Brandy, Hot Buttered Rum and Raspberry Limoncello Sorbet.





(Tipsy Scoop highlights how well this trend ties in with consumer interest in artisan ice creams and premium ingredients, which are the leading area of interest in ice cream innovation in Canada (44%).)
FONA CAN HELP!

Let FONA's market insight and research experts translate these trends into product category ideas for your brand. They can help you with concept and flavor pipeline development, ideation, consumer studies and white space analysis to pinpoint opportunities in the market.

Our flavor and product development experts are also at your service to help meet the labeling and flavor profile needs for your products to capitalize on this consumer trend. We understand how to mesh the complexities of flavor with your brand development, technical requirements and regulatory needs to deliver a complete taste solution. From concept to manufacturing, we're here every step of the way.

Contact our Sales Service Department at 630.578.8600 to request a flavor sample or visit www.fona.com.



Source: Mintel, CSNews, Delish.com, Eater.com, QZ.com, Vice.com, thekitchn.com, telegraph.co.uk, judes.co.uk, guidelive.com, centraltrack.com, theicecreambar.com, refinery29.com, goldbely.com, tipsyscoop.com