Forbes names FONA a Small Giant, One of America's Best Small Companies
May 18, 2018
For Immediate Release.
Contact: dburgess@fona.com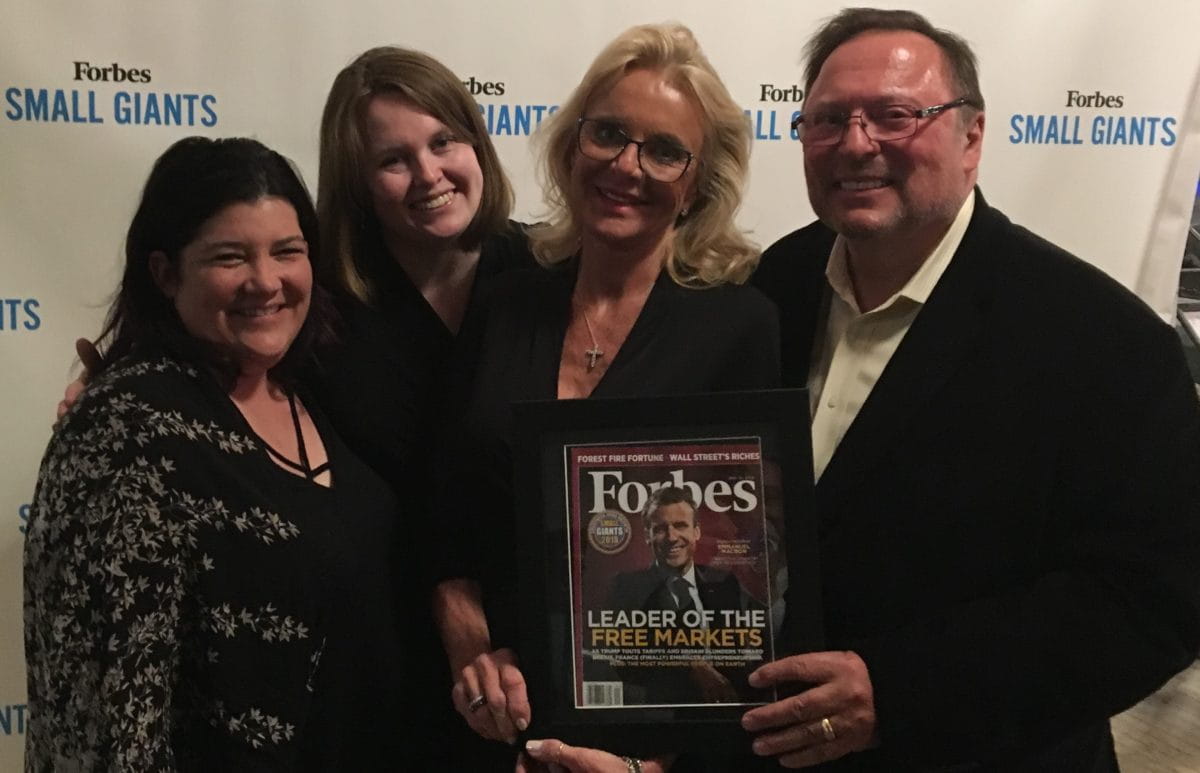 Detroit, May 18, 2018
– Only 25 companies made the 2018 list of
Forbes'
Small Giants, and Geneva, IL-based FONA International is one of them. The family-owned creator and manufacturer of complete flavor solutions was named last night at a reception in Detroit.
Small Giants are described by the organization of the same name as those businesses that value being great over being big. The announcement in
Forbes
describes winners: "All are privately owned and closely held. They contribute to their communities and stand out within their industries."
Bo Burlingham, the author the book Small Giants, and Sr. Editor of Forbes Loren Feldman bestowed the honors at the reception. Feldman said of FONA: "The flavor industry is a 14 billion dollar industry. It's dominated by a handful of really big companies. These guys compete by providing the kind of service you'd expect a Small Giant to provide."
Burlingham said he was looking forward to the time when culture-focused business was the standard. "I can feel the shift happening right now. You should be really proud of the fact that you're really at the vanguard here," he said.
"We are thrilled," said Joe Slawek, CEO & Chairman. "To be named among some of the best thinkers and innovators in the country is quite an honor. At FONA, we have what we call our 'dare to be different' mentality, to think outside of the box. it's incredible to be recognized for doing just that."
See the full 2018 Small Giants list here:
https://www.forbes.com/feature/small-giants/#485b44034612
ABOUT THE AWARD
Each year, Forbes, in partnership with the Small Giants Community, presents the definitive list of America's Best Small Companies: a celebration of 25 privately owned companies that have chosen to be great instead of big. Their terrific workplaces, revolutionary products, outstanding services and one other special quality – we call it mojo – are what makes them special.
ABOUT FONA INTERNATIONAL, INC.
Founded more than 30 years ago, FONA International creates and produces flavors for many of the largest food, beverage, nutritional companies in the world. It offers flavor solutions for the confection, grain, beverage, performance nutrition, and emerging markets from its state-of-the-art, 33-acre campus in Geneva, IL. FONA's seven core values drive it to pursue excellence and foster incredible partnerships. More than just great flavors – FONA provides complete market solutions.