FONA Named a Best Workplace in Chicago by Fortune magazine and Great Place to Work
May 22, 2019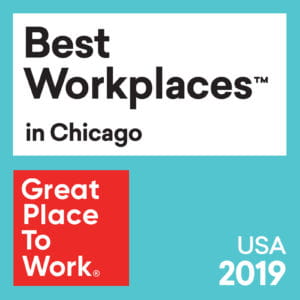 For Immediate Release
Contact: Deirdre Burgess
dburgess@fona.com
(630) 578-8435
FONA Named a Best Workplace in Chicago by Fortune magazine and Great Place to WorkGeneva, IL, May 22, 2019 – 
For the third year in a row, FONA International, family-owned creator and manufacturer of complete flavor solutions, was named a Best Workplace in Chicago by
Fortune
magazine and consulting firm Great Place to Work.
Fortune
magazine and Great Place to Work evaluated 55 companies in Chicago in a wide variety of industries and sizes.  Out of 25 small and medium sized companies, FONA was ranked eighth for Best Workplaces in Chicago as well as being the only company in the manufacturing and production industry within this category.
"We are honored that Fortune named us a top ten workplace in Chicago," said FONA Human Resources Director Tonya Hubbartt.  "This recognition signifies FONA's commitment to the FONA family.  We know that together we can do great things."
Great Place to Work
evaluated employee responses regarding personal experiences and feelings of trust within the company as well as topics such as company values, innovativeness, and leadership. Employees reported that FONA is a great place to work because of the people, benefits, flexibility, management, and sense of pride they have in their work.
To determine the Best Workplaces in Chicago list, Great Place to Work analyzed responses representing nearly 850,000 employees in the Chicago area at Great Place to Work-Certified organizations. Employees responded to more than 60 survey questions anonymously rating their employers.
"Everyone has a voice and management will listen to your ideas," said one employee.  "In addition, you can truly bring your whole self here and feel confident that you will be accepted and celebrated for who you are. FONA is more like my family vs. my employer."
This is the second prestigious recognition in less than a week for FONA, who was named as one
Inc
's Best Workplaces in the Nation.  See the award announcement
here
.
In fact, FONA International was one of the only manufacturing companies for this recognition as well, a great accomplishment for the FONA family.  Other recognitions this year include being named #3 manufacturing workplace in the nation (among companies of any size) and the #58 workplace overall (medium-sized) by
Fortune
magazine and Great Place to Work, one of
Forbes
magazine's Small Giants; and recognition as a Best & Brightest Company to Work For.
About FONA International, Inc.
For more than 30 years, FONA International has created produced flavors for many of the largest food, beverage, nutritional companies in the world. It offers flavor solutions for the confection, grain, beverage, performance nutrition, and emerging markets from its state-of-the-art, 33-acre campus in Geneva, IL. FONA's seven core values drive it to pursue excellence and foster incredible partnerships. More than just great flavors – FONA provides complete market solutions.
About Great Place To Work Methodology
To determine the 2019 Best Workplaces in Chicago, Great Place to Work® analyzed anonymous survey feedback from almost 850,000 employees working in the Chicago area.
Employees responded to over 60 survey questions describing the extent to which their organization creates a Great Place to Work For All™. Eighty-five percent of the evaluation is based on what employees say about their experiences of trust and reaching their full human potential as part of their organization, no matter who they are or what they do. Great Place to Work analyzes these experiences relative to each organization's size, workforce make up, and what's typical in their industry and in Chicago.
The remaining 15 percent of the rank is based on an assessment of all employees' daily experiences of innovation, the company's values, and the effectiveness of their leaders, to ensure they're consistently experienced.
To be considered, companies had to meet the Great Place to Work-Certified standard. To ensure companies had a sufficient presence in the Chicago metro area, at least 5% of the survey respondents at large companies and at least 20% of the survey respondents in small and medium companies needed to be from the region. Companies with 10 to 999 people were considered for the small and medium category; companies with 1,000 employees or more were considered for the large category.
##