Inc. Magazine Names FONA International One of the Best Workplaces in the Nation
May 16, 2019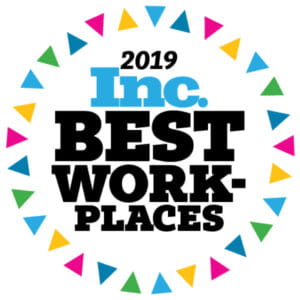 For Immediate Release
Contact: Deirdre Burgess
FONA
(630) 578-8435
dburgess@fona.com
Inc. Magazine Names FONA International One of the Best Workplaces in the Nation
Geneva, IL, May 16, 2019–
For the first year, FONA International, family-owned creator and manufacturer of complete flavor solutions, has been named one of
Inc
's Best Workplaces of 2019. The list is national, and FONA is one of only four manufacturing companies — and the only flavor company — to make the cut!
"It is an incredible honor to be named an Inc Best Workplace. To be recognized on the national stage is a testament to every member of the FONA Family," said President Amy McDonald. "We strive to create a workplace where people feel respected and cared for. That's why recognition like this means so much."
Inc.
is working to acknowledge the importance of a positive corporate culture. Employees from nearly 2,000 companies of all sizes and industries took part in a survey on topics including trust, management effectiveness, perks, and confidence in the future. See the full list
here.
"With today's tight labor market, building a great corporate culture is more important than ever," said magazine editor in Chief, James Ledbetter. "The companies on
Inc
's Best Workplaces list are setting an example that the whole country can learn from."
FONA is listed on the June issue of Inc. magazine as well as their website. See FONA's profile
here.
This honor add to FONA's achievements within the past year, including but not limited to: #3 manufacturing workplace in the nation (among companies of any size) and the #58 workplace overall (medium-sized) by
Fortune
magazine and Great Place to Work, one of Forbes magazine's Small Giants; and recognition as a Best & Brightest Company to Work For.
About The Award
Inc
. celebrates companies that go above and beyond to provide exceptional health benefits, senior leadership, perks, and more to their employees. The 4
th
annual Best Workplaces list surveyed thousands of companies nationally ranging in size and industry. After companies are nominated at the beginning of the year, employees are encouraged to complete the survey to gather feedback on employee satisfaction and engagement. Out of 2,000 submissions, FONA was selected as one of the 346 finalists based on employee answers to topics such as trust, management, effectiveness, perks, and confidence in the future.
About FONA International, Inc.
Founded more than 30 years ago, FONA International creates and produces flavors for many of the largest food, beverage, and nutritional companies in the world. It offers flavor solutions for the confection, grain, beverage, performance nutrition, OTC and emerging markets from its state-of-the-art, 33-acre campus in Geneva, IL. FONA's seven core values drive it to pursue excellence and foster incredible partnerships. More than just great flavors — FONA provides complete market solutions.