2021 Flavor Radar® Watch List
January 4, 2021
Assertions about flavor trends can sometimes seem heavy on intangibles and light on data. To fill this gap between theory and fact, FONA developed Flavor Radar®, a flavor mapping methodology that trends flavors from novel idea to everyday pantry staple.
FONA's Flavor Radar uses a mix of current data points from industry-renowned databases and in-depth analysis on how a flavor trend is affecting the food industry.
Flavor Radar encompasses four categories: Novel, Up & Coming, Mainstream and Everyday. These categories are driven by FONA's expert analysis of a comprehensive set of indicators including restaurant menus, new product introductions and print media data.
Count on in-depth and action-focused details on the tastes making big moves. Take a peek at the flavors we will be keeping a closer eye on in 2021. Let's take a look.
This is just a sneak peek at our full Flavor Radar watch list. Download the full report here!
Novel Flavors
Barley Grass
Also known as barley leaves and barley greens, barley grass is the leaf of the barley plant. Although fresh barley grass can be tricky to find, it's available in other forms, including powders, juices, tablets, and gummies. It is often combined with other ingredients in green blends, including kale, spirulina, and wheatgrass. Barley grass has a green or earthy taste and is similar to fresh spinach.
On the Menu
Products of Note


Barley Grass Flavored Cereal Energy Bars | China


Passionfruit Flavored Barley Grass Milk | China


Modern Times Green Juice Latte with Mango & Kiwi and Barley Grass | Japan


Flavor Pairings: Green Tea, Banana, Cabbage
Osmanthus Flower

The tiny white (sometimes yellow) flowers provide an aroma similar to that of an apricot and ripe peaches. Unlike many other flower petals that are bitter to the taste, osmanthus petals have a unique flavor which is only slightly bitter and very mildly sweet; making it ideal for cooking, making teas and wines. It is often used in savory dishes and sweet dim sum; adding sweetness with dimensions of freshness.
On the Menu


Casual Dining: Green Oolong Tea with Osmanthus Flowers at Cucharamama in Hoboken, NJ


Fine Dining: Orange Osmanthus Flower Tea at Pre Se in New York, NY


Products of Note


Pepsi Osmanthus Flavored Carbonated Soft Drink | China


Jeni's Osmanthus & Blackberry Crackle Ice Cream | USA


Wrigley's Doublemint Osmanthus and White Tea Flavor Sugar-Free Mint Candies | China


Flavor Pairings: Plum, Jasmine, Rose
Coconut Blossom

The flowers of the coconut tree and are rich in vitamins and minerals. The blossoms regrow monthly and nectar and sugar are produced from the sap of the flower. It does not taste at all like you would expect (coconut) but has a fruity and caramellic flavor.
On the Menu
Products of Note


Caramel and Coconut Blossom Syrup | Portugal


Alara Organic Swiss Style Muesli with Coconut Blossom Nectar | UK


Carob Bar with Coconut Blossom Sugar | Germany


Flavor Pairings: Cranberry, Hazelnut, Chocolate
Up & Coming
Chamoy

Chamoy is a Mexican fruit salsa usually made with apricot, mango or plum plus chiles, salt and citrus juice or vinegar. Chamoy is a wild combination of salty, spice, sour and sweet and used in a variety of savory and sweet dishes alike.
On the Menu


Casual Dining: Black Kale Salad with Chamoy Walnuts and a Mango Lime Vinaigrette at Las Campanas in Riverside, CA


Casual Dining: Chamango Rita frozen swirled mango rita with chamoy sauce, served in a chili rimmed glass with a chamoy candy stick at Rockin' Baja in San Diego, CA


Products of Note


Holiblend Hibiscus Chamoy Sauce | Mexico


H-E-B Select Ingredients Creamy Creations Mango Chamoy Sherbet | USA


Victoria Vicky Chamoy and Tamarind Vienna Style Beer | Mexico


Flavor Pairings: Mango, Tamarind, Pineapple
Dandelion
The dandelion is one of the most common and recognizable varieties of edible weeds and is very versatile. The leaves have a slightly bitter and tangy flavor that can be used similarly to spinach. The flowers are also edible and can be used to infuse honey, make vinegars. syrups, ice cream and jellies.
On the Menu


Fine Dining: Dandelion Ginger Rishi Sparkling Tea at Fruition Restaurant in Denver, CO


Casual Dining: Yukon Gold Potatoes with Dandelion Green Pesto at Serious Pie in Seattle, WA


Casual Dining: Dixie Medley with bourbon, dandelion honey, citrus, apricot and grapefruit bitters at Five & Ten in Athens, GA


Products of Note


Ben Shaws Carbonated Dandelion & Burdock Flavored Soft Drink | Nigeria


Le Jardin de Kokocinelle Dandelion Flower Jam | France


DAVIDsTEA Cranberry Dandelion Detox Loose Leaf Infusion Tea | Canada


Flavor Pairings: Burdock, Lemon, Cinnamon
Ube/Purple Yam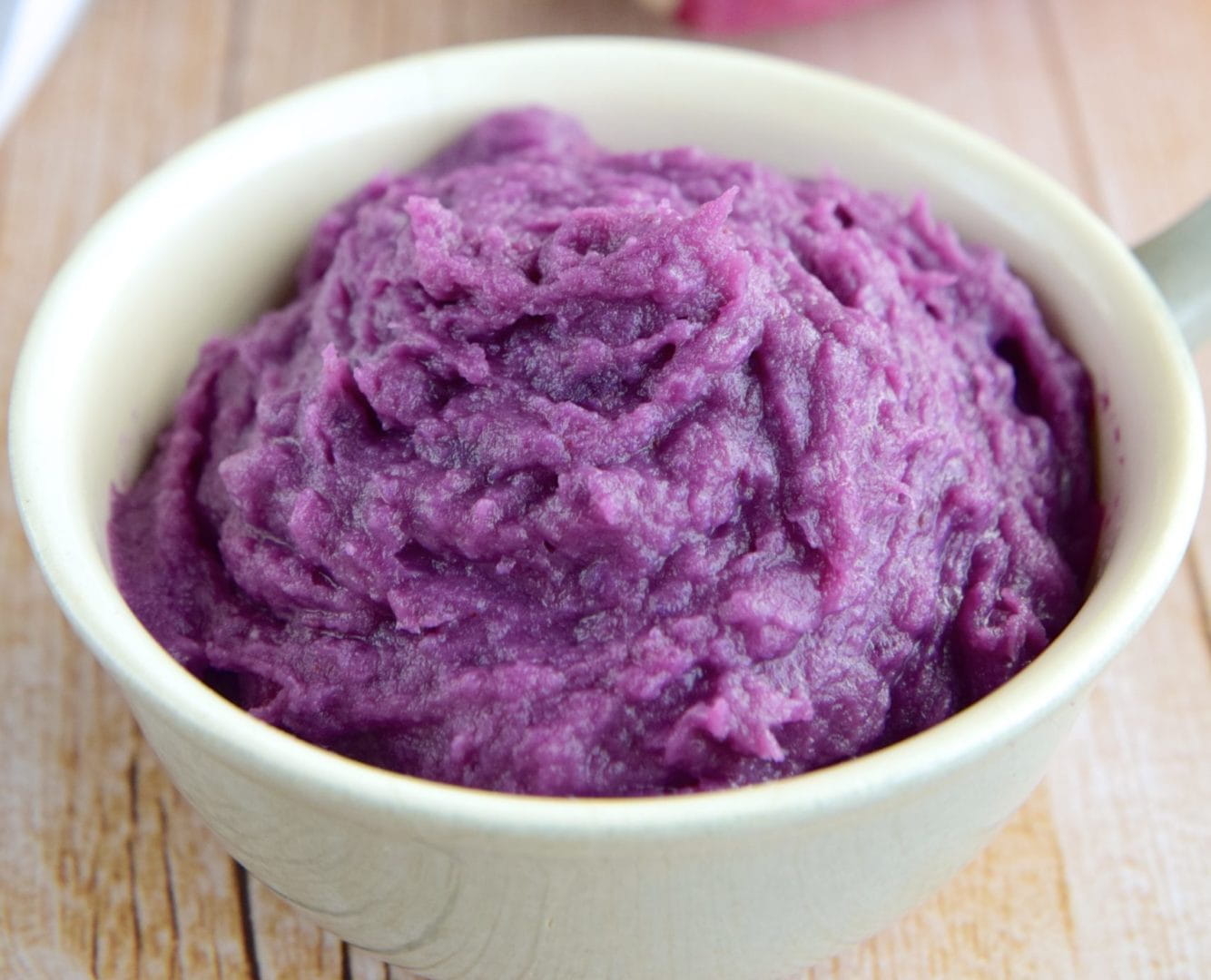 Ube is a purple yam, not to be confused with purple potatoes. Popular in many Filipino desserts, ube (pronounced ooh-bay), has a slightly sweet, almost nutty taste that works perfectly in cakes, cupcakes, ice cream, and so much more. Ube halaya is a sweetened jam made from ube that can be eaten plain or as a spread.
On the Menu


Quick Service: Halo-Halo described as a sweet shaved ice dessert topped with a mixture of sweetened preserved fruits and beans, ube jam, tapioca pearl, caramel flan and ube ice cream at Chowking in City of Industry, CA


Fine Dining: Ube Bites with sweet cream, cheddar cheese and ube butter at Sunda in Chicago, IL


Fast Casual: Sagada Smoothie with ube and coconut milkshake at Jeepney Filipino Gastropub in New York, NY


Products of Note


Wei Chuan Ranch Limited Series Wan Dan Purple Yam and Purple Sweet Potato Fresh Milk | China


Oh So Healthy! Guava + Purple Yam + Banana Crisps | Singapore


Magnolia Premium Ube Macapuno Sweet Purple Yam with Coconut Tropical Ice Cream | USA


Flavor Pairings: Banana, Coconut, Guava
Mainstream
Elderberry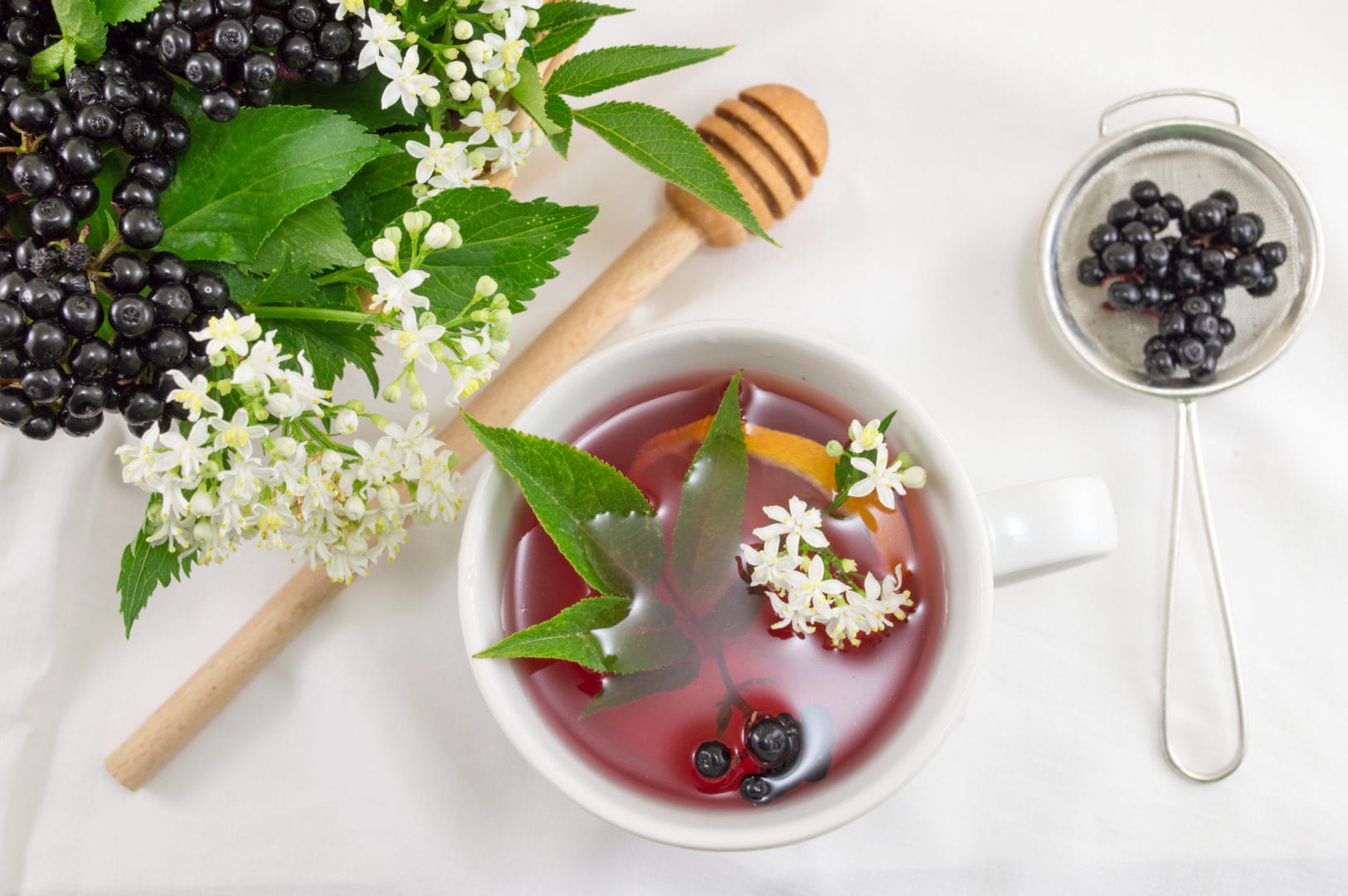 The purple-black, tart fruit of the elder tree. Elderberries can be eaten raw but are better cooked for jams, pies, and homemade wine. Elderberry is known for boosting the immune system and widely used in vitamins and dietary supplements.
On the Menu


Fine Dining: Cascade Brewing Company Elderberry Sour at Fearrington House Restaurant in Fearrington Village, NC


Fine Dining: Oysters on the Half Shell with Elderberry-Yuzu Mignonette at Michael Mina in San Francisco, CA


Quick Service: Organic Blueberry Jam Tea with a blend of black tea, elderberries and cornflowers at David's Tea nationwide


Products of Note


Herbapol Lublin Wild Rose and Black Elderberry Organic Tea | Poland


Lobetaler Bio Organic Elderberry Vanilla Yogurt | Germany


Jamieson Natural Sources Elderberry Lime Flavored Liquid Collagen | Canada


Flavor Pairings: Blueberry, Apple, Lemon
Tulsi/Holy Basil
Tulsi also known as holy basil, and is considered an adaptogenic herb used to help adapt the body to stress and boost energy. It is also closely related to culinary basil and is native to India and Southeast Asia. Tulsi is known for its strong aroma and an astringent, sometimes bitter flavor. It can have floral and pepper notes as well.
On the Menu


Quick Service: Tulsil Tranquility Tea with calming ingredients including rosehips, rose petals, strawberries and tulsi, aka holy basil at David's Tea nationwide


Fine Dining: Holy Basil Panna Cotta with Santa Rosa plums and pistachio sponge at La Toque in Napa, CA


Fast Casual: Holy Basil Thai Chicken at Saigon Sisters in Chicago, IL


Products of Note


Clipper Karma Mama Hemp Chamomile & Tulsi Organic Infusion | Netherlands


Real Milk Power Turmeric & Holy Basil Golden Milk | India


Lee's Tea Mint Chill Organic Tulsi Tea Blend | Canada


Flavor Pairings: Ginger, Mint, Tumeric
What do huckleberry and white tea have in common? They made the Flavor Radar cut. Check out the full report here!
Everyday
Chili Pepper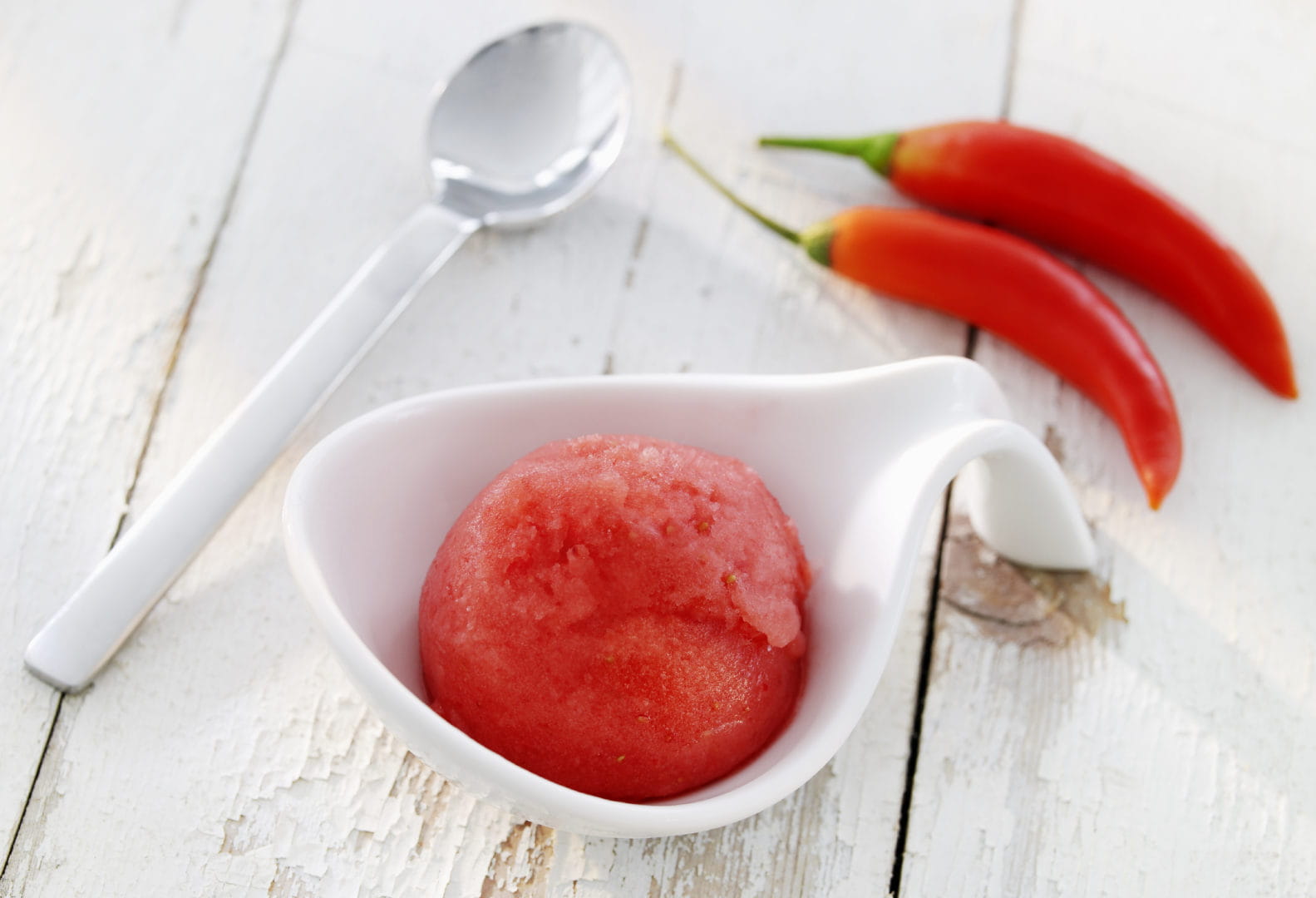 There are more than 200 different varieties of chiles, over 100 of them originate from Mexico. They vary in length and size and their heat quotient varies from mildly warm to mouth-blistering hot—with the general rule, the larger the chile the milder it is. Chiles can be consumed fresh or dried and used in various dishes.
On the Menu


Fine Dining: Shrimp & Melon with Chile Lime Vinaigrette at Osteria Mozza in Los Angeles, CA


Casual Dining: Garlic Chili Green Beans at Mikimotos Asian Grill and Sushi Bar in Wilmington, DE


Quick Service: Chocolate Chili Cupcake with a hint of chili powder, topped with vegan chocolate and a chili buttercream at Yummy Cupcakes in Encinatas, CA


Products of Note


Arnott's Tim Tam Dark Chocolate Chili Flavored Biscuits | Australia


La Terra Fina Chile con Queso Dip | USA


Snak Club Tajin Chili & Lime Peach Rings | USA


Flavor Pairings: Lime, Garlic, Cheese
Maple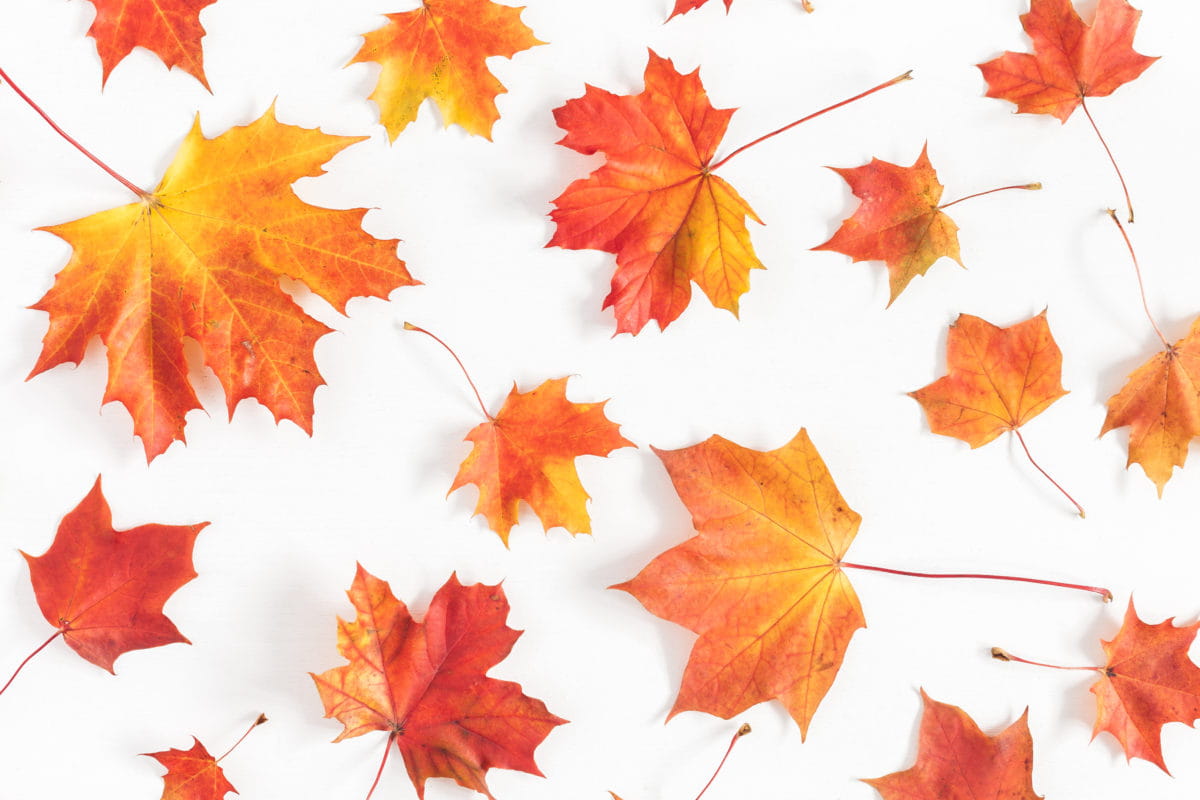 Maple refers to the flavor of maple syrup, a reduction of sap taken from the maple tree. Maple sugar, which is about twice as sweet as white sugar, can be created when maple syrup is boiled until all of the water has evaporated. Since pure-grade maple syrup can be expensive, many maple flavored products blend corn syrup with maple syrup or add maple flavoring.
On the Menu


Casual Dining: Cinnamon Maple Matcha Green Tea at Beatrix in Chicago, IL


Casual Dining: Applewood Smoked Bacon Wrapped Dates with a Maple-Balsamic Glaze at Biaggi's in Bloomington, IL


Fine Dining: Saugatuck Bourbon Barrel Aged Imperial Blueberry Maple Stout at Evan's Street Station in Tecumseh, MI


Products of Note


Combia Maple Cold Brewed Coffee with Maple Syrup | Canada


Open Nature Maple Almond Butter Granola | USA


Raw Pressery Basics Aloe Vera Lemonade with Maple Syrup, Ginger and Rock Salt | Australia


Flavor Pairings: Pecan, Brown Sugar, Bacon
Mesquite, za'atar and more. Check out the full Flavor Radar Watch List here!
You deserve more.
What does true partnership look like? You deserve a flavor partner ready to turn these trends into the tangible. Let FONA's market insight and research experts get to work for you. Translate these trends into bold new ideas for your brand. Increase market share and get to your "what's next." Our flavor and product development experts are also at your service to help meet the labeling and flavor profile needs for your products to capitalize on this consumer trend. Let's mesh the complexities of flavor with your brand development, technical requirements and regulatory needs to deliver a complete taste solution. From concept to manufacturing, we're here for you — every step of the way.
Contact our sales service department at 630.578.8600 to request a flavor sample or contact us at
www.fona.com/contact-fona