A Day in the Life as a FONA Intern: Three Stories
October 18, 2021
Former interns Kelsie Koekstra, Cindy Del Cid and Willem Vandermeij share with us their  experiences as interns at FONA. From describing their everyday responsibilities to being involved in the FONA picnic and other fun events, the interns share their favorite memories and what they've learned.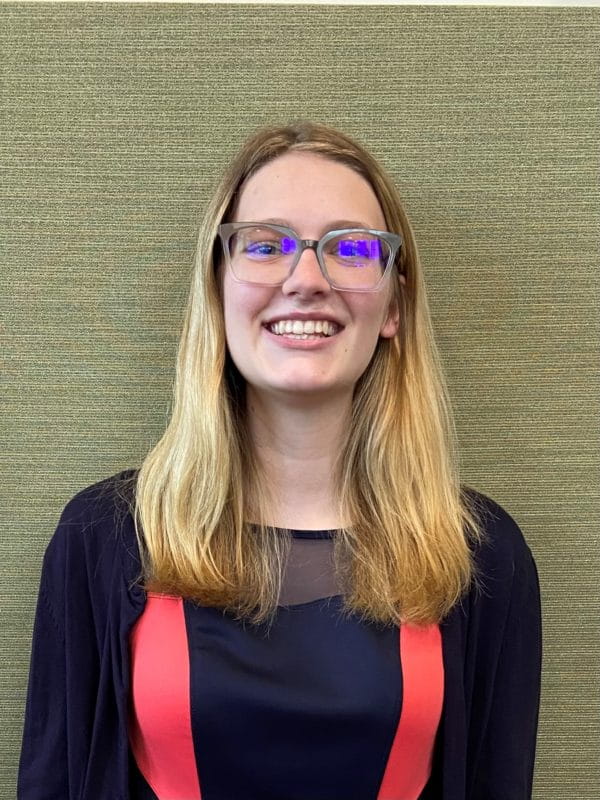 Kelsie Hoekstra - R&D Lab
You can tell I've enjoyed my time interning at FONA as this summer was my third time at FONA. The first summer, I was an intern in Product Safety & Quality (PS&Q). The last two summers, I interned in the Food & Health Technical Applications group where I focused on healthcare applications.
My first summer in PS&Q I worked on a variety of food safety programs. I worked on taking microbiological swabs for the Environmental Monitoring Program, worked on sanitation validations for new equipment, verification for critical control points and organized documents for audits for both customers and SQF (Safe Quality Food). The SQF Program is a food safety and quality audit program that is recognized by retailers, brand owners, and food service providers world-wide. Overall, I helped in making sure all the flavors made in the production plant were safe to consume.
My second summer, I was working in the main R&D lab. I worked on multiple customer products, some of which are on store shelves. It's really validating to see your hard work come to fruition. I also was given the creative freedom to develop my own iron gummy supplement. This supplement was shown to customers to show off how FONA can mask the metallic taste of iron. Not only was it super fun to try a variety of flavor profiles in the product, to my surprise, FONA was still using the demonstration when I came back for my third summer!
My third summer, I continued to work with the healthcare team. I was tasked with helping to develop and then make two types of sugar free gummies. I made so many batches, and I was able to learn so much about this format. I learned how consumers are moving away from sugar in products, so the experience with sugar free applications is extremely valuable. I also learned a lot more about over-the-counter healthcare products and how to taste safely.
I have loved working in the lab, and I know that I want to pursue a career that allows me to be in the lab and be creative. If you aren't sure about working in a lab or in an office, FONA also has a job shadowing program. We were able to shadow other interns and employees across the various departments and get a better idea of the type of work everyone does. FONA's intern program also has lots of opportunities to get to know the other interns. We volunteered at the Northern Illinois Food Bank, and were able to get to know each other and have fun while making a good impact on the community. FONA also gave us  plenty of opportunities to gain skills in other areas. We participated in Financial Peace University so that we could learn budgeting skills. We also had multiple Lunch 'n Learns where we learned things such as resume building, job searching, networking, and what life is like as a young professional.
FONA also wants to learn from the interns too. I was able to meet with my manager every week to talk about what was going well, what I needed help on, and how the internship could improve. We had presentations at the end of the summers where we recapped what we did and what recommendations we have for FONA.
My internships at FONA have confirmed for me that I want to continue working in the food industry in product development. I'm so grateful that I interned at FONA!
Willem Vandermeij - Growth Platforms
Working at FONA has been amazing! This internship has allowed me to directly apply my schooling to practical situations. I am a computer engineering major and took two C++ courses this past year. As an intern, I was asked to write software that gave me the opportunity to use all the skills I learned in C++, which is a general-purpose programing language. My first coding project was an application that automatically finds regulatory documents. The old methods for finding documents required the user to hand select the most recent from a folder of over 200,000. The application I created automatically pulls the most recent documents of the relevant type, based off the product code. My software has been well received and will soon be pushed to over fifty employees. This is a great example of how FONA provides practical experience.
FONA also has an amazing company culture. Every employee that I have met has been friendly and willing to help. Working at FONA has been a great experience not just because of what I have gotten to do, but also because of who I have gotten to meet and work with. There is great community especially among the interns. Interns are part of many activities, such as First Aid Training and Lunch 'n Learns. These activities allowed us to get to know each other and really bond as a group. I would highly recommend FONA to anybody looking for an internship, and I am thankful that I was able to be an intern this summer.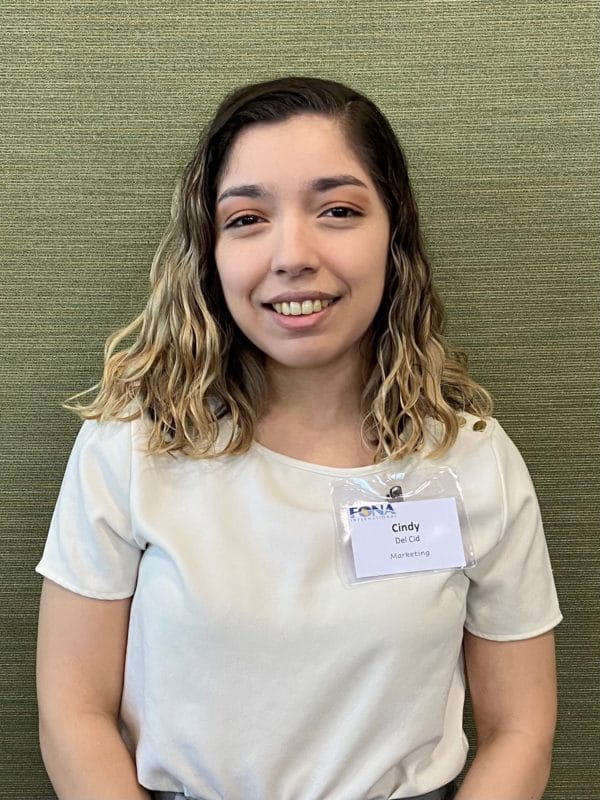 Cindy Del Cid - Marketing
Working at FONA was nothing less than an amazing experience. I truly believe that the FONA internship program provides and delivers all the essential qualities that college students look for in an internship. Not to mention, FONA creates a professional and collaborative space for you to contribute to and receive hands-on experience.
At FONA, you can find a warm and welcoming culture! The employees at FONA make you feel valued and like a real part of the team. I have had the pleasure of working with three different departments at FONA including the Human Resources, Regulatory and Marketing departments. Due to this, I had the opportunity to work on a variety of tasks and projects. In the Marketing department, I was able to create a trend report, an infographic and work on other marketing materials for customer projects. In the Human Resources department, I worked on employee files and documents. In the regulatory department, I created customer requests for documents and file products to be kosher certified.
On top of the technical skills I gained through working at FONA, I also learned about finance through the financial peace classes that were made available to the interns. I also was able to improve my communication/presenting skills by presenting to other interns and employees at the end of the internship program. I can't forget to mention the valuable information I obtained through the lunch and learns held for interns as well.
I view the internship program as a whole in high regard and I would recommend this program to anyone looking for professional work experience. I had a great time at FONA and I could guarantee that anyone who gets the opportunity to intern for the company will have a great time as well!
---
For more details about FONA's internship program, reach out to Rachael Ellis at
REllis@fona.com
or call 630-578-8600