Plant-Based in the Food & Beverage Space
February 24, 2022
Click Here for the full report!
It's no surprise that plant-based has grown roots in the food and beverage space. What may have started as an alternative to meat products has grown into a movement as well as a massive retail space spanning cross-category in food and beverage. And with consumers increased interest in health and wellness, flexible dieting and environmentally friendly offerings, products in this space are sure to flourish. From today's consumer interest to the growing market, favorite flavors and more, let's take a look at where your brand can find opportunity for growth in the plant-based space.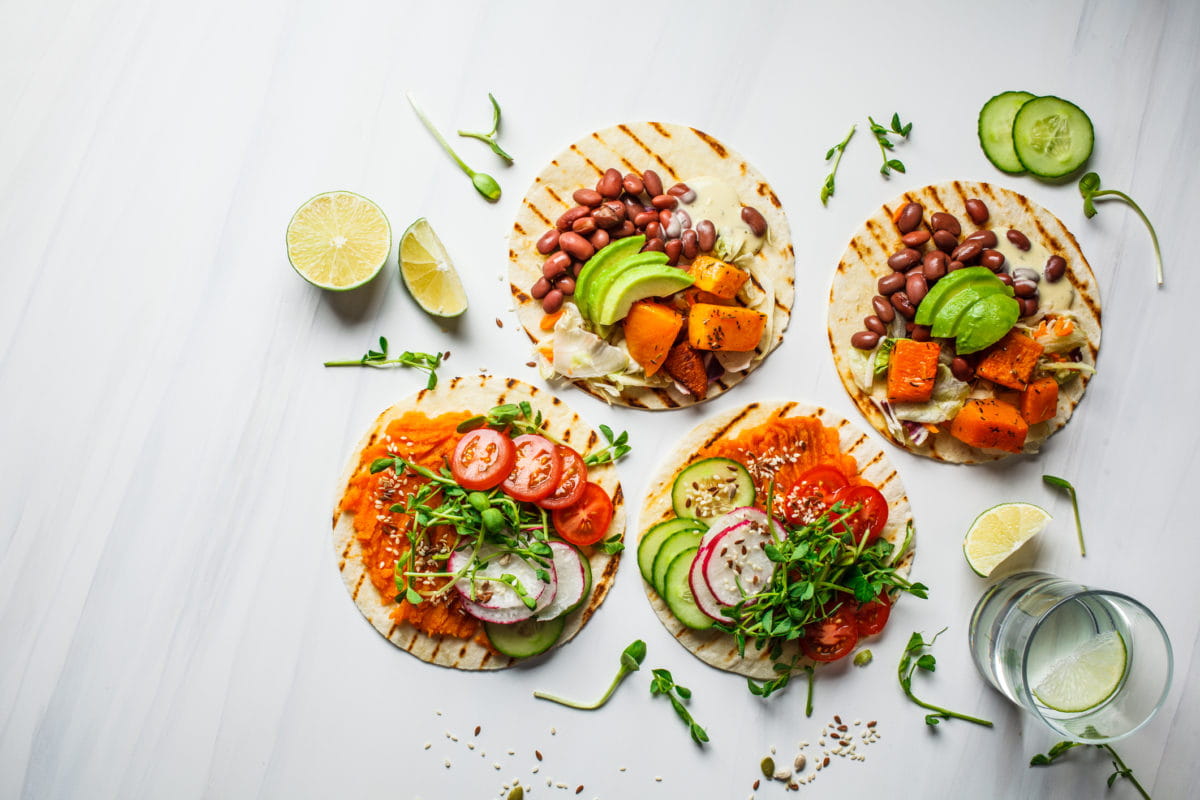 It's a Plant-Based Party
With increased consumer demand & acceptance for plant-based, as well as more variety on the shelf and menu, there is opportunity for food and beverage developers cross-category. We're taking a look at plant-based growth and consumer interest in this space.
But First, What is Plant-Based?
Plant-based food is defined by the Plant-Based Foods Association "as a finished product consisting of ingredients derived from plants that include vegetables, fruits, whole grains, nuts, seeds and/or legumes (peas, beans, pulses, etc). Additionally, fungi and algae, although not technically plants, will also be counted towards the percentage of plant-based ingredients."
And while stricter diets such as vegan and vegetarian diets found interest from consumers many years ago, they have now inspired a whole slew of flexible plant focused diets. Many consumers are taking a more flexible approach to plant-based eating – from substituting plant-based meats into their diets weekly to opting for non-dairy milks, eating more fruits and veggies and more.
Growing Roots:
93% of consumers
in our Plant-Based Shopper Panel know what "plant-based" means
66% of consumers
in our Plant-Based Shopper Panel are interested in adding some plant-based food to their diet
25% of consumers
(1 in 4) report eating more plant-based foods since coronavirus began – The Beet (Self Inc)
27% U.S. Retail Sales Growth
in 2020, twice as much as overall U.S. retail food sales – Plant Based Food Association and The Good Food Institute

Plant Purchase Drivers
There are many reasons consumers might want to introduce plant-based foods into their diet. And with consumers' recent increased awareness of their personal health and wellness, sustainability and environmental concerns, for manufactures, opportunity for innovation is wide open. Let's take a closer look.
Sustainability & Environmental Impact
Plant-based caters to consumers' concerns for sustainability and environmental friendliness. Diets lower in animal products can be more sustainable in that they use fewer natural resources and are less taxing on the environment.
Health & Wellness
Many consumers who are looking to increase their intake of fruits and vegetables turn to plant-based food and beverage for improved nutrition in their diet.
Balance & Flexibility
Plant-based diets and product offerings offer a more balanced and customized approach to consuming fewer animal products. Rather than restricting completely, consumers can add variety by introducing plant-based alternatives and ingredients throughout their diet.
Trendy & Fun
Plant-based is fun and social. With an increase in colorful offerings on menus and on shelf, consumers have taken to social to share their favorite recipes and menu items.
Products of Note
Gardein Ultimate Plant-Based Chick'n Tenders
is a vegan-friendly product contains 15g protein per serving, and is said to be as crisp and tender as the real thing with crunchy outside and juicy inside.
45% of consumers responded that they likely or definitely would buy this product.
Chobani Probiotic Lemon Ginger Plant-Based Drink
is described as a naturally flavored and fermented drink containing billions of live active cultures that support immune health and digestion.
34% of consumers responded that they likely or definitely would buy this product
.Chobani Oat Plain Barista Edition Oat Milk
is said to be creamy and delicious. According to the manufacturer, oats are good for the planet as they grow with less water than almonds, improve soil health and diversify diets.
31% of consumers responded that they likely or definitely would buy this product.
Favorite Flavors & Categories
We took a deep dive into top flavors and categories blooming in the plant-based space. Take a look below to see where your brand might fit in.
Top Flavors by Number of Releases
with Suitable for Plant-Based Claim in Past 3 Years


Chocolate


Vanilla/Vanilla Bourbon/Vanilla Madagascar


Peanut Butter


Ranch/Ranch Sauce


Berry


Salt (Sea)/Fleur de Sel


Cocoa/Cacao


Barbeque/BBQ/Barbacoa


Italian


Blueberry


Fastest Growing Flavors
North America, Q4 2020 vs Q4 2021


Almond Butter +600%


Lemon +500%


Garlic +400%


Caramel/Caramelised +300%


Onion +200%


Fastest Growing Flavors
Global, Q4 2020 vs Q4 2021


Bean + 700%


Sweet Potato/Kumara +500%


Chili/ Chilli Pepper +400%


Almond Butter +400%


Fudge +300%


Top Categories
North America, Past 3 Years


Snacks


Dairy


Fish, Meat & Egg Products


 Nutritional Drinks & Other Beverages


Meals & Meal Centers


Consumers are getting more adventurous and more curious about plant-based; by doing differently you can set yourself apart from the competition. Innovation can come from a variety of places, from new-to-market ingredients or even the cuisines that are influencing consumers. – New Food Magazine
Plant-Based Top Performers
We spotted a few IRIS top sellers with plant-based claims. Products varied across food and beverage categories from Italian meatball alternatives to brown sugar oat milk creamers, strawberry coconut milk yogurt and more.
Products of Note:
Beyond Meat Beyond Meatballs Italian Style Plant-Based Meatballs
contain 19g of plant protein per serving and 30% less saturated fat and sodium than leading Italian style meatballs. This kosher-certified vegan friendly product is free from soy, gluten, and GMO.
40% of consumers responded that they likely or definitely would buy this product.
Prego+ Plant Protein Traditional Italian Sauce
is gluten free and made with protein from vegetables and provides 4g protein per 1/2 cup serving.
56% of consumers responded that they likely or definitely would buy this product.
California Pizza Kitchen Crispy Thin Crust Plant Based BBQ Recipe Pizza
is described as a pizza topped with Sweet Earth Mindful Chik'n, red onions, cilantro, mozzarella and hickory smoked gouda cheeses over sweet and tangy BBQ sauce.
46% of consumers responded that they likely or definitely would buy this product.
Chloe's Salted Caramel Oatmilk Pops
are now available. This dairy-free product has been kosher certified, is plant-based and contains 110 calories per pop.
39% of consumers responded that they likely or definitely would buy this product.
Siggi's Mango Plant-Based Coconut Blend Yogurt Alternative
is an all-natural, non-dairy product described as a satisfying and delicious. It contains 10g protein and 8g total sugar per serving.
47% of consumers responded that they likely or definitely would buy this product.
Silk Ultra Creamy Chocolate Soy Protein Beverage
is said to provide 20g complete plant-based protein per serving for muscle maintenance and repair, and is a good source of vitamin D, B2 and B12.
40% of consumers responded that they likely or definitely would buy this product.
Social Status
Plant-based diets aren't only popping up in new product introductions and menu offerings, they're also making waves across the internet and social media. In fact, according to Google searches, "Plant-based diet" was searched almost a million times on average over the last 12 months ending in May 2021. And with celebrities taking part in different plant-based diets and influencers documenting their colorful and flavorful dishes, many consumers are following suit. Promotion of tasty plant-based options on social media as well as teaming up with well-known influencers can also be opportunistic for developers in this space.
3 Million Total Mentions
 (+285% over previous period)
34 Million+ Posts
 for #plantbased on Instagram
Nearly 1 Million Searches
 for "plant-based diet" on Google Searches, US over latest 12 months ending May 14, 2021
2.9 Billion Views
 on TikTok for #PlantBased hashtag
Plant Friendly Promotions:
KFC Beyond Meat Fried Chicken
KFC restaurants nationwide promoted adding Beyond Meat plant-based chicken to their menu to cater to many Americans' flexitarian diets calling it a "Kentucky Fried Miracle". They've promoted the launch on their social media as well as with influencers such as Liza Koshy.
Starbucks Impossible Breakfast Sandwich
Starbucks' Impossible Breakfast Sandwich features a plant-based savory Impossible sausage, cage-free fried egg and aged cheddar cheese on ciabatta bread. Every Monday of January 2022, Starbucks celebrated Meatless Monday by offering $2 off of the Impossible Breakfast Sandwich at participating locations. The offering was promoted on Impossible Foods' social media.

The Takeaways
With consumers' heightened interest toward their health, the environment and meat consumption, the future of the plant-based food and beverage space is sure to flourish. In fact, since April 2018, total sales of plant-based foods have consistently increased by double digits, bringing the total plant-based market value to $7 billion in 2020 according to the Plant-Based Food Association.  And though many consumers are open to these product alternatives and transitioning to a more plant-based lifestyle, taste is still key. 40% of consumers say they choose plant-based products because they taste good. The opportunities in this space are wide open, but in order to succeed, keep in mind that taste is key!
Click here for the full report!
You deserve more. Let's get started.
What does true partnership look like? You deserve a flavor partner ready to turn these trends into the tangible.
Let FONA's market insight and research experts get to work for you. Translate these trends into bold new ideas for your brand. Increase market share and get to your "what's next." Our technical flavor and product development experts are also at your service to help meet the labeling and flavor profile needs for your products to capitalize on this consumer trend. Let's mesh the complexities of flavor with your brand development, technical requirements and regulatory needs to deliver a complete taste solution.
From concept to manufacturing, we're here for you — every step of the way. Contact our sales service department at 630.578.8600 to request a flavor sample or chat us up at 
www.fona.com/contact-fona/
Sources in full report