A "Pop" of Ube & Coconut
January 24, 2023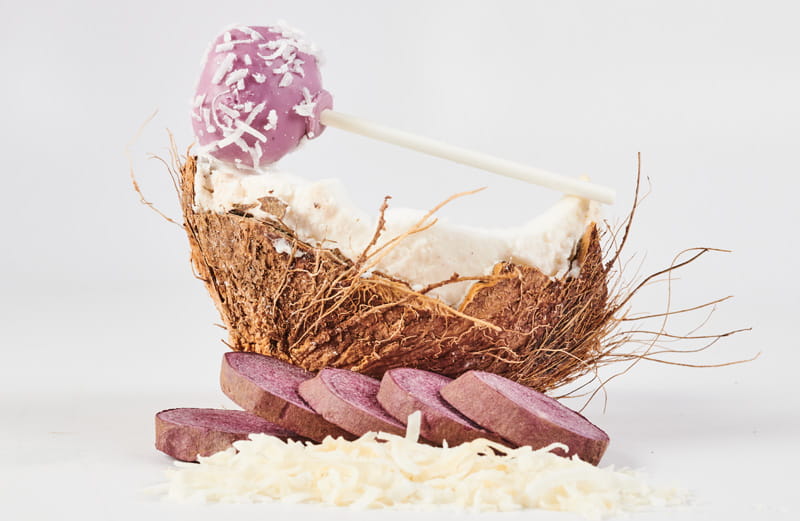 MILA, SR. APPLICATION SCIENTIST
As a Senior Application Scientist, it's unique ingredients like ube that keep me inspired. I love trying new food and flavors from other cultures, but it's not always easy to prepare these authentic foods, or even get the ingredients needed to bring them to life. I'm lucky to have resources at-the-ready to deliver flavors from around the world in ways that feel friendly for all consumers in a variety of application.
A feast for the eyes, the natural violet vibrance of ube, native to Southeast Asia, lends itself seamlessly to the fantastical dishes, sweets, and drinks gracing so many social media platforms. The trend-forward buzz makes it feel like ube has just hit the food scene, but it's actually a staple in Filipino cuisine. Combined with its newfound popularity is an increasing desire for authentic global sweets. The profile of ube offers endless opportunities and approachable applications - like the cake pop!
Mildly sweet with a slight earthiness and nutty flavor, ube is easy to incorporate into stunning desserts that taste as good as they look. Ube is a staple ingredient in Filipino desserts, including the sweet, pudding-like jam, halaya. Made with grated purple yam (ube) and sweet coconut milk, halaya is enjoyed as a condiment, and is also often incorporated into baked goods and frozen shaved ice (halo halo).
Using a natural type ube flavor and natural toasted coconut type flavor, I was able to create an ube halaya profile that was a true flavor representation of the beloved Philippine dessert for a cake pop application. Simple, sweet, and starchy, the toasted coconut adds a slightly nutty twist to infuse a "pop" of tropical Asian flavor into the cake pops, but could also be used in cupcakes, waffles, pancakes, cake rolls, donuts, cookies, macarons, and more. Beyond baked goods, I see this flavor delivering a fun, Filipino inspired twist to ice cream or beverages like bubble tea.
Feeling inspired? To deliver the unique ube halaya flavor to your baked goods, ice cream, beverages and more, get in touch with McCormick, get in touch with McCormick or request a flavor sample.
You deserve more. Let's get started.
What does true partnership look like? You deserve a flavor partner ready to turn these trends into the tangible.
Let McCormick FONA's market insight and research experts get to work for you. Translate these trends into bold new ideas for your brand. Increase market share and get to your "what's next." Our technical flavor and product development experts are also at your service to help meet the labeling and flavor profile needs for your products to capitalize on this consumer trend. Let's mesh the complexities of flavor with your brand development, technical requirements and regulatory needs to deliver a complete taste solution. From concept to manufacturing, we're here for you — every step of the way.
Contact our sales service department at 630.578.8600 to request a flavor sample or chat us up at www.fona.com/contact-fona/