French Inspired Sips
May 9, 2023
MAY 2023 | MCCORMICK CULINARY & INSIGHTS
No longer confined to exclusive fine dining establishments and strict rules, French cuisine is a vehicle for experimenting with lighter, simpler fare where seasonal produce and global influences shine. Social media has removed barriers for chefs and consumers to share creative French inspired drinks with ingredients like cider, whiskey, and elderflower.
Using the best ingredients and culinary techniques to build a harmony of flavors, layer by layer, French continues to rule the world laying the foundations for beverage to come. On the outside, French cuisine may seem complicated. But it all comes down to common sense and tradition.
Ready to explore? Unexpected cocktails spiked with lemonade, elderflower liqueur, and an aromatic Herb de Provence syrup and boozy Sabayon Coffee Custard all fit the bill.
Herbs de Provence
A classic blend used in Southern France, Herbes de Provence is a mix of fragrant herbs like rosemary, marjoram, thyme, savory, and sage. Traditionally used toadd depth to roasted and stewed poultry and vegetables (ratatouille!), it can also deliver flavor and aromatics to drinks. To showcase this profile, Chef Gabby (and Culinary Mixologist) created an Elderflower Lemonade a la Provence Cocktail. Tart and floral at the same time, the Herbes de Provence simple syrup plays off the aromatic notes of this spiked lemonade to deliver a simple yet complex refreshment that is very easy to love. Apply Herbes de Provence to other alcohol applications like seltzers or liquors or go booze free in a fizzy lemonade or tea.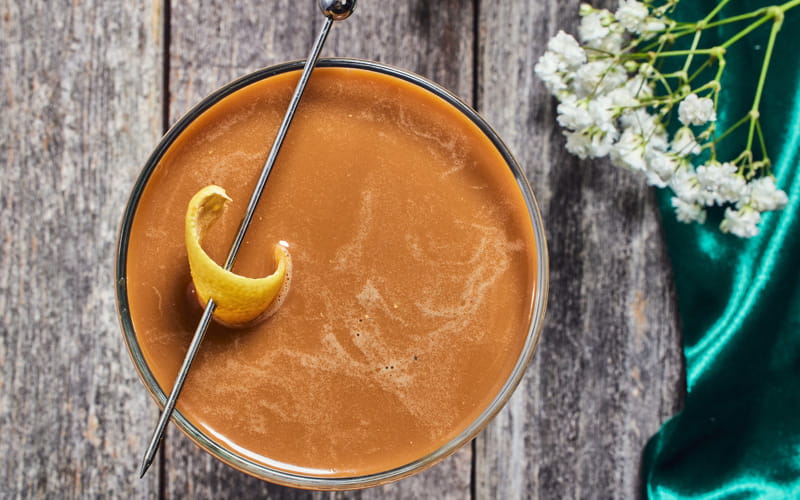 Deux Mondes – Two Worlds
The influence French flavor and technique has on global cuisines is vast from Southeast Asia to the American South. Chef Gabby wanted to explore two regions where French influences shine- New Orleans and Vietnam. Inspired by French ingredients and influenced by Vietnamese flavors, he created a Chicory Coffee & Elderflower Mocktail which is an unexpected but delightful sip. From the woody, nuttiness of chicory coffee to the gentle, floral elderflower syrup and citrus notes of lemongrass and fresh lemon juice, this cocktail really is the best of "deux mondes – two worlds." This blend of elderflower and lemongrass could add a delicate flavor fusion to flavored malt beverages, carbonated drinks and even plant-based drinks.

Whiskey Sabayon
While visiting a Vietnamese Coffee Café in Marseille, France, Chef Hugues tried Sabayon Egg Coffee. Using the technique of creating a sabayon egg (beating an egg yolk with condensed milk and whiskey) then delicately adding it to strong coffee, the result is creamy, custard-like with the impression of a tiramisu. Inspired, he developed a Dark Chocolate Pots De Crème with Whiskey Sabayon. The thick, silky, coffee-chocolate base topped with a whiskey Sabayon (classically French) makes a perfectly boozy, sweet ending to any meal. With the rising interest in whiskey, explore a Sabayon profile for alcohol and even dessert applications.
Feeling inspired? To learn more about the future of flavor, contact your McCormick account representative or

contact us

today.
You deserve more. Let's get started.
What does true partnership look like? You deserve a flavor partner ready to turn these trends into the tangible.
Let McCormick FONA's market insight and research experts get to work for you. Translate these trends into bold new ideas for your brand. Increase market share and get to your "what's next." Our technical flavor and product development experts are also at your service to help meet the labeling and flavor profile needs for your products to capitalize on this consumer trend. Let's mesh the complexities of flavor with your brand development, technical requirements and regulatory needs to deliver a complete taste solution. From concept to manufacturing, we're here for you — every step of the way.
Contact our sales service department at 630.578.8600 to request a flavor sample or chat us up at www.fona.com/contact-fona/