Say Hello to Quinoa!
May 14, 2012
Doing my usual browsing at Whole Foods, seeing what adventurous food I might explore next, my eyes become focused on a box of Quinoa Flakes. Not so appealing at first. I have seen quinoa pop up on several occasions, in food and health magazines, in various products at the grocery store (chips, cereal) and now I am seeing it again. Quinoa Flakes for hot cereal and much more! I have to try it and see what all the buzz is about on this ancient grain.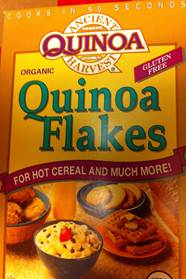 I take the Quinoa Flakes home to make hot cereal. Ninety seconds prep time. Not bad but definitely needs salt and sugar. Nuts and fruit would add a little to this breakfast dish. It looks and cooks like a grain and has a slight nutty flavor. I'm amazed that this healthy food, rich in protein, fiber, iron and magnesium (a typical serving has twice as much protein and eight times as much fiber as white rice) that can help lower cholesterol, blood pressure and risk of heart disease would have an appeal. I'm curious now, so I investigate further.
It's actually a seed that's related to beets, Swiss chard and spinach. Quinoa is used in place of rice or couscous in pilaf, soup or side dishes. Quinoa flour is used in pancakes, waffles, muffins, breads and cookie recipes. Excellent for use in gluten-free diets. Some people find that it can taste bland. Restaurant chefs have a secret that's not included on the box. They toast it first! That gives Quinoa the most incredibly nutty, rich flavor they say. Simply spread quinoa on a tray and place it in a 350 degree F oven for eight to ten minutes, until it's golden brown, then cook it up in a pot according to instructions. I tried some recipes - Southwest Quinoa Pilaf and Banana Quinoa Muffins – I'm hooked!