FONA Values in Action!
September 4, 2012
One of FONA's core values is Generosity. We define this as being generous with our time, talents, and resources to others; being willing and able to grow; and demonstrating these attributes through actions, words, and deeds.
As employees, we live out this value daily in the way we respond to customers, coworkers, and the community whether through a request for information, a plea for help, or a visit to our facility. As an organization, we demonstrate this value by supporting the community around us in a variety of ways.
FONA employees recently had the opportunity to support our neighbor Northern Illinois Food Bank through a community volunteer day. Eighteen FONA employees and interns spent two afternoons packing over 15,000 pounds of lunchmeat, ham, cheese, and other mixed foods for our hungry community.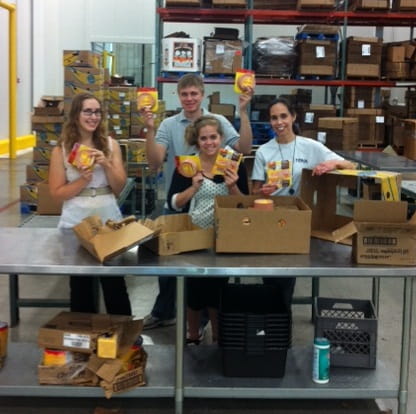 It was a great chance to serve those around us while having fun with each other. There was good-natured teasing and competition as we packed as many boxes as possible in the time we had. Not only was it fun, but it was a great workout too!
FONA is grateful for the opportunity to serve and for the generosity of our employees and managers for taking the time out of their day. We're looking forward to our next volunteer opportunity in September!
UPDATE: The Northern Illinois Food Bank (NIFB) nominated us for the TOP 'TEER award to honor the volunteer service we do for them, and we won! We are a TOP 'TEER award winner! This award is given to companies to recognize the "outstanding local impact" its employee volunteer efforts have on the community.

"Volunteering is part of the culture here at FONA," said Lindsey Clark, Benefits Specialist at FONA International. "FONA was founded on seven core values, one of which is 'Do the Right Thing.' Volunteering is just an extension of that."

"We are very grateful for the support FONA and its employees provide us," said Tia Claffy, Volunteer Manager at NIFB. "Over the past three years, more than 150 of their employees have volunteered, providing over 400 hours of service."
We love helping out NIFB and are proud to be a TOP 'TEER award winner!

To read more and see photos, check out the Awards section of our website and this great page created by TOP 'TEER https://www.teer1.com/topteer/fona.html