New Trend: No Spoon Necessary
February 5, 2013
Great for both children and adults, fruit pouches are a delicious way to incorporate the needed fruits and vegetables into any meal or snack. Low in calories, they are packed with nutritious fruits and vegetables. These pouches are convenient and perfect for packing for lunch or eating on-the-go. And best of all, no spoon is necessary!
In December 2010 Indra Nooyi, CEO of PepsiCo stated, "We see the emerging opportunity to "snackify" beverages and "drinkify" snacks as the next frontier in food and beverage convenience." I think we can expect to see more and more of these convenient fruit and vegetable pouches as the year continues. There are already several fruit and vegetable pouches and flavors to choose from, and serving size varies based on child and adult sizes. Baby Gerber Apple Mango Strawberry Graduates Grabbers have 2 servings of fruit or fruit/vegetables per pouch and are free of artificial flavors or colors. Happy Squeeze Fruit & Veggie Twist Blueberry, Apple & Purple Carrot have only 60 calories and contain both fruits and vegetables in one convenient pouch!
Buddy Fruits Tropical Coconut Milk fruit pouch sounds delicious to me! Also available in Raspberry Coconut Milk, this 100 calorie product is free of preservatives and counts as one of the recommended fruit and vegetable servings. During a full day of classes this semester, this fruit pouch will be a healthy (and convenient!) way for me to enjoy a snack on the go.
Recently I have seen pins on Pinterest with directions for making your own fruit or vegetable blend. Similarly as I saw on Pinterest, Little Green Pouch® has come out with an empty pouch you can fill with your own personal fruit and veggie combination. This little green pouch is not only reusable, but is also dishwasher safe and freezable. What an easy way to make a healthy snack from home! This is also a great way for moms to make delicious baby food from home, without having to run out to the store. I have seen several cookbooks on Pinterest that provide recipes for how to make nutritious and quick baby food in the comfort of your own home, such as Baby Love by Norah O'Donnell and Chef Geoff Tracy.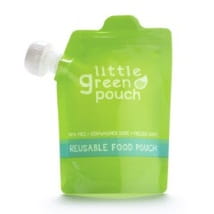 Looking for a great way to store all of your fruit and vegetable pouches? New to Munchkin.com, the Food Pouch Organizer helps to organize food pouches by type or food group. The Food Pouch Organizer has 2 racks that can hold 32 pouches in all, and it fits easily inside or underneath cabinets. No more mess or fumbling to find the fruit or vegetable pouch you are looking for!