Respect your elder(berries)!
June 28, 2013
Traditionally used in Europe for folk medicines, Elderberries are especially popular in Germany, the UK and Austria. Elderberries are purple-black, tart berries that can be found growing on elder trees. These healthy berries have numerous benefits which include boosting the immune system and reducing flu symptoms by 3 to 4 days. Elderberry flowers, which are creamy white, can be added to salads or batter-dipped and fried like fritters. Considering there was only 1 product with Elderberries introduced in 1997, Elderberries have made great strides over the last 15 years! In Asia Pacific, Europe, Latin America, Middle East & Africa, and North America overall, the number of food and drink product launches with Elderberry as a flavor has increased overall from 2011 to 2012 by about 102%.
The options for including elderberries in recipes are virtually endless, with these berries seen in everything from jelly, jams and pies to wine, syrup and muffins. The one that looks the most interesting (and delicious!) to me are cream puffs with elderberry filling. As someone who has a big sweet tooth, these cream puffs would be the perfect end to any meal.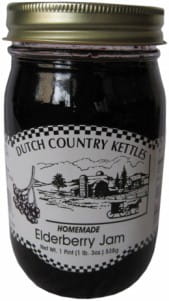 Top flavor pairings include Echinacea and Elderberry, Rhubarb and Elderberry, and Cranberry and Elderberry. Snack/Cereal/Energy bars, Vitamins and Dietary Supplements and Pastilles, Gums, Jellies and Chews are included in the top sub-categories for this berry. In 2010, Cocoa Polo introduced their Dark Chocolate with Elderberry and Real Orange Peel and in 2011, Dutch Country Kettles introduced their Elderberry Jam. Keep an eye out for these small, yet mighty berries this summer!