Celebrate National Popcorn Day with a Buttered Popcorn Cake with Salted Caramel Bourbon Buttercream!
January 16, 2014
Did you know National Popcorn Day is January 19th? Well, what better way to celebrate than with a Buttered Popcorn Cake with Salted Caramel Bourbon Buttercream? Yes, you heard me right. Popcorn. On a cake. With caramel.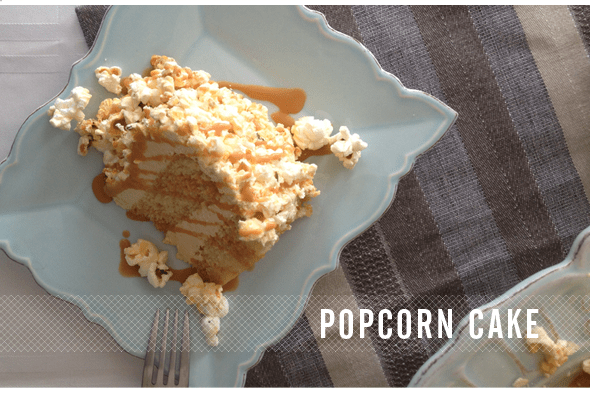 (Image from www.bakerbydesign.com. Click it to see more of his fabulous work!)
I came across this cake from Baker By Design (https://bakerbydesign.com/?p=337) and was very intrigued. A vanilla cake with salted caramel bourbon buttercream, popcorn, and a salted bourbon caramel drizzle. Wow.
I guess it makes sense. The salty/sweet combination is amazing. I mean, put chocolate covered pretzels in front of me and watch out! Salted caramel is still very hot right now, you see it in everything, and the bourbon just takes it to the next level. The texture should be anything but boring – soft cake, smooth buttercream, crunchy popcorn and silky caramel sauce. It will definitely be quite the eating experience.
My first thought is that the popcorn will get soggy very quickly, so I was glad to see this recipe has you dry the popcorn in the oven to remove some of the moisture before putting it on the cake. It will still absorb moisture over time, but this should slow it down a little, giving you time to enjoy the tastes and textures in this fun and unique cake.
Happy National Popcorn Day! Grab some friends and enjoy a slice of this decadent salty-sweet treat. And my thanks to Baker by Design for this inspiring creation!