Eight Spicy Ingredients to Heat Up 2014
January 7, 2014
A recent article in
Food Technology
magazine called
"
Eight Great New Spicy Ingredients That Add Heat and Flavor" by Senior Associate Editor Karen Nachay, described eight ingredients heating up the food world. Below, I have used her descriptions of these eight ingredients and provided a look at where they are being seen in products, on restaurant menus and in the world of social media and online publications. Ready to turn up the heat? Let's go!
Szechuan Peppercorn
—A member of the citrus family typically used in some cuisines throughout Asia. The tingling sensation has a slow onset and lingers for a long time.
- Golden Dragon Salt & Pepper Chicken Wings, UK. Flavors include szechuan, peppercorn, star aniseed, fennel seed, cloves and cinnamon.
- Amoy Pad Thai flavored with ripe tomatoes Szechuan peppercorn and red chilies.
- Pinterest recipes feature Szechuan Peppercorn mostly with proteins such as chicken, salmon and pork, although scorpion fish and duck also make multiple appearances.
- Interesting find: Szechuan Peppercorn & Kumquat Caramels from www.cookingdebauchery.com. Created spur-of-the-moment by a U.S.-based food blogger and she was thrilled with the results. "I have never tasted anything like it," she writes. "I am not even sure where to start.  Complex. Fruity. Floral. Sweet-Sour. Warm. Lingering. Buttery. Spicy. Tangy."
- Raspberry Balsamic & Szechuan Peppercorn Chocolates, Rice Pudding with Szechuan Peppercorn Anglaise & Caramel Balsamic Sauce, and Szechuan Peppercorn Brownies were other dessert options linked to via Pinterest.
Image: Szechuan Peppercorn & Kumquat Caramels from www.cookingdebauchery.com
Sriracha
—A hot sauce made from chili peppers, distilled vinegar, garlic, salt and sugar.
- Jack Link's Sriracha Beef Jerky
- Pacific NorthWest Sriracha Kale Chips
- Popcorn, Indiana All Natural Sriracha Popcorn
- Various condiments including teriyaki sauce, mustard, mayo, wing sauce and even pickle chips.
- Instagram images show Sriracha topped eggs, shrimp, soup, steak, quesadillas and a variety of veggies, just to name a few.
- Interesting find: Sriracha Ice Cream Sandwich from www.theglutlife.com — Chocolate peanut butter Sriracha cookies  filled with Thai basil vanilla bean ice cream. See image below from the glut life!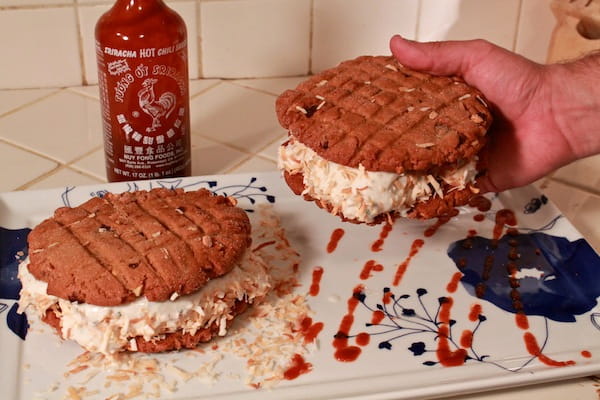 Harissa
—A paste typically made from various dried red chili peppers, cumin, coriander, caraway seeds, and garlic.
- Jamie Oliver Moroccan-Style Hummus
- Frite Alors! Harissa Garlic Mayo
- World Grill Moroccan Style BBQ Spicy Harissa Rub
- Zucchini Noodles & Kale, Savory Oatmeal, Mac & Cheese and Butternut Squash are all seasoned with Harissa on Instagram.
Gochujang
—A pungent and savory condiment made from fermented soy beans, red chili peppers, glutinous rice, and salt. It is traditionally used to season Korean entrees like kimchi, and soup.
No North American products have been spotted with this spice in the past year, but here are a few recently launched Asian products:
- HaeMiRak Gimbasaki Gochujang Taste Seaweed Snack, Singapore
- Amoje Rice Topped with Red Pepper Paste and Pork, South Korea
- Seven & I Premium Calamari Strips Pickled in Gochujang, Japan (See image below from GNPD.)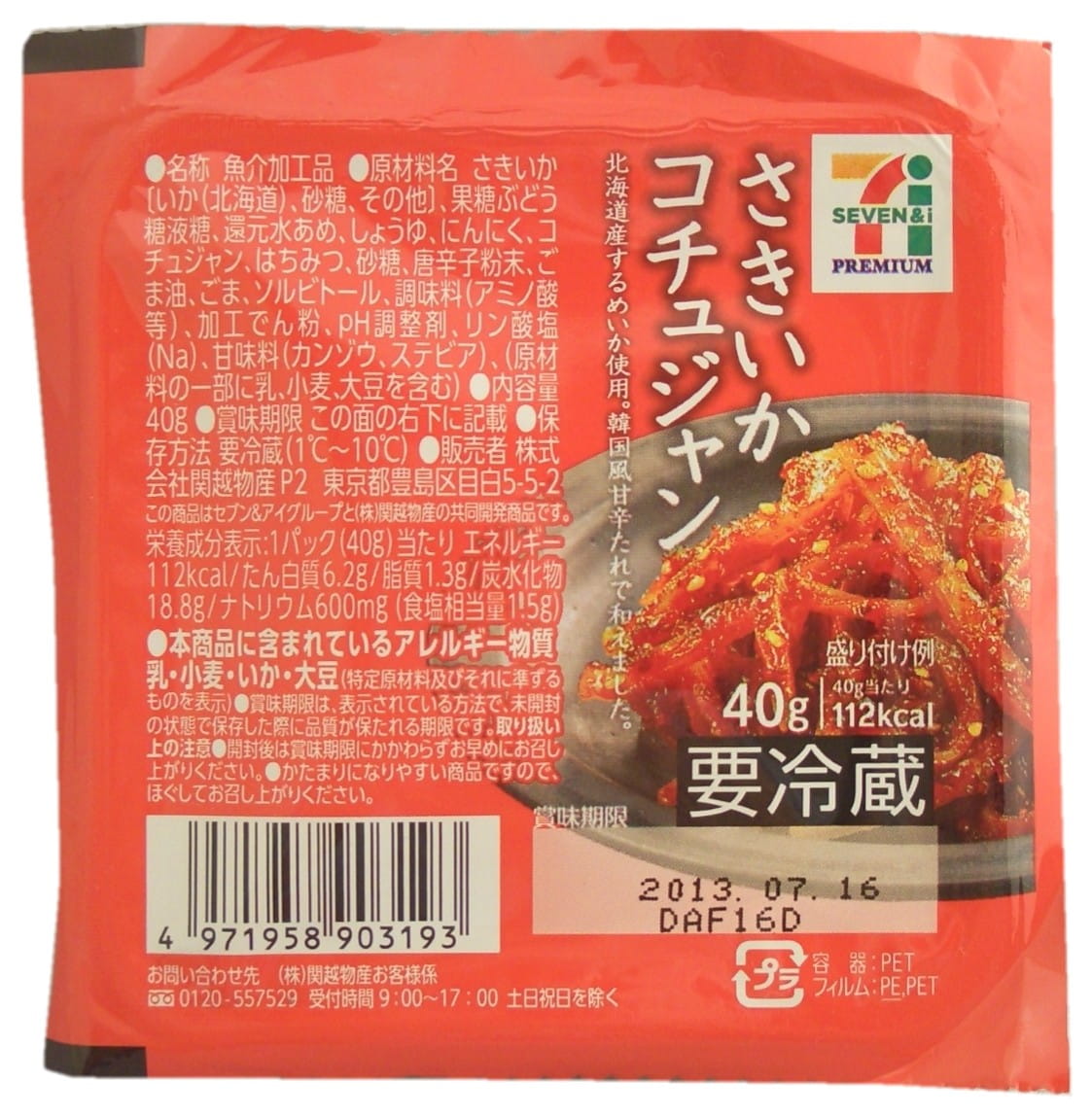 Aleppo Pepper—A spice from Syria and Turkey that is similar to a chili pepper but with a bit of sweetness and fruitiness. It has a heat level similar to Serrano pepper and is often dried and used as crushed flakes.
Aleppo Peppers have been news-makers lately:
- A Nebraska newspaper ran an article on New Year's Eve cocktails and featured Liquid Gold, a pineapple drink seasoned with Aleppo pepper, black pepper, salt, cinnamon, cloves and allspice berries. The article advises that since Alpeppo pepper can be hard to find, four parts paprika to one part cayenne is a good substitute.
- Featured in the Kalamazoo newspaper, Confections with Convictions owner and chocolatier Dale Anderson created a caramel flavored with Thai basil, Aleppo pepper, black pepper and lemon.
- Alpeppo pepper was featured in recipes highlighted in newspapers around the world: Dungeness Crab with Avocado,
Aleppo Pepper,
Meyer Lemon & Mandarins (Houston), Spinach with Garlic Yogurt (New York), and Pumpkin & Kishik Hummous (Australia), to name a few.
- The Seattle Times reviewed a Greek/Mediterranean restaurant called Westward and said of one dish, "Lemon and Aleppo pepper added snap to the crackling leaves of fried Brussels sprouts."
Za'atar
—A blend of sumac, herbs like thyme and oregano, white sesame seeds, and salt. While this condiment is not exactly hot, it can have a nutty, floral herb, and slightly acidic flavor.
- Dogfish Head Ta Henket Beer is brewed with Za'atar, doum fruit, chamomile, emmer farro' and free-range Egyptian yeast.
- Pinterest recipes feature Za'atar to flavor a variety of foods including lamb, goat, eggplant, cheese, cauliflower, chicken, bread, potatoes, sauces, dips and relishes.
- Interesting find: www.cucinakristina.com features the recipe Za'atar Carrot Fries, which are baked coconut oil and za'atar coated carrots. (See image below from cucinakristina.com.)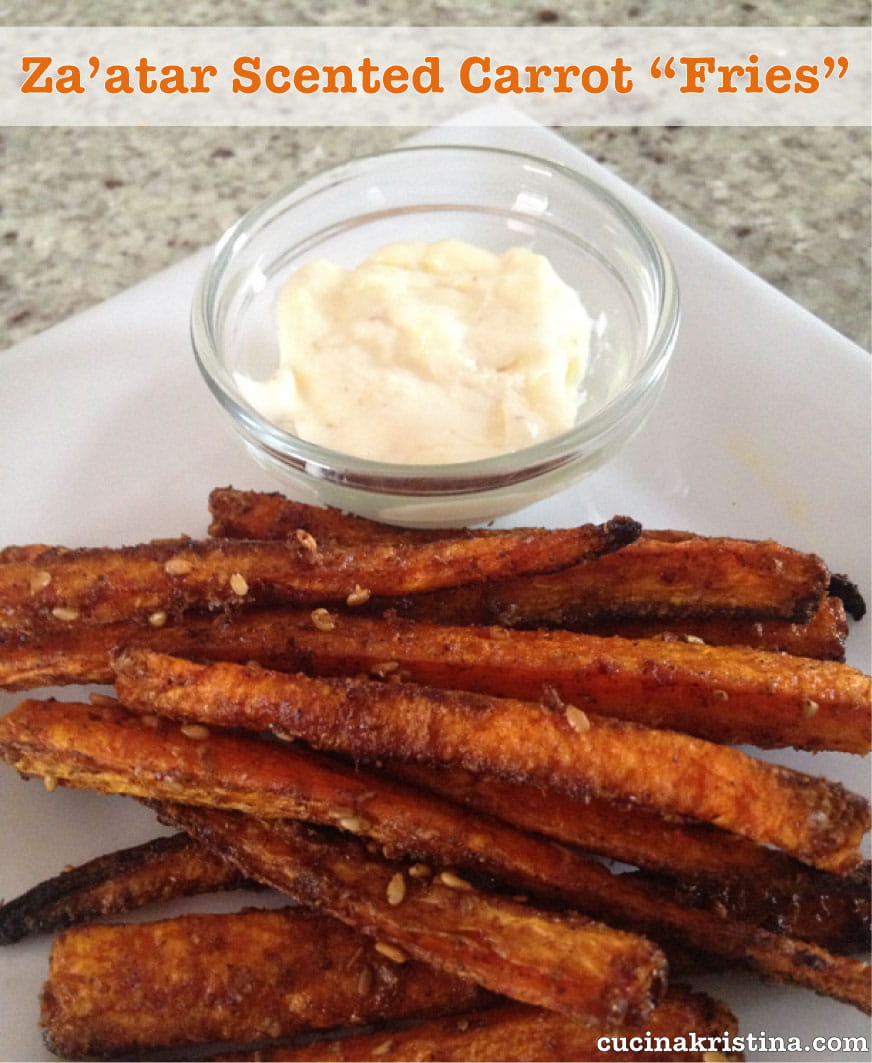 Hatch chili peppers
—A species of cultivated chili peppers that grow in and around Hatch, New Mexico. They have a mild-to-medium heat level that is less than jalapenos. Roasting them brings out brings out sweet and smoky flavors.
- Oogie's Hatch Chili con Queso Gourmet Popcorn
- Popcorn Indiana– Hatch Chili Cheese Popcorn
- Pinterest recipes abound, including Hatch Chilies & Bacon Quiche, Hatch Chilli Mac & Cheese, Hatch Chili Chimichuri, Chicken & White Bean Stew with Hatch Chilis, Hatch chili Vegan Sloppy Joes and Sausage, Hatch Chili and Tomato Pizza and Grilled Wild Copper River Salmon With Blueberry Hatch Chili Sauce.
Shishito peppers
—An extremely mild pepper from Japan that can be eaten whole.
No new products have launched featuring Shishito peppers, but Instagram and Pinterest are filled photos and recipes!
- A London Instagrammer snapped a photo of their Shishito pepper dish at
Chotto Matte, a new restaurant that is "bringing the
energy of underground Tokyo to the streets of Soho."
- Ippudo NY in New York City, Sugar Cane in Miami and City Tap House in Philadelphia are a few other restaurants to have their Shishito dishes featured on Instagram.
- Interesting find: Spicy Roasted Shishito Pepper Margarita from www.thekitchn.com.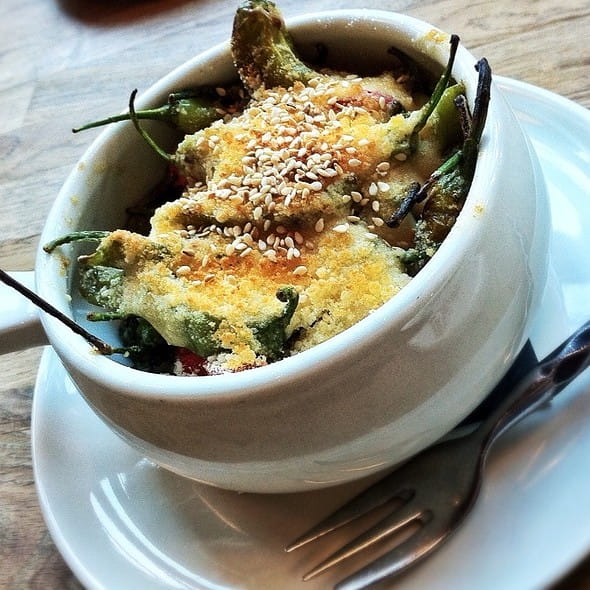 (Image: Pan Fried Shishito Peppers from The Girl and the Goat Restaurant in Chicago, featured on www.foodspotting.com, posted by user Donkey Kong.)