Lime By the Numbers
June 23, 2014
Download the full report here!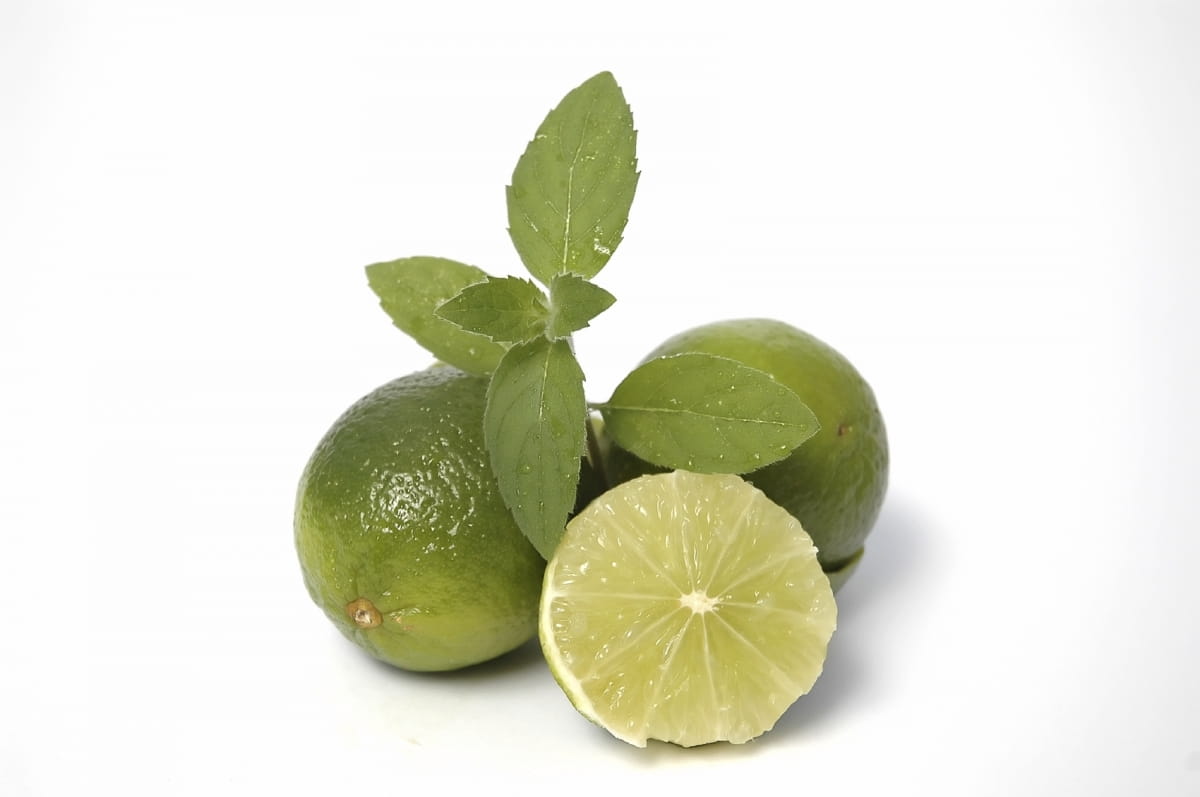 According to Food Lover's Dictionary, limes are small, lemonshaped 
citrus fruits that have a thin green skin and a juicy, pale 
green pulp. They grow in tropical and subtropical climes such as 
Mexico, California, Florida and the Caribbean. 
The two main varieties are the Persian lime (the most widely 
available in the United States) and the Key lime from Florida. The 
latter is smaller, rounder and has a color more yellow than green. 
Outside of Florida, the Key lime is usually found only in specialty 
produce markets and some supermarkets that carry gourmet 
produce. Though Persian limes are available year-round, their peak 
season is from May through August. 
Both varieties have a multitude of uses, from a sprightly addition 
to mixed drinks (like margaritas), to a marinade for raw fish dishes 
(such as ceviche), to the famous Key lime pie.
LIME IN THE MEDIA
We are spotting lime everywhere!
There are several mentions of lime in print media including:
• Cooking Light magazine features "A Sunny Splash of Citrus" including a guide to unique citrus fruits beginning to hit the U.S. market including finger limes, sudachi and kaffir limes.
• Cooking Light magazine features Six Pointers for Great Guacamole in their "Lighten Up, America!" section. Pointer three suggests ,"add a hefty squeeze of lime juice to season and add some acidity to the guacamole."
• Martha Stewart Living magazine features an article on Key Lime Pie. It is noted that, "the Key lime has a mild, delicate fragrance, and a very sweet flavor." It also includes a traditional Key lime pie recipe that claims to be, "the most delicious pie!"
• EveryDay with Rachel Ray includes an article on Limes in their "Seasonal Superfood" section. Limes are noted as being a "glow-getter, calorie roaster and a cancer fighter." The article also includes a Tangy Lime Shrimp recipe.
Lime in Social Media!
Pinterest
While perusing Pinterest, lime pins were 
spotted with a good assortment of food and 
beverage recipes—from the traditional Key 
Lime Pie and Key Lime Cheesecake to more 
refreshing beverages like the Coconut Ginger 
Lime Margarita, Lime Protein Shake and 
Watermelon Lime Infused Water. With so many 
recipe options to choose from, it's easy to get 
carried away with lime pinning! 
Twitter
A quick Twitter search provides tweets 
mentioning limes as "the good stuff" as well as 
mentions of "limes are a perfect way to make 
a dish tasty!" Tweets also include recipes for a 
variety of offerings including: pies, cocktails, 
muffins, rice and salads including lime. One 
tweet by @StyleAtHome even includes a 
watermelon + kaffir lime ice pops recipe, 
mentioning it's "a tasty way to beat the heat!" 
Food.com
On Food.com more than 23,000 recipes appear 
if you search for lime. Recipe examples include 
primarily desserts (pies and cupcakes) but 
main dishes including shrimp, and chicken are 
also available. Lime recipes for salsas, jams, 
vinaigrettes and sauces are popular as well as 
many cocktail recipes.
Lime in Blogs!
Blogs are even spotlighting lime as an ingredient with several mentions of lime in food and beverage recipes.
• Sriracha Honey Lime Chicke, i am a food blog
• Mango Lime Pops, Love & Lemons
• Coriander & Lime Noodle Salad, S'tasty
• Baked Key Lime Pie Donuts, Taste & Tell
LIME ON THE MENU
MAY 2009 - MAY 2014
• Ancho Lime Tilapia, Tumbleweed Southwest Grill
• Chipotle Lime Chicken Salad, Cosi
• Key Lime Bread Pudding, Magnolia's
LIME NEW PRODUCT INTRODUCTIONS, GLOBAL
Between May 2009 & May 2014 there were 4,848 new products introduced. 
Products of Note



Smirnoff Black Lime & Mint Flavored Vodka: Poland



Heavensent Tomatoe & Lime Salsa: New Zealand


Lime Flavored Lipton Iced Tea: Vietnam


Michel et Augustin Lime 

Yogurt: France



Starbucks Refresha Cool Lime 

Sparkling Green Coffe Extract 

Energy Drink: Finland



LIME NEW PRODUCT INTRODUCTIONS, NORTH AMERICA
Between May 2009 & May 2014 there were 1,063 new products introduced. 
Products of Note


Ocean's Halo chili Lime Seaweed Chips




Smirnoff Lime Flavored Vodka


Endangered Species Natural 

Sea Salt & Lime Creme 

Filled Dark Chocolate




Kozlik's Lime & Honey 

Mustard



Liberte Yogurt Perfection Lime Flavored


_________________________________________________________________________________
FONA CAN HELP!
Let FONA's market insight and research experts translate these trends into product category ideas for your brand. They can help you with concept and flavor pipeline development, ideation, consumer studies and white space analysis to pinpoint opportunities in the market. Our flavor and product development experts are also at your service to help meet the labeling and flavor profile needs for your products to capitalize on this consumer trend. We understand how to mesh the complexities of flavor with your brand development, technical requirements and regulatory needs to deliver a complete taste solution. From concept to manufacturing, we're here every step of the way. Contact our Sales Service Department at 630.578.8600 to request a flavor sample or visit www.fona.com.
Download the full report here!